Meet Intel NUC NUC6i7KYK – Skull Canyon Arrives With Thunderbolt 3
By
Have you ever liked the form factor of the Intel NUC mini-PC series, but felt like it didn't have enough GPU performance for your needs? Back in January during CES 2016, Intel announced a high-performance version of the NUC that was designed specifically for those that need more power and crave the small form factor. That new NUC is codenamed Skull Canyon and it features a 6th Generation Intel Core i7-6770HQ 'Skylake' quad-core processor with Iris Pro Graphics 580. With a 45W Thermal Design Power (TDP) processor, the Core-6700HQ is the highest Wattage processor to ever used in the NUC series.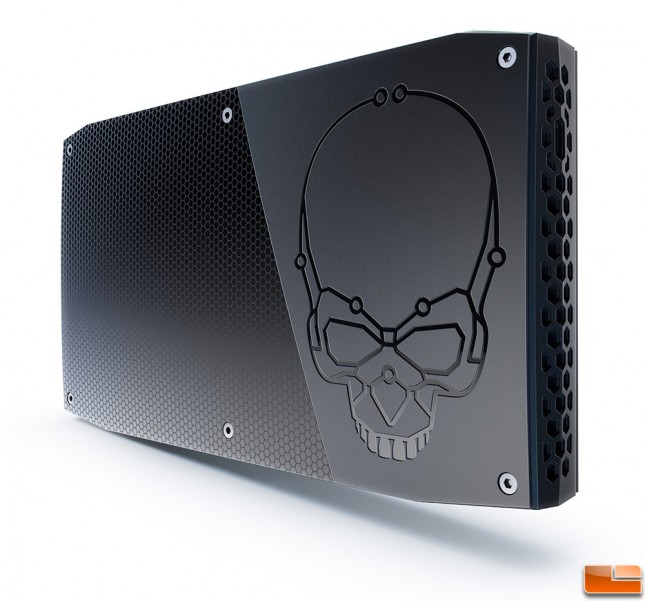 At Game Developers Conference (GDC) 2016, Intel officially announced the new Skull Canyon NUC that will be sold as the Intel NUC (NUC6i7KYK). Intel says that this NUC "unleashes maximized performance for intense game play or intensive workloads" and will "let people edit photos and videos like a professional or immerse oneself in vividly rendered, seamless 3D gameplay, all in brilliant 4K resolution on three monitors at once."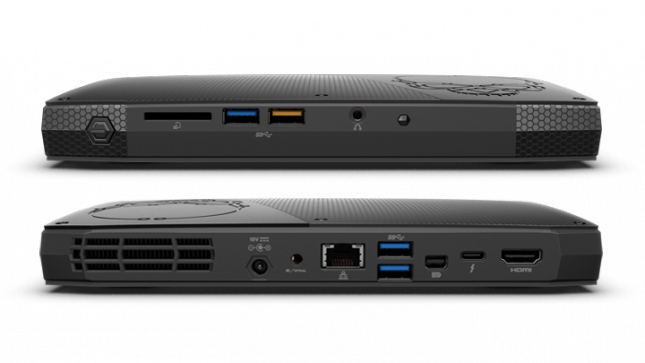 Intel NUC Skull Canyon Key Features:
6th Generation Intel Core i7-6770HQ processor (2.6 to 3.5 GHz Turbo, Quad Core, 6 MB Cache, 45W TDP)
Intel Iris Pro graphics 580
Thunderbolt 3 (40Gbps) with USB 3.1 and DP1.2 over USB-C
Support for DDR4 memory, up to 32GB at 2133+ MHz
Support for dual M.2 slots for SATA3/PCIe x4 Gen 3 NVMe/AHCI SSDs
Full-size HDMI 2.0 (4K 60Hz) port and Mini DisplayPort version 1.2 (4K 60Hz) supporting 8 channel audio (7.1 surround sound)
Intel Dual Band Wireless-AC 8260 wifi (802.11 ac) and Bluetooth 2 pre-installed
SD card slot (up to 512GB)
Four USB 3.0 ports (including one charging port)
Intel HD Audio via Headphone/Microphone jack
Intel Gigabit LAN
Consumer infrared sensor
Ships with two lids one with a skull logo, one plain mate black (Support for user-replaceable third-party lids)
Dimension: 216mm x 116mm x 23m an incredibly small .69L
Intel went with a larger chassis for the NUC6i7KYK due to the higher TDP of the processor and is using their most advanced CPU cooling solution yet. The chassis measures in at 216mm x 116mm x 23m (.69L for the cubic volume fans) and can lay down flat or vertically with an included stand.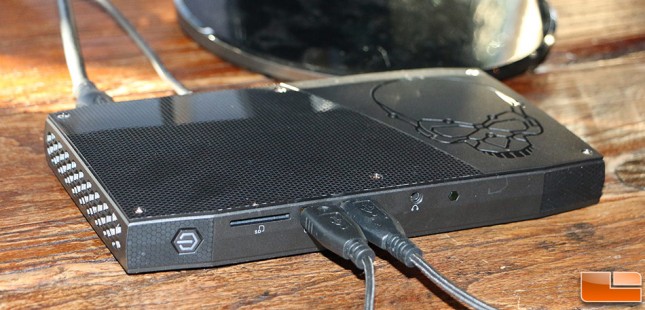 One of the key features for gamers and prosumers will be the Thunderbolt 3 functionality that is included on this system. The single Thunderbolt 3 port (40Gbps) allows consumers to use just one cable to easily connect to 4K displays, high-speed memory and storage devices or external discrete graphics solutions like the Razer Core. Intel knows that allowing external graphics cards to work on their high-end flagship NUC model was a must and we are glad to see that they enabled this feature. By allowing external graphics, the Intel NUC NUC6i7KYK should appeal to a new audience that once never considered buying such a PC.
That said, we don't expect the Intel Iris Pro 580 graphics to be underwhelming by any means. Iris Pro 580 is also known as Intel Gen9 GT4e graphics. This is one of the big graphics solutions from Intel that has 72 Execution Units and along with 128MB of stacked eDRAM. You'll be able to have a pretty good gaming experience on Intel Graphics without any discrete external graphics.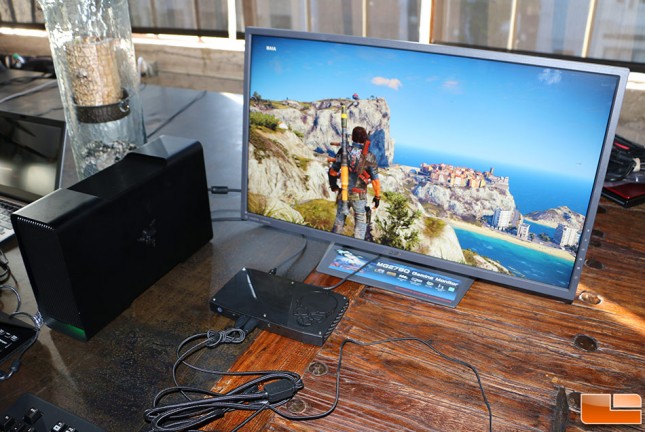 When it comes to pricing the Intel NUC kit NUC6i7KYK has a $650 MSRP and will be available to pre-order in April 2016 from Newegg. The actual ship date will be in May 2016. You still need to add DDR4L memory, the M.2 PCIe SSD and the operating system. Intel believes that a typical build with 16GB of memory, a 256GB SSD and Windows 10 will be right around $999.