Intel NUC Goes Hades Canyon – Check Out The NUC8i7HVK and NUC8i7HNK
By
Intel has just released the most power NUC model they have ever come up with and it is so powerful that Intel is calling it a VR-capable system! This impressive feat was due to the fact that it is powered by the newly announced 8th Gen Intel Core i7 processor with Radeon RX Vega M graphics. The new Intel NUC (formerly code-named Hades Canyon) will come in two versions: NUC8i7HVK and NUC8i7HNK.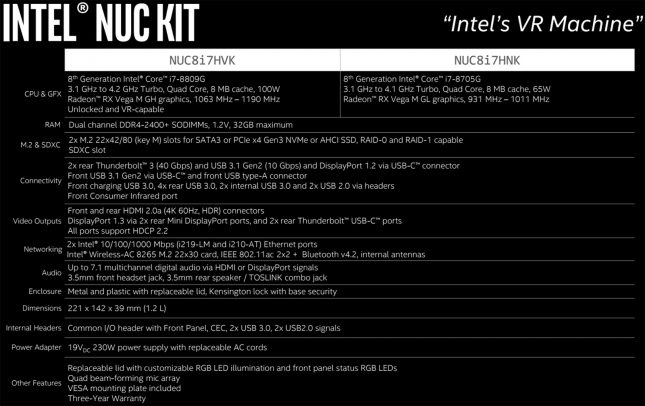 The NUC8i7HVK is the flagship model and is powered by the unlocked Intel Core i7-8809G quad-core processor that has Radeon RX Vega M GH graphics with 24 compute units. This model has a 100 Watt TDP is designed for enthusiasts that want the best performance and might also want to play around with overclocking. For those that might need something so powerful there is the more affordable NUC8i7HNK that has the lower turbo clocked and locked Intel Core i7-8705G quad-core processor with Radeon RX Vega M GL graphics (20 compute unis) that has a 65W TDP.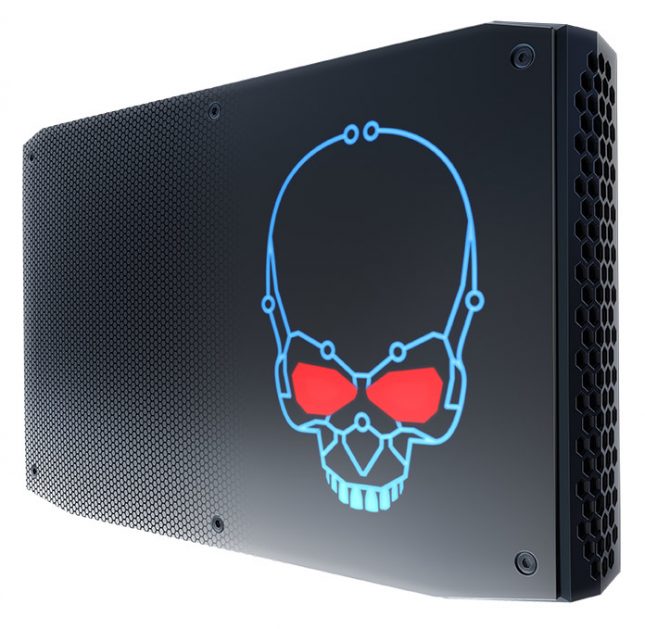 The NUC8i7HVK and NUC8i7HNK both share the same 221mm x 142mm x 39mm (1.2L) enclosure and come with a 19V 230W power brick to keep up with all the power needs of the system. One cool new feature is it comes with a replaceable lid. One of the custom top lids that come with the unit has customizable RGB LED lighting for the eyes of the skull logo.

On the front panel you have the power button, consumer infrared port, SD memory card reader, USB 3.1 Type-A port, charging USB 3.0 port, USB 3.1 Gen2 USB-C port as well as a front HDMI 2.0a (4K 60Hz, HDR) connector.

On the back you have an audio port, power port, two Thunderbolt 3 (40 Gbps) USB-C ports, two DisplayPort 1.3 MiniDisplayPort portstwo Intel 10/100/1000 Mbps (i219-LM and i210-AT) Ethernet ports, four USB 3.0 ports and an HDMI 2.0a (4K 60Hz, HDR) connector.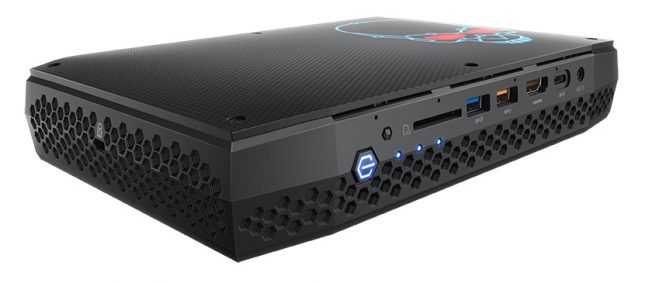 With all those video connectors it means that these two systems can drive six independent monitors simultaneously. The two HDMI ports also makes it easy to plug in a VR headset. We actually got a chance to see and use a functional NUC8i7HVK today where it was running a demo of Warhammer: Vermintide 2. The game appeared to be running smooth and we could hear the two fans located on the bottom of the enclosure in the loud conference room. You can see the images we took below as the LED lighting looks very different in person than the mock up images. This is an early Intel NUC8i7HVK sample and not a production unit, so they weren't allowing any benchmarking and minor changes could happen still if needed.
These NUCs will be sold as bare-bones kits, targeted to DIYers who are looking for small, sleek and powerful mini PCs. It is anticipated that the price for the NUC8i7HVK (100W processor) will be around $999 and the price for the NUC8i7HNK (65W processor) will be around $799. The units will be available starting this spring if all goes as planned. We heard multiple people say March 2018, so enthusiasts can expect to see it around then!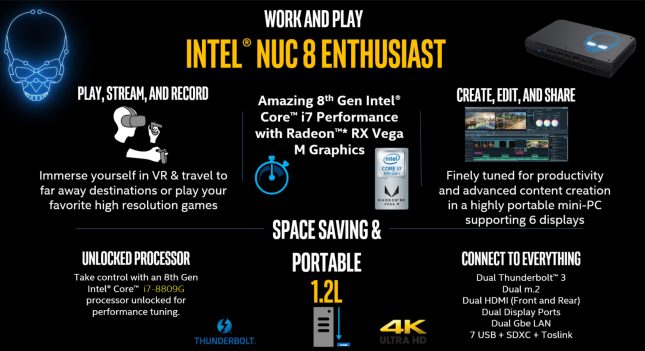 For additional details you can everything Intel has released so far at the product landing page. If you want more information about the 8th Gen Intel Core i7 Processor with Radeon RX Vega M graphics be sure to check out our post here.