Intel NUC 2.0 Officially Announced At CES 2015 w/ 5th Gen Core Broadwell Processors
By
If you are a fan of Intel's NUC – Next Unit of Computing – chances are you've been waiting for the NUC 2.0 to be released. The NUC 2.0 hasn't changed that much visually from the original versions, but internally they feature the latest Core i3, Core i5 and Core i7 Broadwell processors along with some Braswell processors. Along with the new processors come some rather significant new features. For example, Intel has moved away from the mSATA storage interface and went with the latest and greatest M.2 interface. They also ditched all the external HighSpeed USB 2.0 ports and went with external SuperSpeed USB 3.0 headers on the front and back of the devices with a pair of internal USB 2.0 ports for those that need even more USB support. Some models also feature a pair of mini-DisplayPort v1.2 headers, which means these little boxes support triple display setups and are capable of 4K video output. Intel will also have a NUC system coming out in Q2'15 that is powered by an Intel Core i7 processor for the very first time (NUC5i7RYH)! The Intel NUC 2.0 might be great as a home theater PC, but these could easily replace your traditional desktop PC as they are very powerful little systems.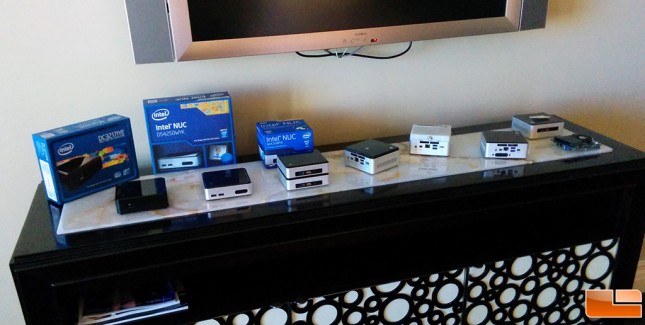 Intel had close to a dozen Intel NUC 2.0 models running around their suite at CES 2015. Many were the same models that we told you about last month when Intel posted them up on their website.
The Intel NUC 2.0 will be available in three different enclosures and the enclosures vary between the processors being used. The two most common models will be 115mm x 111mm and either 29.8mm or 48.5mm in height. The main difference between the height differences is if there will be room for an internal 9.5mm 2.5-inch hard drive or SSD or not. The thin model on the left in the image above is the Intel NUC Kit NUC5i5RYK with a 5th generation Intel Core i5-5250U processor and the model on the right is the Intel NUC Kit NUC5i5MYHE with the Intel Core i5-5300U vPro processor.
Here is an image gallery of the NUC board with part number NUC5i5MYBE. This is the Broadwell NUC 2.0 board that is used on the Intel NUC Kit NUC5i5MYHE, but you can also buy it separately. Board NUC5i5MYBE features the Intel Core i5-5300U vPro processor with Intel HD Graphics 5500. There are two DDR3L memory slots for support of 16GB of memory at speeds up either 1333 or 1600 MHz. The board supports dual mini DisplayPort version 1.2 video outputs, which means you have 4K display support and the ability to run a triple display setup off this tiny little box. You also have M.2 SSD support to run the latest Solid-State Drives, support for a 2.5-inch SATA III hard drive or SSD, Intel Gigabit LAN, four SuperSpeed USB 3.0 ports and it comes wired for an M.2 22×30 wireless card. For audio needs you can use the Intel HD Audio jack on the front of the board or you can get 8 channel digital audio (7.1 surround sound) from the DisplayPort v1.2 outputs. Other key features include support for discrete Trusted Platform Module (TPM 2.0), an eDP connector, back panel serial port expandability (requires a 3rd party serial cable that is not included) and user-replaceable third party lids.
Intel will also be offering various lids that can be purchased for the NUC 2.0 models. They had a prototype Hauppauge TV tuner on one model and then another with a removeable lid that had built-in NFC. Intel is working with a number of companies to come up with innovative removable lids as that is one of the new features of the Broadwell based NUC's.