Intel Core i9-9900KS CPU Review
By
The New Fastest Gaming CPU From Intel
Today, Intel unleashed their 9th Gen Core i9-9900KS Special Edition processor to gamers and enthusiasts that are looking to build a new PC or upgrade an old one. Billed as the ultimate gaming processor, the i9-9900KS features up to 5.0 GHz all-core turbo frequency across 8 cores and 16 threads. This processor is a very highly binned Intel Core i9-9900K, so it is only going to be available for a limited time and as such is only backed by a 1-year warranty. Our sources have told us that fewer 9900KS processors were made than last years Intel Core i7-8086K limited edition processor and the same sources let us know that fewer than 50,000 of those were made. Intel sells over 100 million processors a year, so this is a very limited part from Intel.
| | | |
| --- | --- | --- |
| Product | Core i9-9900KS | Core i9-9900K |
| Socket | LGA 1151v2 | LGA 1151v2 |
| TDP | 127W | 95W |
| Architecture | Coffee Lake R | Coffee Lake R |
| Process | 14nm++ | 14nm++ |
| Cores/Threads | 8 / 16 | 8 / 16 |
| Frequency Base / Boost | 4.0 / 5.0 GHz | 3.6 / 5.0 GHz |
| Memory Speed | DDR4-2666 | DDR4-2666 |
| Memory Controller | Dual-Channel | Dual-Channel |
| Cache (L2+L3) | 16MB | 16MB |
| Integrated Graphics | UHD Graphics 630 (up to 1200 MHz) | UHD Graphics 630 (up to 1200 MHz) |
| PCIe Lanes | x16 Gen3 | x16 Gen3 |
| Price (RCP) | $513 | $489 |
It's worth noting that the 9900KS will work on most Z370 and all Z390 chipset-based boards after they are updated to the latest BIOS/UEFI revision. Like all Intel K-Sku processors, the 9900K also does not ship with a CPU cooler. The Recommended Customer Price (RCP) for this processor is $513, which makes the 9900KS Special Edition is priced $28 higher than the 9th Gen Intel Core i9-9900K processor that it is based on. That isn't a big price mark-up for a higher-quality binned chip plus it does have some collectors appeal. Buying one of these processors basically guarantees you the highest-performing 14nm Coffee Lake processor that Intel TDP can make. Sure, there are some super overclocking friendly 9900K CPUs that can be manually overclocked to hit these speeds. The odds of finding chips like that may very well be lower since Intel has been snagging the best for the new 9900KS series.
The brand new Intel Core i9-9900KS is a fully unlocked 8-core, 16-thread chip with up to a 4.0 GHz base frequency and a 5.0 GHz all-core turbo clock. This CPU has 16 MB of Intel Smart Cache, support for up to 40 platform PCIe lanes and a 127W TDP rating.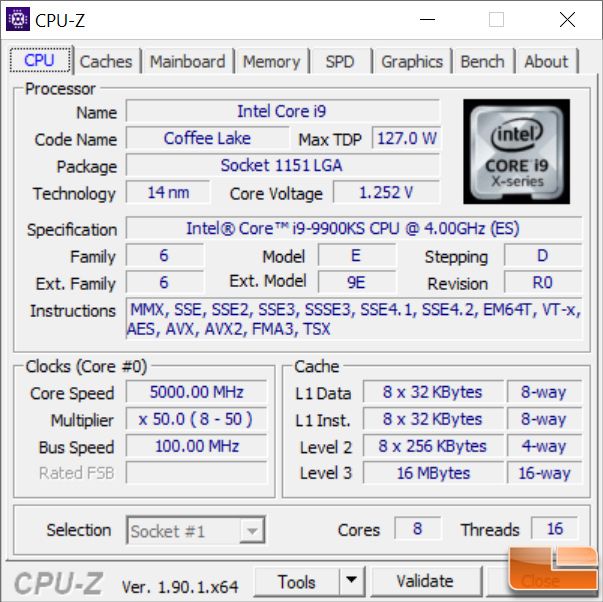 The Intel Core i9-9900K that was launched in Q4 2018 has a base clock of up to 3.6 GHz and up to a 5.0 GHz turbo clock with a 95W TDP rating. Both processors are using Intel's integrated UHD Graphics 630 engine that can boost up to 1.2 GHz and have support for up to 128GB of dual-channel memory at DDR4-2666.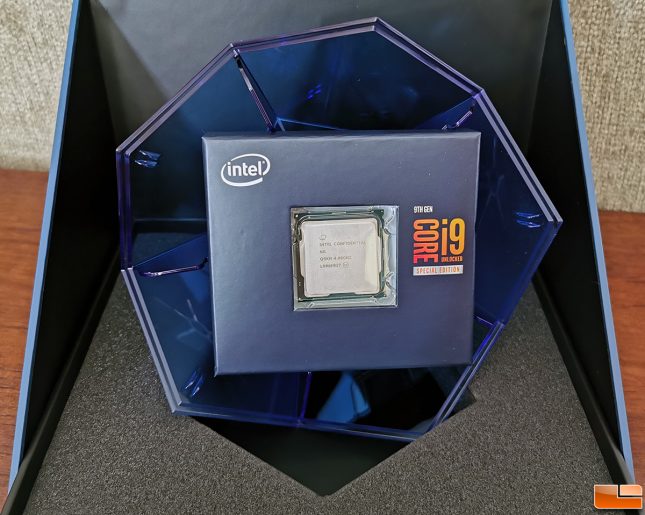 For this launch review we are going to be benchmarking the Intel Core i9-9900KS in the ASUS ROG Maximus XI Extreme Z390 Gaming Motherboard with ASUS MultiCore Enhancement (MCE) disabled. It is up to the board manufacturers how they adhere to the power guidelines Intel sets for PL1, PL1 and Tau states, so performance numbers on this chip will greatly vary depending on the board used and then what settings were manually changed. Since we've been using the ASUS ROG Maximus XI Extreme Z390 Gaming Motherboard for months with MCE disabled (adhered to Intel power guidelines) our numbers might be a touch lower than others. Just a heads up before people start clicking deep into this review and might miss that minor detail.