Intel Core i7-6700K (Skylake-S) Benchmarks Leaked
By
The German website CPU-Monkey claims that they have a 'pre-sample' of the Intel Core i7-6700K 'Skylake-S' processor from Intel and they have posted up a bunch of benchmark results to prove it. The site reports that the Intel Core i7-6700K is quad-core processor with hyperthreading and has a base clock frequency of 4.0 GHzwith a boost clock frequency of 4.2 GHz. The TDP on the 14nm processor is listed at 95W, so the peak clock speed is 200MHz slower (when one core is active) and the TDP is up. The increased TDP is likely higher due to the newer graphics technology that is built into the processor, but we'll save that for a conversation on another day. CPU Monkey didn't mention any details on the GPU and didn't appear to benchmark it. The Intel Core i7-6700K processor might have Intel's new GT4e graphics solution with 72 compute units and we would love to see how that performs!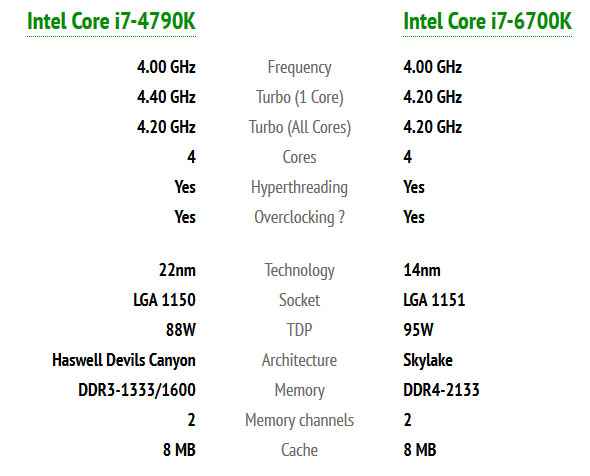 The site allegedly benchmarked the Intel Core i7-6700K and compared it to the Intel Core i7-4790K in a number of benchmarks like Cinebench R11.5, Cinebench R15, Pasmark CPU Mark and Geekbench 3. Last month we showed you some 6700K benchmarks that were done with a discrete graphics card, so these are different results from a different site.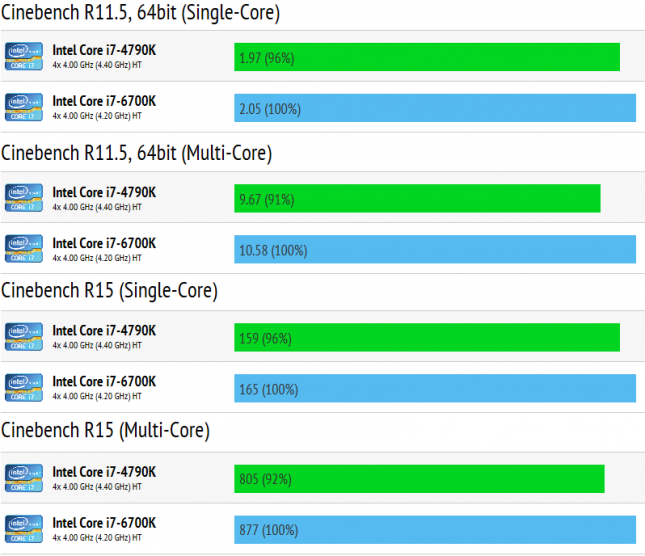 Despite having a lower single-core turbo clock speed the Intel Core i7-6700 processor pulled out ahead of the Core i7-4790K in the Cinebench by about 4% on the single-core processor tests. This is a good sign that the instruction per cycle (IPC) or performance per clock has been improved as it should be on Skylake. In the multi-threaded tests we see a larger 8-9% performance increase. Geekbench 3 results, shown below, showed similar results.
These are pretty good increases, but keep in mind that Skylake is two generations ahead of Haswell. Some might be a little underwhelmed by these performance numbers when taking that into consideration. It also makes you wonder why Intel is bringing Broadwell desktop processors to market with it being delayed this long and the Skylake processors are nearly ready to come out. Then again, are these benchmarks even relevant these days as what do they actually show you?