Intel Core i7-6700K Skylake Processor Won't Come With CPU Cooler
By
XFastest published a slide that shows Intel's Skylake-S Enthusiast 'K' SKU Strategy that shows what Intel is planning to do with CPU cooler for Skylake-S processors. It appears that Intel will not be including a cooler with the unlocked 'K' series processors. The slide shows that the standard performance air cooler used for Haswell was rated for 95W TDP processor and that won't be cutting it for the new Skylake unlocked parts that will likely be 130W TDP or greater when overclocked. Intel will be offering optional air and water coolers that are both capable of cooling processors with a 130W TDP.
The good news continues as Intel expects third party, high performance cooling solutions to be compatible with the upcoming Skylake processors that are expected to debut on August 5th 2015. The two Intel Skylake-S K series parts that are expected to be announced the Core i7-6700K and the Core i5-6600K with both being 95W TDP parts.
Intel Core i7-6700K: 4/8 cores; 4GHZ-4.2GHz; 8MB cache; DDR4-2133
Intel Core i5-6600K: 4/4 cores; 3.5GHz-3.9GHz; 6MB cache; DDR4-2133
All Intel Skylake-S procesors are built using Intel's latest 14nm manufacturing process and are a tock on Intel's tick-tock roadmap. The next processor after Skylake is called Cannonlake and if all goes as planned it will be arriving in 2016 and will be built on the 10nm manufacturing process.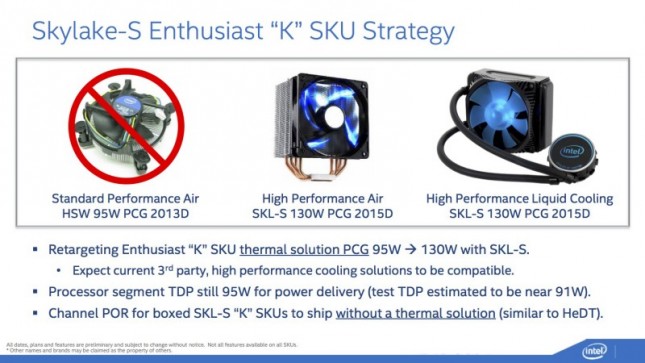 This change will likely not impact many 'K' series customers as many don't use the stock cooler and opt to use an aftermarket cooler that is best suited for their particular build. We also ran across a really blurry picture posted up on the Coolaler forums that claims to be a Intel Core i7-6700K processor that has been delidded.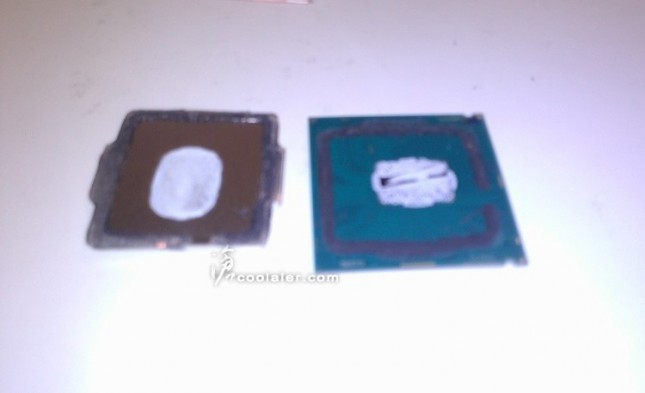 The image appears to show that Intel is using their Next-Generation Polymer Thermal Interface Material (NGPTIM) for the third processor series. Intel first used NGPTIM on the Core i7-4790K Haswell processor and then on the Broadwell desktop processor series (Intel Core i7-5775C), so Skylake will be the third architecture to use this thermal material.