Intel Core i7-2820QM – Sandy Bridge For Notebook PCs
By
Intel Sandy Bridge Comes to Laptops!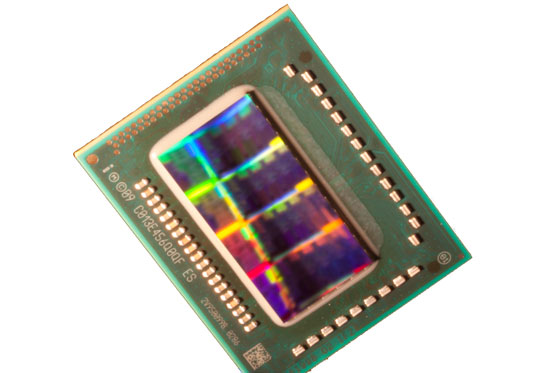 Last year, Intel released all new 2010 Intel Core 'Arrandale' processors for their mobile platforms that brought forth better performance and some very nice power savings. In all honesty, last year's technology was basically their previous generation 45nm architecture that was enhanced and shrunk down to 32nm. This is part of Intel's 'tick-tock' model to continue rapid technology innovation. The first year Intel releases the 'tick' and that means a new silicon process technology or a die shrink of their existing microarchitecture. The second year is the 'tock' and that means an entirely new processor microarchitecture to fully utilize the manufacturing process learned in the previous 'tock'. Today, we are looking at 32nm processor called Sandy Bridge that is designed from the ground up to have more performance than any mobile processor that you have ever seen before!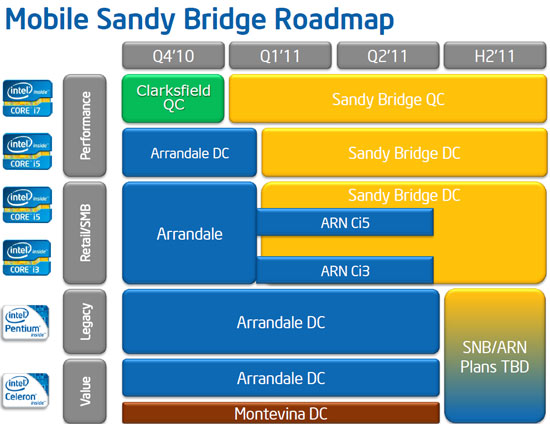 The Sandy Bridge processor will be available in dual-core and quad-core solutions that are ready to replace Arrandale and Clarksfield mobile processors as we enter 2011.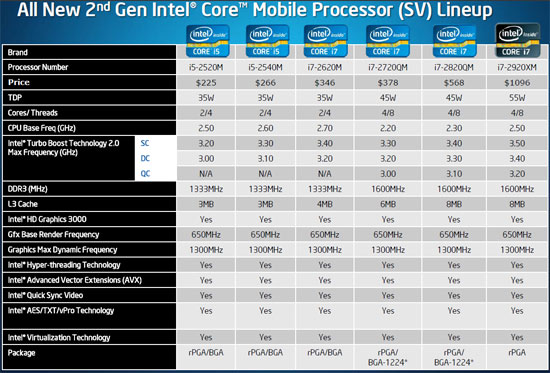 Intel has six new processors for their standard-volt (SV) mobile processor series:
Intel Core i7-2920XM – 2.50GHz – $1096
Intel Core i7-2820QM – 2.30GHz – $568
Intel Core i7-2720QM – 2.20GHz – $378
Intel Core i7-2620M – 2.70GHz – $346
Intel Core i5-2540M – 2.60GHz – $266
Intel Core i5-2520M – 2.50GHz – $225
As you can see, the top three sku's are all quad-core processors ranging from 2.2GHz to 2.5GHz and the bottom three sku's are dual-core processors that have faster clocks of 2.5-2.7GHz. Today, we are going to be reviewing a system with the Intel Core i7-2820QM. This processor has a base clock of 2.30GHz, but can go up to 3.4GHz in single threaded Turbo Boost Technology 2.0! This processor has a massive 8MB L3 cache and Intel HD Graphics 3000 that can dynamically adjust to run from 650MHz to 1300MHz! If that sounds impressive just remember that all that speed and cache fit into a processor for a notebook and has just a 45W TDP! We aren't going to talk about all the architecture improvements here as we detailed Turbo Boost 2.0, AVX, and more in our desktop launch article here.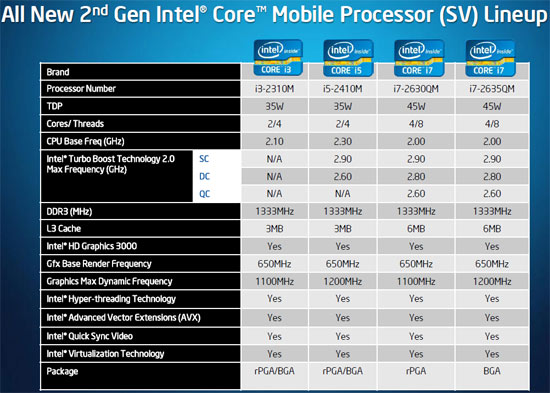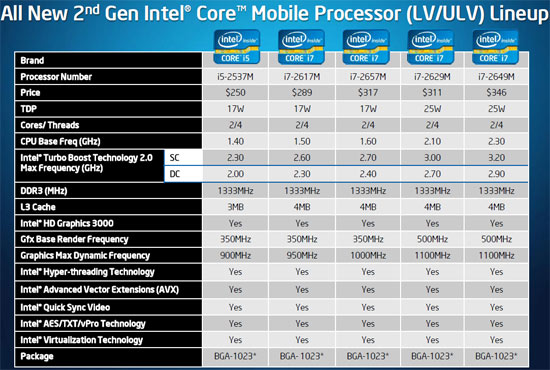 Intel also has some other mobile processors being announced today. In total, Intel has 15 mobile processors being released today!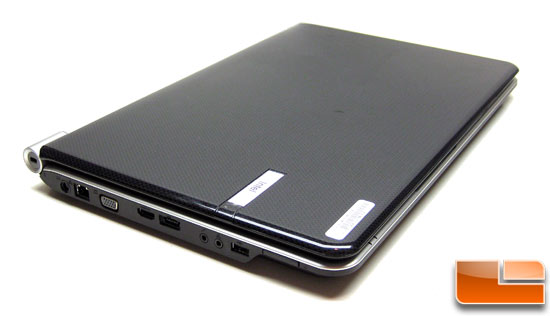 To test out the Intel Core i7-2820QM processor the PR team over at Intel sent over a Compal notebook that was based off their reference mobile platform mainboard. We aren't sure if this exact notebook will ever make it to market, but Intel said a fully configured notebook like the one we have above would cost around $1999.