Intel Core i5-9600K Coffee Lake CPU Review
By
$250 Will Get You 6-core 9600K CPU
As we wait for our AMD Ryzen 5 3600X processor to arrive for testing we wanted to and take a look at its main competitor, the Intel Core i5-9600K 6-core processor. The Intel Core i5-9600K is currently priced at $249.89 shipped, which is slightly lower than the $279 price tag it had when it first came out in November 2018. That said, in the face of growing competition from AMD, we've seen retailers getting really aggressive with pricing on Intel processors in recent months. Prices on the 9600K have dropped down to as low as just $215 in the weeks ahead of the AMD Ryzen 3000 series processor launch. It seems prices have gone back up now that AMD has launched their processors though. We've seen many retailers drop prices on chips just before a competitor releases products and it is almost as if they want to influence the launch reviews since so many price compare or even make charts based on price versus performance.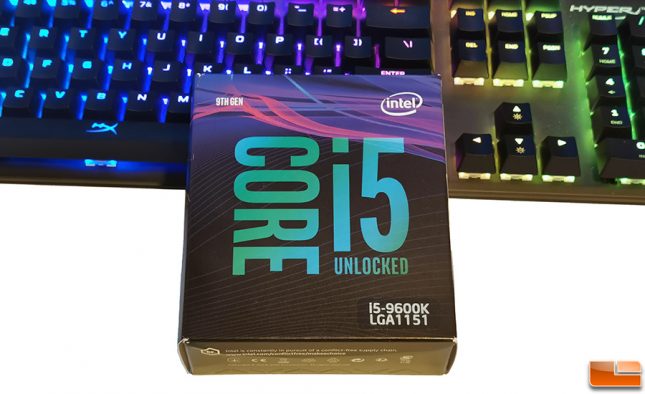 The Intel Core i5-9600K that we are going to be looking at today is a retail boxed processor that was ordered in from Amazon and shipped directly to us. This specific CPU has six cores/six threads (no Hyper-Threading), a base frequency of 3.7 GHz, a max turbo frequency of 4.6 GHz, and a TDP of 95W. It supports up to 128GB of RAM and has Intel UHD Graphics 630 integrated graphics built-in.
Like other recent K-Series processors this model is unlocked for overclocking fun and does not come with a CPU cooler. Intel did switch back to a solder-based thermal interface material between its die and heat spreader for the Integrated Heat Spreader (IHS) due to consumer demand and to get higher multi-core Turbo Boost frequencies. This is one of things that helped Intel increase the boost clock on this processor up to 4.6 GHz, which is a decent bump up considering the boost clock on the Intel Core i5-8600K was 4.3 GHz. The other major factor to the higher clock speeds is that Coffee Lake CPUs are built on Intel's 2nd generation 14nm FinFET process, which it marketed as 14nm++.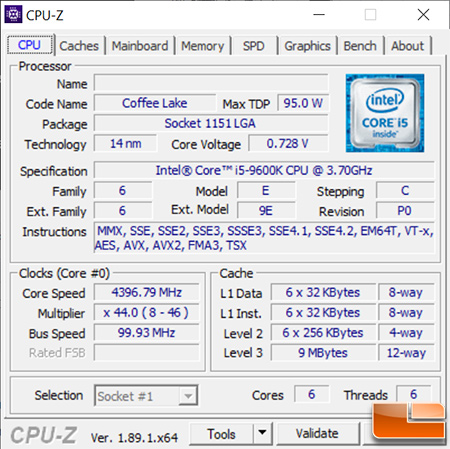 Let's take a quick look at the test system and then get straight to the benchmarks.