IDF 2005: Enthusiast Memory Update
By
Enthusiast Memory On Display
Last week we were able to attend the Intel Developer Forum and were able to take a look at a couple of the enthusiast memory companies our readers love to follow.
Kingston Technology:
For the first time in recent years Kingston forked over some big money to Intel and was a silver sponsor at the Fall 2005 Intel Developers Forum. If any memory company should have a big booth it is Kingston as they are the #1 memory company in the world and have an extensive product line to show off. Many of our readers don't understand how big Kingston is on the world market. Last year the company profile stated that Kingston had more than 2,000 employees worldwide and exceeded over $2.4 billion in annual sales.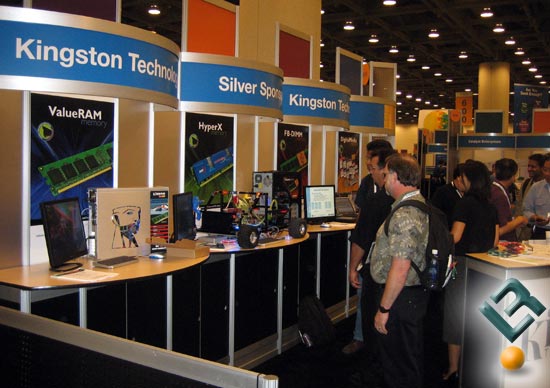 The Kingston booth was seperated into seperate sections for each of the current Kingston product lines. On display were product samples from the ValueRAM, HyperX, FB-DIMM, and Digital Flash product lines. The above image shows Kingston's booth and the four product lines we will touch on.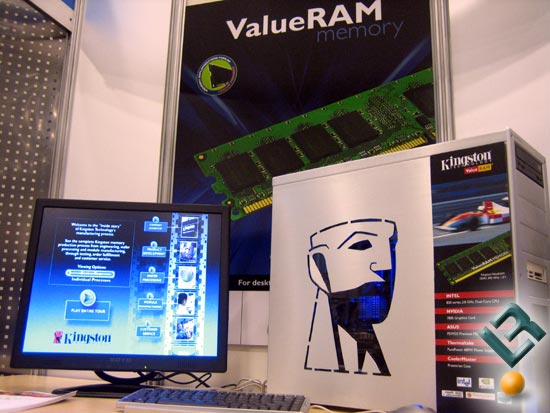 We started off in the booth looking at a presentation of their ValueRAM and how it fits the needs for 99% of all computer users on the market. The display system housed an Intel (remember it's IDF) system that was running a ValueRAM memory kit at DDR2 800MHz in a common ATX desktop case. Kingston informed us that their 800MHz part is the first DDR2 value series product that will be on the market here in North America. This is a big deal for system builders who are looking to build a system that takes advantages of all the features on current platforms and doing it at a budget minded price. Although a DDR2 800MHz JEDEC standard do not exist Kingston has the modules running at timings of 6-6-6 at 1.8V, hoping that once a standard is approved these should fit the bill. The lifetime warranty Kingston offers on lower frequency memory also applies on their 800MHz ValueRAM part.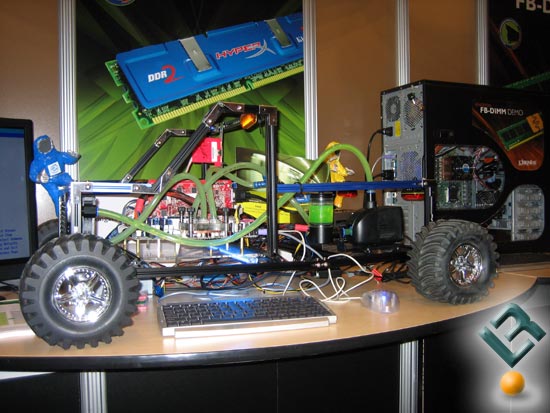 Moving over to the HyperX series the display case changed a tab bit as the audience for HyperX is different than those who would purchase ValueRAM. On display in the Lubic Case ($100) was the first kit of Kingston's future flagship HyperX product speed grade, DDR2 1000MHz memory. This memory is so new that it isn't yet on the Kingston site and is also the first time we have seen Kingston using it. The memory was clocked at 1GHz at 5-5-5 timings with the Intel 840 processor running 4GHz thanks to the memory and water cooling. It is good to see Kingston "catch up" to the other memory companies that have released speed grades above 750MHz. Kingston has been running higher than 750MHz DDR2 frequencies in the lab since Jan 2005, but does not want to release a product when not enough platforms support a speed grade. Kingston launched two new memory frequencies, 800MHz and 900MHz last week, but has not updated their site yet to show the products.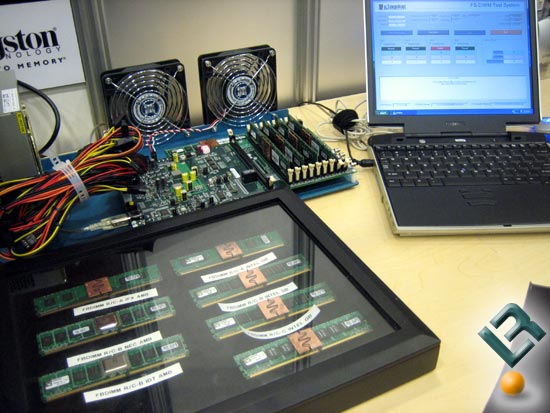 Moving along we got a chance to look at Kingston's Fully-Buffered Dual Inline Memory Module (FB-DIMM) prototype samples. Although JEDEC has yet to approve the standards on the new server memory modules memory companies have already begun producing them. Kingston was showing a demo running 4 FB-DIMM modules on an Intel reference CRB while running CTS software during IDF.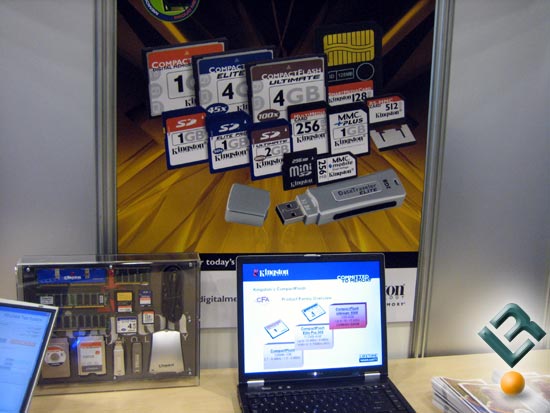 With the flash market exploiding around the world it only makes sense that Kingston offers nearly every type of flash memory one could think of.
The next memory company that we saw at Intel's Fall 2005 IDF was Corsair Memory.