HyperX Predator M.2 PCIe SSDs in RAID 0 – Hitting 2.8GB/s
By
HyperX Predator M.2 PCIe SSDs in RAID 0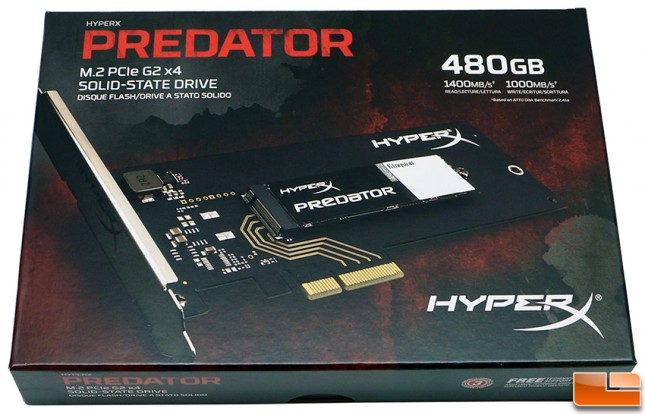 Last month we looked at the performance of the HyperX Predator M.2 PCIe G2 x4 Solid-State Drive and found that was one of the fastest M.2 SSDs that you can purchase right now. To be honest the only two M.2 PCIe SSDs that enthusiasts should be looking at right now would be the Kingston HyperX Predator and the Samsung SM951. The Samsung SM951 is very tough to purchase since it is an OEM storage drive, so that leaves the HyperX Predator as being the fastest consumer M.2 PCIe SSD that is readily available on the market right now. The HyperX Predator PCIe SSD is available in 240 and 480GB capacities and is factory rated as having up to 1400MB/s sequential read and 1000 MB/s sequential write speeds. We were very happy with the performance we got from this drive, but we were curious what performance would look like if we put two HyperX Predator 480GB PCIe SSDs together to create a logical RAID0 array. Each HyperX Predator 480GB PCIe SSD would set you back $469.74 shipped, but for just under $940 you'd be looking at having around 2.8GB/s on the sequential read speeds and 2GB/s on the sequential write speeds!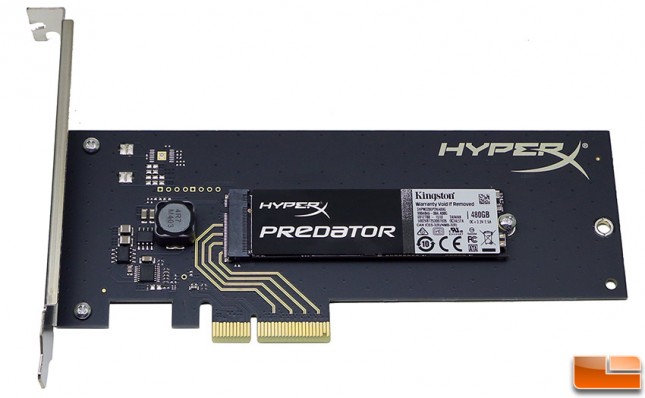 The HyperX Predator M.2 PCIe SSD series uses the Marvell 88SS9293 Altaplus PCIe 2.0 x4 SSD Controller, which is the latest controller that Marvell has to offer. The Marvell 88SS9293 controller supports four Gen 2.0 PCIe lanes and the firmware has been optimized by Kingston to have a good blend of peroformance and reliability. The controller is linked to a 1GB DDR3 memory chip for drive caching purposes. Kingston used eight 64GB Toshiba A19 Toggle NAND chips on the 480GB HyperX PCIe M.2 SSD. You'll find only 480GB of space available in Windows though as Kingston reserved about 7% of the storage space for over-provisioning. Kingston also relies on the TRIM command and garbage collection algorithms to keep performance up to the rated speeds.
If you want to run a pair of M.2 PCIe SSDs in RAID you'll either need to have a board that has enough slots for a couple drives or you can use half-height, half-length (HHHL) adapters to get the job done. Since current chipsets fail to support M.2 PCIe RAID setups, we'll need to setup a dynamic RAID array in Windows for our RAID0 array. Starting with Microsoft 2000 there is built-in functionality to set up a software RAID without any additional tools, but the dynamic volume will not be bootable. If you wanted a bootable RAID setup you'd have to invest in a hardware RAID card and we don't know of one yet that will work for M.2 SSDs. Setting up a dynamic RAID array in Windows 8.1 is painless, so we'll walk you though the process.
In order to do create a dynamic RAID array you'll need to open Windows Disk Management remove any volumes on the two disks if they were previously used and then just right click one and pick the type of RAID volume that you want to set up dynamically. For RAID0 you'll need to create a stripped array, assign a drive letter and name it. After following a handful of simple prompts you'll end up with a striped dynamic RAID array and . You can click through the 11 screen captures above to see the steps that are needed once you get into Windows Disk Management.
Let's take a look at the test system and see how fast this M.2 PCIe SSD RAID setup is!