How To Setup a Home NAS Server – QNAP TS-439 Pro Turbo
By
Why do I need a NAS?
My home network is the epitome of a mixed operating system environment and it presents a perfect environment in which to test the QNAP TS-439 Turbo NAS. The network consists of 6 Mb DSL service connected to a D-Link DIR-655 Wireless-N Extreme router that supports Gigabit WAN and 4 Gigabit LAN ports. A variety of both Mac OS X and Windows laptops connect via 802.11n. On the Gigabit LAN, I have PlayStation 3 DNLA media client, an Ubuntu Linux box for downloading content via torrent and transcoding video, and, occasionally, one of the laptops for faster transfers.
The goal is to install the TS-439 to act as the file server, media server, and a host for backups of my MacBook Pro. This setup should also consume much less power and allow the computers to be suspended most of the time since the NAS can server media, act as a download client, or just spin down the drives if its not busy.
I was also interested in the Bit Torrent features of the QNAP TS-439 since that is one of the primary things that I use my Linux box for. Moving more functionality to the NAS allows my other systems to be off or sleeping and consuming less power. For instance, my Linux box consumes ~75 Watts during a torrent download while the TS-439 consumes only ~50 Watts. Ill discuss the Bit Torrent functionality and power usage of the NAS more later. Let's take a closer look at the TS-439's features.
The $799.99 TS-439 is the latest in QNAP's "Turbo NAS Series" to provide extreme performance for massive data sharing, advanced RAID data protection, 256-bit encryption, and hot-swappable hard drive design for business and power users. The TS-439 features an 1.6 GHz Intel Atom processor and space for 4 hot-swappable SATA I/II hard drives. If that is not enough space, the TS439 has 5 USB 2.0 ports and 2 eSATA ports for easy backup and expansion.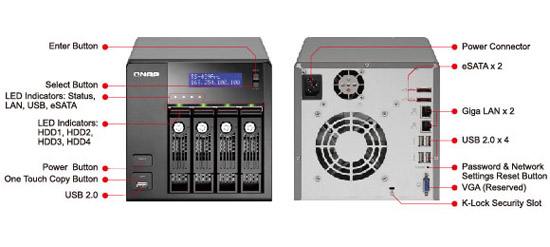 QNAPs four bay TS-439 Pro Turbo NAS is advertised as:
The latest power-saving NAS models featuring the Intel 1.6 GHz CPU, 1GB DDRII memory and stylish. These two models adopt vertical hard drive mounting which allows vertical air convection for excellent heat dissipation as less air is trapped beneath compared to horizontal hard drive mounting. The energy-saving processor of the NAS guarantees low consumption and allows 24×7 operation. The NAS also supports powerful features, including dual Giga LAN, RAID 0/1/5/6/5+spare configurations, Online RAID Capacity Expansion and Online RAID Level Migration, iSCSI target service with Thin Provisioning, AES 256-bit volume-based encryption, automatic policy-based IP blocking, instant SMS alert, and SSL secure certificate etc.