Intel Desktop Roadmap Update – Devil's Canyon, Broadwell, Haswell-E
By
Lisa Graff, Vice President and General Manager Desktop Client Platforms Group, gave a small group of journalists at the Game Developer Conference in San Francisco an update on the future of Intels desktop and enthusiast platforms. She also discussed the 2014 desktop roadmap and told us about several new and exciting products that Intel will be bringing to market this year.
Intel has been working to reinvent the desktop and has been focusing on bringing out new desktop all-in-one models and small form factor systems like the Intel Next Unit of Computing (NUC). It appears that Intel is doing something right as their Q4 13 results for desktop processor volume was up 7% year over year and the company had an all-time record for Core i5 and i7 unit shipments. Intel plans to keep this growth going by accelerating all-in-one systems, maximizing the enthusiast segment, growing the small form factor market and exploring new markets.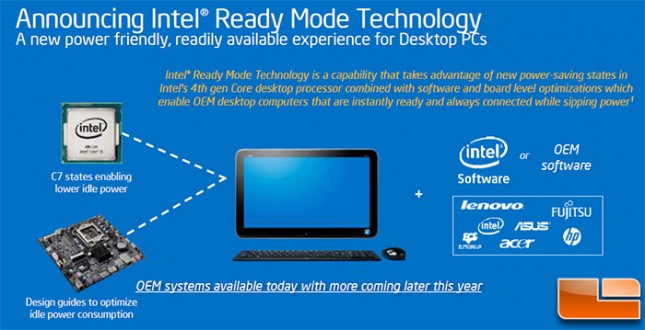 Intel Ready Mode Technology
Intel announced Ready Mode Technology for the first time today. Intel Ready Mode Technology is a capability that takes advantage of new power-saving states in Intels 4th Generation Core desktop processor combined with software and board level optimizations which enable OEM desktop computers that are instantly read and always connected while sipping less than 5 Watts of power. To have Intel Ready Mode Technology you must be using a board, processor and 3rd part software that all support this feature along with Windows 7 or Windows 8 (8.1) and an internet connection. From what we gather Intel Ready Mode Technology uses the C7 power state found on 4th Generation Core processors (Haswell) and will allow you to have your desktop system in an always on and ready state with low power consumption.
This sounds a bit similar to connected standby and we asked Intel to clarify the difference. We were told that Intel Ready Mode has a broader OS support and enables both traditional desktop and metro applications. Microsoft Instant Go (Connected Standby) is supported only on Windows 8.0 and newer operating systems and supports only Windows Metro applications. In Contrast, Intel Ready Mode Technology PCs are always active so all applications are always synchronized and capable of supporting real-time events. Being always active also means that the PC can be reached remotely from mobile devices to access your PCs content anytime.
Examples of how Intel Ready Mode Technology will work include:
Automatically sync and store your photos when you walk in your home
Your media is readily available to stream to devices in your home
Get that important file from your PC when you are away from the office
Lower Total Cost of Ownership (TCO) for your business by replacing costly IP phone dont miss another call.
The real big news came from Lisa Graff with her update on the Intel desktop product line roadmap. The consumer platform product stack hasnt changed from years past, but she did give us some very good insight on what will be coming out later this year.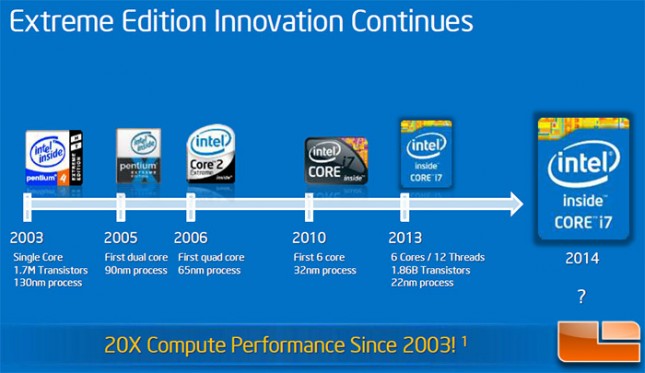 For starters the Intel Extreme Edition processor will continue to live on. Many enthusiasts felt that the Extreme Edition CPU was an endangered species with the PC market slowing down over the past several years and the release of unlocked K-series processors from the mainstream performance series. The Intel Extreme Edition processor was first released in 2003 and has been continually updated over the past 10 years, offering enthusiasts a 20x compute performance since day one.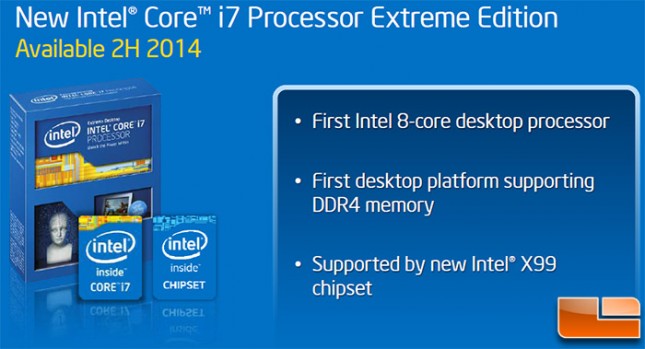 Intel Core i7 Extreme Edition – Haswell-E
Intel will be releasing a new Core i7 Extreme Edition processor in the second half (2H) of 2014! Intel has not given an exact name or all the clock speeds of this new processor just yet, but we are fairly certain that this is Haswell-E and Intel did say that it would be an 8-core processor (16 threads with Hyper Threading) that runs on the upcoming Intel X99 'Wellsburg' chipset. The Intel X99 platform will be the very first desktop platform that will use DDR4 memory! You likely already know this though as over the weekend a leaked slide has posted by wccftech.com spills on the secrets on Intel's X99 chipset. The leaked slide shows that X99 will support up to 14 USB ports (six USB 3.0 ports and eight USB 2.0 ports), 10 SATA 6Gbps ports, eight PCI-E Gen2 ports, Intel's integrated clock for HEDT, and Intel Rapid Storage and RST Smart Response technology. The slides also show that X99 will officially support up to DDR4 memory speeds of up to 2133MHz per DIMM slot, but you'll be able to overclock beyond that top supported speed. Beyond that, you can expect things like Hyper-Threading, Turbo Boost 2.0, and Intel's Smart Cache technology.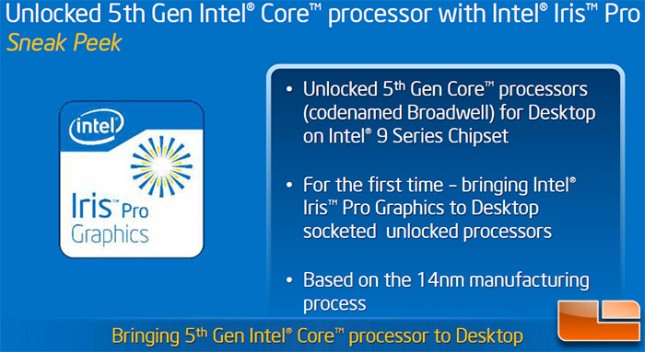 Unlocked 5th Gen Intel Core Processor w/ Iris Pro – Broadwell
Intel shocked the desktop enthusiast community when they released the 4th Generation Core i5 and i7 processors with Iris Pro graphics, yet they opted not to bring a socketed processor to market with the beefy new graphics core. Intel brought versions to the embedded market, but at the time Intel was focused on mobile and was headed full steam in that direction. There were some talks behind the scenes about making a Haswell processor with Iris Pro for the current generation of products, but it would have been months late to market and costly as they would have had to create an entirely new wafer for a socketed part like this.
It looks like Intel has backed away or at least slowed down the move away from socketed motherboards. This was very evident today as Intel announced that they would be bringing out an unlocked 5th Generation Core Broadwell processor with Iris Pro graphics to market later this year with the upcoming Intel 9 series chipsets. Intel Broadwell processors will be made on the 14nm manufacturing processor and feature a number of performance and power efficiency improvements over Haswell.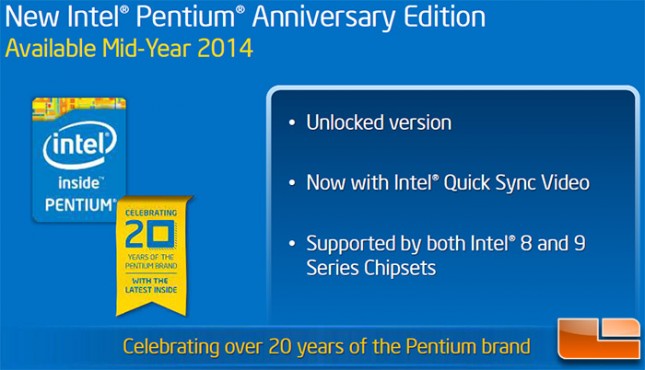 Intel Pentium Anniversary Edition
This year is special for the Intel Pentium series as it has been around for 20 years! To celebrate the 20th birthday of Pentium series Intel will be coming out with an Intel Pentium Anniversary Edition processor. This processor will be unlocked, support Intel Quick Sync Video and be supported by both Intel 8 and 9 series chipsets. Intel would not disclose if this would be a series of processors or just one.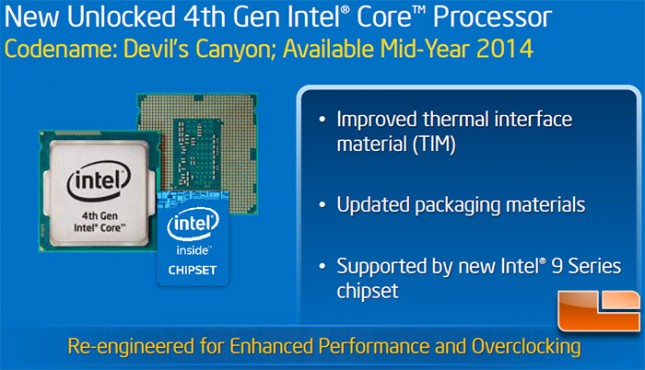 Intel Devil Canyon
Lastly, Intel announced Devils Canyon. Devils Canyon is the codename for a 4th Generation Haswell processor that has been re-engineered for better performance and with a higher overclocking potential. The biggest change on this processor is that Intel applied a new Thermal Interface Material (TIM) under the lid of the processor. Overclockers and Enthusiasts have been very vocal with their disapproval of Intel moving away from a soldered lid to one that uses what they consider sub-par TIM. It is believed that Intel started using thermal paste on Ivy Bridge and Haswell due to the fact that these processors have lower TDPs than previous generations and it saves money. Intel wasnt too concerned about overclocking on mainstream processors and was mainly worried about ensuring the processor would work properly in the designated power envelope.
It has been discovered by enthusiasts in the community that Intel uses thermal paste on sub 100W TDP processors and solders the lids on with those processors above that are rated above 100W TDP (IvyBridge-E and purportedly Haswell-E). It looks like Intel has heard the disappointment from the enthusiast community and this processor is their answer to all the complaints. We asked Intel to confirm that the TIM change on Devils Canyon was a move back to a soldered solution and they declined to disclose that information at this time. We also asked if this re-engineered processor would be using a new CPU stepping and we were told that the re-engineering refers to improved thermal interface and CPU packaging materials that are expected to enable significant enhancements to performance and overclocking capabilities. The solder vs. paste battle appears to be over, but youll have to pay more to get solder on mainstream performance processors. According to Intel, Devils Canyon will only work on the upcoming 9 series chipset and will come with some updated retail packaging when it arrives in the middle of this year.