Gigabyte GHOST M8000X Gaming Mouse Review
By
The Gigabyte M8000X Gaming Mouse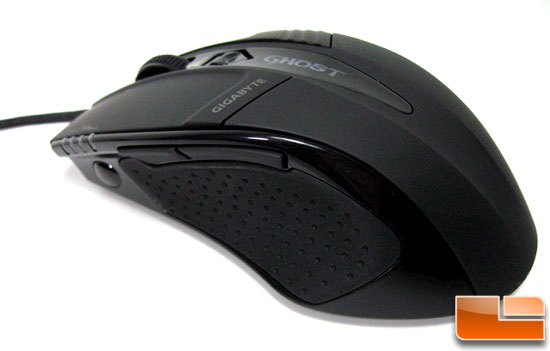 It's not every day that we review peripherals here at Legit Reviews, but today we are looking at the newest entry to Gigabyte's line of mice and accessories: the highest of the high end M8000X performance gaming mouse. Sporting an ultra high resolution of 6000dpi and a unique 32kb GHOST engine which stores all settings and macros onboard, this looks like one promising mouse. Let's take a look at the specifications and features and see the whole story behind this Gigabyte mouse.
Technical Specifications

Max. Resolution: 6,000 DPI (Programmable)
Frames Per Second: 12,000 FPS
Max. Acceleration: 30g
Max. Speed: 150 inches/second
Tracking System: Pro Laser
Buttons: 7 (9 Programmable)
USB Report rate: 1,000/second (1000 MHz or 1ms response time)
USB data Path: 16 bits/axis
Interface: Gold Plated USB
Cable Length: 1.8m, 5.9 feet
Color: Rubber Black
Weight: 145g (adjustable up to 38g)
Features
Superb performance AVAGO 9500 Laser sensor
Easily adjustable on-the-fly "up-down" sensitivity switcher
32KB GHOST Engine on-board memory supports 45 assignments with macro editing
Ultra-Durable Omron 10 million switch functional life
Weight tuning up to 38 grams of adjustable weights
Gaming-grade non-tangle, bending resistant braided nylon USB cable
Revolutionary GHOST Engine software suite
Ultra-user-friendly drag-and-drop setting of user interface
Ultra-Durable slick Teflon feet
Ergonomic Streamline design
Perfect Tracking Precision system tracks and analyzes mouse pad and optimizes laser sensing distance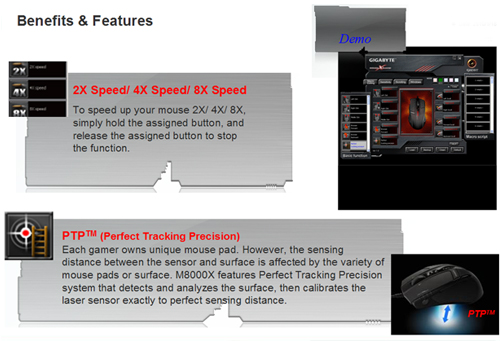 Perfect Tracking Precision is a unique feature which senses your type of mouse pad (or lack thereof) and makes the laser sensor adapt to it. I have high hopes for this feature and we'll see a bit later how well it actually works.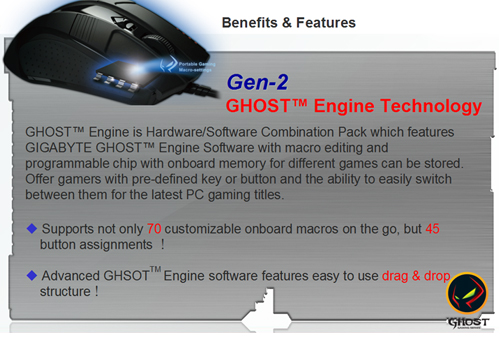 I think the most intriguing feature about the mouse is the GHOST engine which saves settings and profiles onboard. This means that you can unplug your mouse and move it to another system without having to reset any settings for the mouse itself. It will always have the dpi, color and sensitivity settings that were set the last time it was used which is great for people who reinstall operating systems frequently.
Now that you know all about this feature-rich mouse, let's take a quick look at the retail box and bundle then really dive in.