GeForce GTX 480 Gets a BIOS Update and Cooks an Egg
By
Trying To Solve The Temp Issues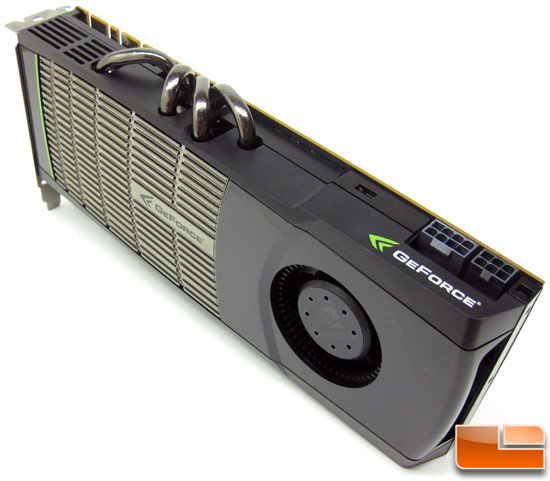 Yesterday, we updated the video card BIOS of our NVIDIA GeForce GTX 480
reference graphics card to what we were told is the version that will be
used on the GeForce GTX 480 graphics cards when they come out in just a
couple weeks.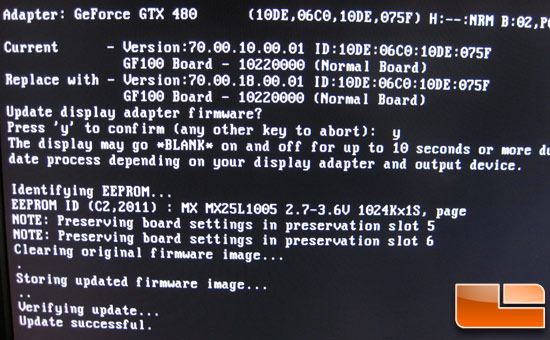 The version that all the press reviewed last week was 70.00.10.00.01 and the latest build with some minor tweaks and bug fixes is version 70.00.18.00.01. Since Legit Reviews was the first site to point out the high temperature issue when using two monitors, the engineers at NVIDIA were kind enough to let us try the latest vBIOS build to see if it fixed our heat issues as the new vBIOS includes some new fan profiles.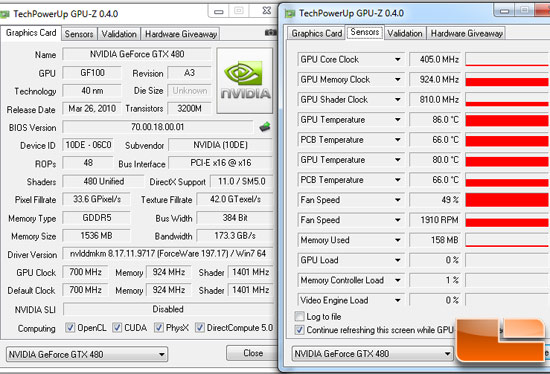 We gave the build the good old college try, but we were still sitting around 86C in GPU-Z when we tried it out today. We gave our feedback to NVIDIA and several hours later they got back to us with this:
"Upon low-level examination of the GPU-Z application, we have determined that it is not using our NVAPI for all temperature/fan control calls, but is instead banging registers directly. This is interfering with our fan control and causing boards to crash when GPU-Z is run in the background. We need GPU-Z to use NVAPI to avoid these conflicts…"- NVIDIA
We have had random crashes with the GeForce GTX 480 graphics card while running GPU-Z in the background, so it's great that the issue has been identified and solved. We expect a new version of GPU-Z to be available soon that should address all issues. NVIDIA also thought that GPU-Z might be the root cause of the fan anomalies, but when we fired up the system from a cold boot and opened just MSI AfterBurner, we found the GPU to be idling at around 84C, which is again a tad too hot for our tastes.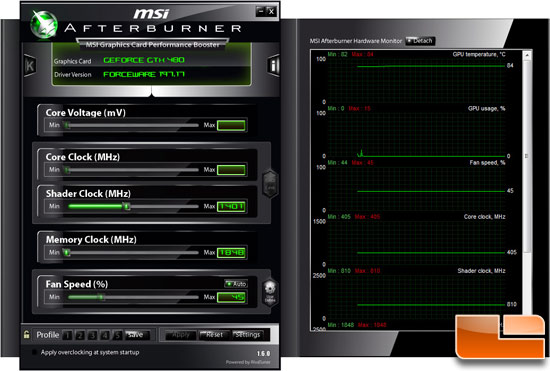 We relayed this information on to NVIDIA and they informed us that our dual monitor idle temp problem will be solved by another new VBIOS that will be released this week that will ramp up the fan speed starting in the 70s instead of the 80s.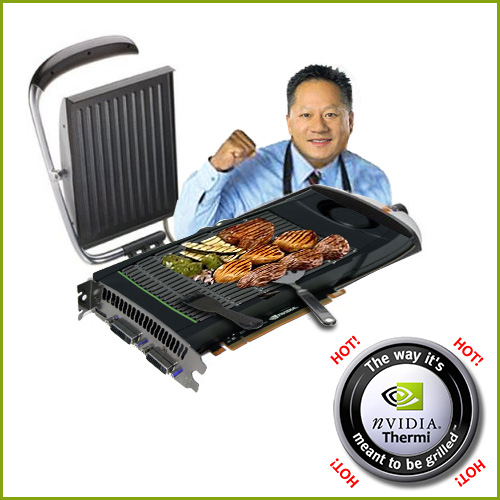 Since we couldn't fix the fan issue we thought we'd try cooking up some food on the 'radiator' of the GeForce GTX 480 as dozens of people have e-mailed asking us to try and replicate some of the fun pictures like this one above posted up in our forums.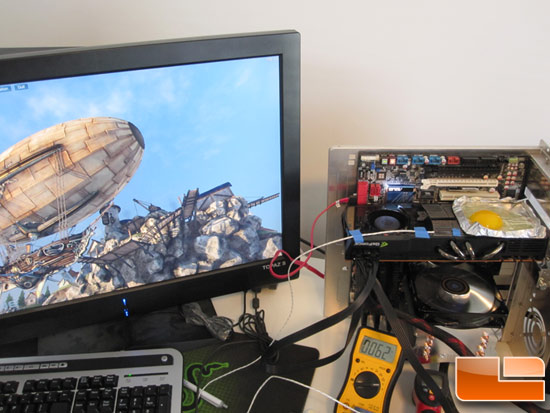 We got out the aluminum foil and a cage free chicken egg and tried to see if we could use the GeForce GTX 480 graphics card to cook one up.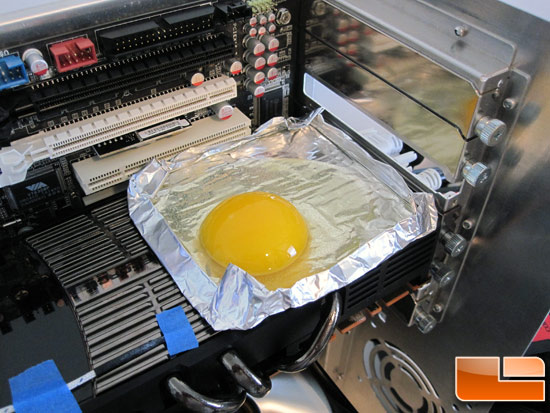 We let the card sit at idle with two monitors plugged in and even though the GPU sat at 87C we couldn't get the egg to cook up.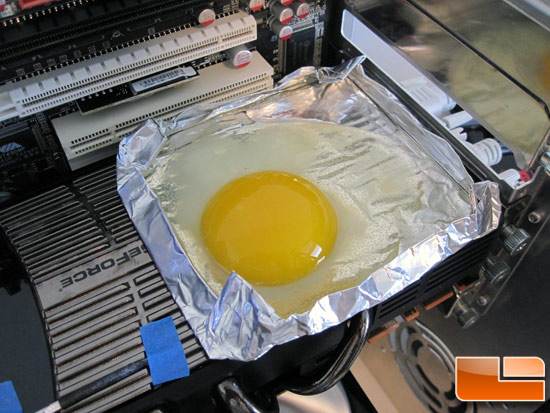 After nearly 45 minutes of running benchmarks and playing some games the egg white was turning white, but it was no where near cooked. Oh well, we tried! We had the fan on auto the entire time, so if you turned the fan down lower you might have some better luck. It was fun trying as this is the first time we have tried to cook any sort of food on Legit Reviews!
We, of course, filmed the event just in case we were able to cook the egg as that is something that deserved to be caught on film! It's always good to bring a little humor to something like this, so we hope you got a chuckle out of this as we sure did. NVIDIA has been on top of the dual monitor temperature issue since we brought it up with them last week, and it looks like they will have it sorted out before the cards hit the retail market. We just wanted to give readers a quick update as to what is going on since we spent many hours testing the GeForce GTX 480 after our initial review was posted.