Game Mode Might Boost Performance On AMD Ryzen 9 3900X Processors
By
Most of our readers know that the vast majority of PC games are designed for your mainstream 4-8 core processors. As the processor manufacturers have been rapidly increasing core counts that hasn't directly translated into better performance. When AMD first introduced their Ryzen Threadripper series of processors in 2017 with up to 16-cores and 32-threads on the Threadripper 1950X processor they quickly found out that poor thread scheduling can hurt game performance. AMD came up with a new feature called 'Game Mode' and placed it in Ryzen Master software application. Enabling 'Game Mode' and rebooting a system will basically disable half of the CPU cores. This means the Threadripper 1950X would become an 8-core, 16-thread processor and the 4+4 CCX configuration on one die was better for gaming than having the 4+4+4+4 CCX configuration on two dies. AMD's solution worked as you could run Threadripper in creator mode for when you wanted to have all cores active for peak performance or you could disable half of the chip to likely have better gaming performance. The choice was up to the user and what isn't there to like about that.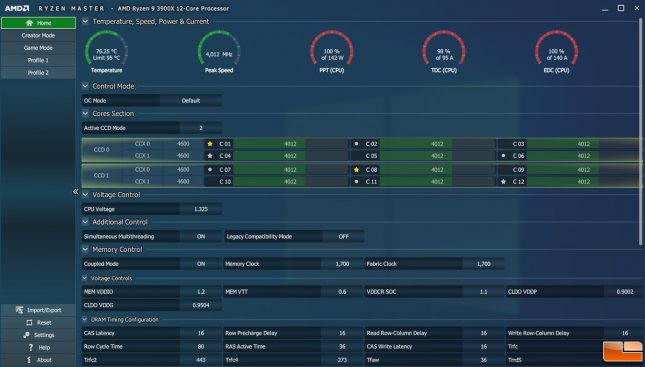 When we were doing our AMD Ryzen 3900X 12-core, 24-thread processor review we noticed that the 3900X was performing slower than the Ryzen 7 3700X 8-core, 16-thread processor on a handful of test cases despite having more cores and higher clock frequencies. The AMD Ryzen 9 3900X never once mentioned enabling 'Game Mode' for testing games and most sites didn't test it. AMD also touted how Windows 10 v1903 (May 2019 Update) was now optimized for all Zen processors with faster clock ramping and improved topology awareness.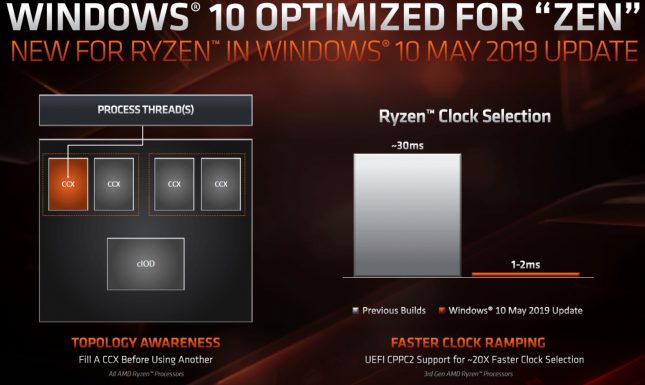 That said the Ryzen 9 3900X still has 12-cores in a 3+3+3+3 core configuration instead of the 4+4 core configuration on the Ryzen 7 3700X processor. So, we headed into Ryzen Master and enabled 'Game Mode' on the 3900X processor for the first time.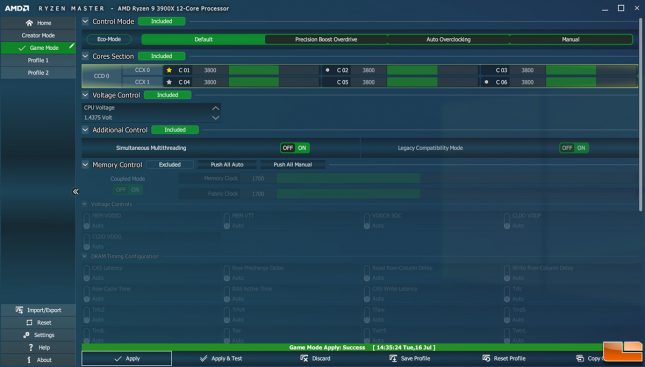 After a quick system restart our AMD Ryzen 9 3900X was running as a 6-core, 12-thread processor with a 3+3 CCX configuration. Let's run a game title like Metro Exodus where we saw the 3900X performing slower than the 3700X at 1080P.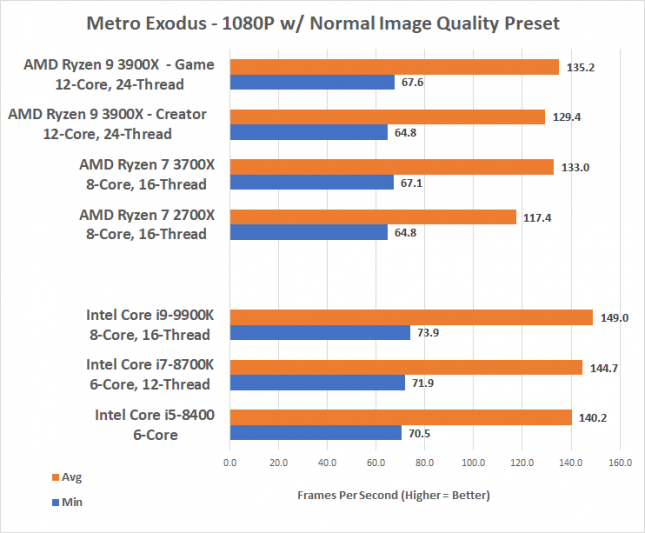 Enabling 'Game Mode' on the Ryzen 9 3900X processor gave us a 4.5% performance improvement than running this game title in 'Creator Mode' as you can see from the chart above. That was enough for the 3900X to perform better than the 3700X as one might expect. It's highly likely that this game title doesnt react well to higher core count processors and will be something we'll continue to investigate.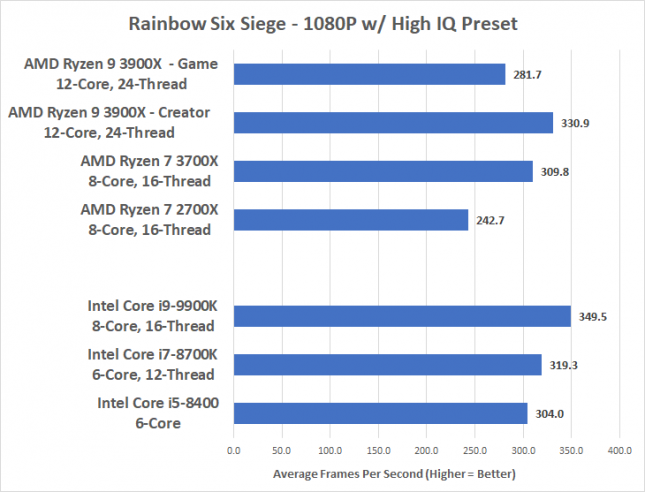 When we ran other game titles with 'Game Mode' enabled on the 3900X we found that performance dropped. We only ran Rainbow Six: Siege, Far Cry 5 and Metro Exodus in our CPU test suite and of those titles only Metro Exodus showed a performance improvement with Game Mode enabled. It is likely that 99% of game titles run better in 'Creator Mode' and we hope that is the case. Now that this news is out the sites that have dozens of games that can be tested with automation will be able to crank out results in a timely manner from a larger data set.
This is the first time we've seen an AMD Ryzen processor benefit from a mode that many believed to just the AMD Ryzen Threadripper series. If you are a reviewer or customer that sees poor performance in a particular game title be sure to try out 'Game Mode' in Ryzen Master and see if it helps performance. If it does be sure to let us know in the comment section below.