G.SKILL RIPJAWS KM570 RGB Mechanical Gaming Keyboard Review
By
G.SKILL RIPJAWS KM570 RGB Mechanical Gaming Keyboard
Are you looking for an inexpensive mechanical gaming keyboard with RGB lighting but don't want to cheap out and go with a brand you've never heard of, with a board containing switches of questionable quality? G.SKILL, a Taiwanese manufacturer best known for producing high quality DRAM for the overclocking market, also produces a lineup of keyboards designed with gamers in mind. Today, we're going to be looking at the G.SKILL RIPJAWS KM570 RGB Mechanical Gaming Keyboard, which features genuine Cherry MX mechanical switches. While G.SKILL might not be a brand you immediately think of when it comes to computer peripherals, they are one of the most trusted manufacturers of DRAM in the industry and are known for their stringent QC process. Ripjaws is actually a G.SKILL brand name that they use for their DRAM, so it is interesting to see the company expand that branding to their gaming peripherals.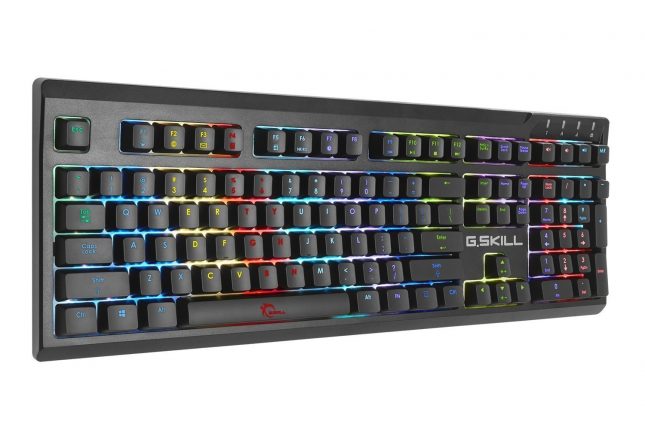 While there aren't extras like a USB pass-thru, independent macro buttons or a wrist-rest, the G.SKILL RIPJAWS KM570 RGB Mechanical Gaming Keyboard has pretty much everything else a gamer could ask for. Available with genuine Cherry MX key switches, including the popular new Cherry MX Silver? Check. Per-Key RGB backlighting? Check. Full n-Key rollover? You got it. Independent volume adjustment buttons, including mute? Yep. There's even on-the-fly macro recording available, if you're into that sort of thing.
With pricing starting at just $79.00 shipped on Amazon the G.SKILL RIPJAWS KM570 RGB is designed and priced to compete head-to-head with other Cherry MX RGB gaming keyboards in the $100 range like the Corsair Strafe, which is currently available on Amazon for $109.99 shipped. Does G.SKILL have what it takes to come over from the memory industry to compete on the peripheral side, or will we end up telling them where to DRAM it? Let's look at the G.SKILL RIPJAWS KM570 RGB mechanical gaming keyboard a bit closer to see what G.SKILL brings to the table.
RIPJAWS KM570 RGB Specifications
Keyboard Type: Mechanical
Keyswitch: Cherry MX Red (Also Available With Cherry MX Blue, Cherry MX Brown, Cherry MX Silver)
Backlighting: RGB
Keyboard Size: Full-size
Additional Macro Keys: None
Onboard Profile: 1
Function (Fn) Hotkeys: Yes
Anti-Ghosting: Yes
Full n-Key Rollover (NKRO): Yes
Windows Key Lock: Yes
Media Control Keys: Yes, Dedicated Volume Keys w/ Playback Control via Fn-key
Passthrough Ports: None
Detachable Palm Rest: None
Mouse Cable Holder: None
Connection: USB 2.0 (Two Ports Required For Data + RGB)
Cable Type: 2m, Braided
Dimensions 446.5 x 158.8 x 45.5mm
Weight 1.25kg
Warranty: 2-Year Limited Warranty
The G.SKILL Ripjaws KM570 RGB mechanical gaming keyboard comes shipped in a black box with a graphic of the keyboard displaying the default RGB mode on front. G.SKILL places a sticker on the upper right corner of the box so you know what switch the keyboard comes with, since there are several different switches available on the KM570 RGB, with G.SKILL covering all of the most popular ones, including the Cherry MX Silver switch, which are known as MX Speeds when they are outfitted on Corsair keyboards. The sample that I received had Cherry MX Red switches, which are linear and excellent for gaming, though typists often dislike them due to the fact that they have no audible click or tactile bump.
G.SKILL covers their keyboards by a 2-Year Limited Warranty, which is excellent and a standard I want to see every manufacturer follow. By warrantying their keyboard for two years, G.SKILL is telling consumers that they have confidence in the product lasting beyond a year, which is sadly what many companies limit the warranties of their keyboards and mice to.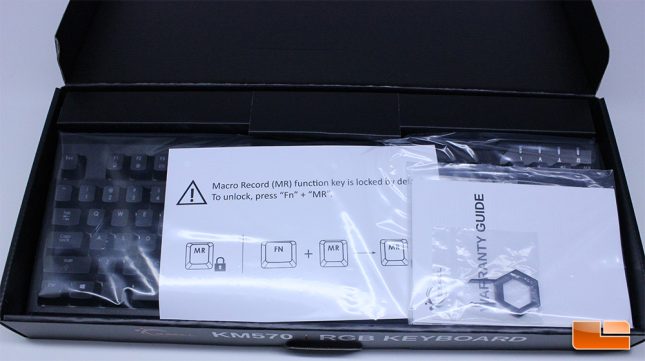 The Ripjaws KM570 RGB is packaged well within the box, with spacers used to keep things in place and a plastic cover over the keyboard itself. G.SKILL includes a user guide, warranty guide and a plastic key puller, which can come in handy when cleaning the keyboard or swapping key caps. Overall, G.SKILL did a pretty good job with the packaging of the Ripjaws KM570 RGB and the extra key cap puller was a nice addition.
Let's take a closer look at the G.SKILL RIPJAWS KM570 RGB and the G.SKILL software on the next page.