G.SKILL Phoenix Blade 480GB PCIe SSD Review
By
G.SKILL Stays Relevant In The SSD World
Based out of Taiwan and founded in 1989, G.SKILL is best known for their memory products and over the years they've sprinkled in some other related products as well. Though they haven't been very prominent in the SSD market – especially as of late, G.SKILL has remained in the game with yet another Phoenix drive release. They've been using the 'Phoenix' appellation on their SSD product names for quite some time and to the best of my memory, the last one we tested was the Phoenix Pro way back in 2010. That particular drive featured the (pre-LSI owned) SandForce SF-1222 controller and operated on a SATA II interface. Now that newly minted SATA II SSDs are a thing of the past and SATA III drives are routinely hitting bandwidth thresholds, we're seeing more and more PCIe based drives emerge which have plenty of ceiling left to grow. G.SKILL has surprisingly joined the growing PCIe crowd with the Phoenix Blade. The name is likely a reference to the drive's shape, long and thin, and the fact that it carves up data with ease. This time around, they have a on board RAID 0 setup ( la OCZ RevoDrive 350) with four LSI SandForce SF-2281 controllers working in concert to pump out crazy performance like 2000MB/s reads/writes and IOPS of up to 90,000 reads and 245,000 writes. The PCI Express 2.0 x8 slot provides plenty of headroom to let the drive max out without being a bottleneck.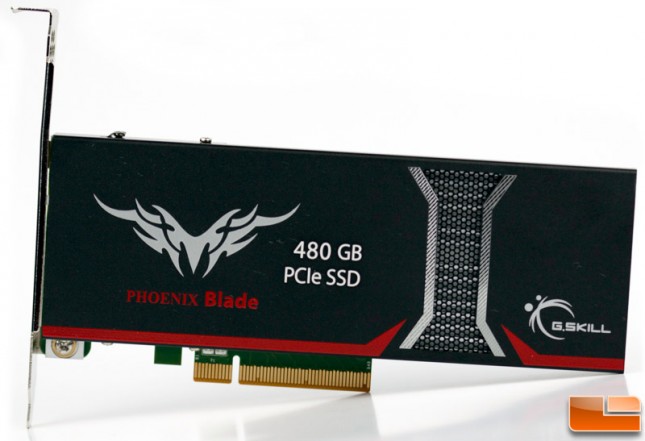 Being a RAID 0 setup, one question immediately comes to mind – does it support TRIM? Thankfully, the answer is yes, as well as SCSI UNMAP/IOCTL , so performance won't degrade over time due to an accumulation of 'dirty' blocks. For this, it utilizes what they call ScaleBoost Virtualization Technology to pass the TRIM command. Likewise with S.M.A.R.T. attributes. Power requirements are pretty beefy at 18W max active, although those using a drive of this type aren't likely to be worried about such things. However, power users generally have a high-end video card or two in their system so having an available PCIe x8 or x16 slot that's not occluded or already in use may be a challenge depending on the motherboard configuration.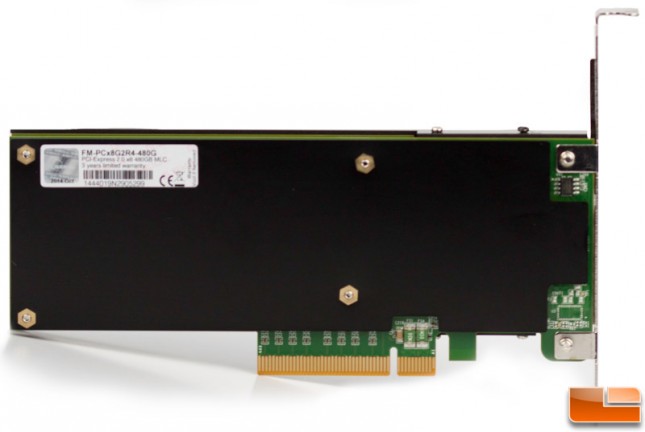 It's only offered in only a 480GB capacity, priced at $699.99 and aimed at the high-end enthusiast/prosumer user. The drive carries a three-year warranty against defects with a Mean Time Between Failures (MTBF) rated at 1,000,000 hours and of course, G.SKILL is available for support should the worst happen. The drive employs BCH ECC of up to 55 bits per sector and RAID-5-like data protection to mitigate data loss as the smaller architecture 19nm NAND being used requires stringent err0r correction measures. AES 128-bit compliant level data encryption is also available and while not quite the standard anymore (256-bit is the norm now), it's still enough to keep honest people honest.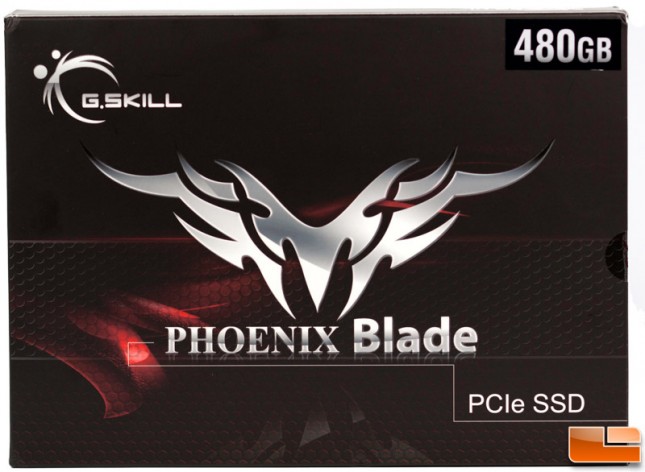 G.SKILL Phoenix Blade 480GB PCIe SSD (FM-PCx8G2R4-480G) Features and Specifications:
G.SKILL Phoenix Blade 480GB PCIe SSD
GENERAL:
Model Name:
Phoenix Blade PCIe SSD 480GB
Model Number:
FM-PCx8G2R4-480G
Retail Pricing:
$699.99
Interface:
PCI Express 2.0 x8
NAND Flash:
MLC
NAND Controller:
LSI SF-2281 x 4
User Capacity:
480GB
Applications:
Gaming, Multimedia
Power Requirement:
Standard PCIe 12V and 3.3V
Data Encryption:
AES-128
OS Bootable:
Yes
TRIM:
SCSI UNMAP, IOCTL
PERFORMANCE:
Max Read Speed:
2000 MB/s (IOMETER)
Max Write Speed:
2000 MB/s (IOMETER)
Sequential Read:
1900 MB/s (CrystalDiskMark)
Sequential Write:
1050 MB/s (CrystalDiskMark)
4k Random Read:
Up to 90,000 (IOMETER)
4K Random Write:
Up to 245,000(IOMETER)
4KB Latency:
Up to 65s(read)/50s(write)
ENVIRONMENTAL:
Power Consumption:
Idle: 8W
Max Read Workload: 15W
Max Write Workload: 18W
Operating Temperature:
0C ~ 55C
Storage Temperature:
-40C ~ 75C
Airflow Requirement:
300 Linear Feet/Minute
Certifications:
CE, RoHS, FCC, WHQL
RELIABILITY:
ECC:
BCH, up to 55 bits per sector
Flash Failure Recovery:
RAID-5-like data protection from Flash page/block failures
Write Endurance:
>1536 TiB
MTBF:
1,000,000 hours
Health Monitoring:
S.M.A.R.T.
PHYSICAL:
Form Factor:
Half Height
Dimensions (mm):
170 x 70 x 21
Weight:
275g
COMPATIBILITY:
PCI Express:
PCI Express Base – Specification Revision 2.0;
PCI Express CEM – Specification Revision 2.0;
PCIe x8 or x16 slot
Operating Systems:
Windows 7, 8, 8.1
SERVICE & SUPPORT:
Warranty:
3 Years Limited
Support:
[email protected], [email protected], [email protected]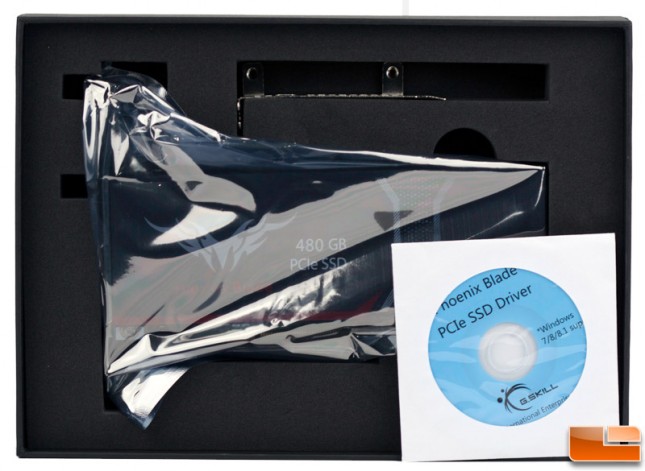 In the box we find the drive itself, a half-height adapter for use in smaller form factor systems and a mini-CD with driver data although we always recommend heading to G.SKILL's site to download the latest available driver when possible. The driver install is compulsory for the drive to be recognized by Windows, even if used as a secondary drive.