EVGA TORQ X10 Gaming Mouse Review
By
Looking around the EVGA TORQ X10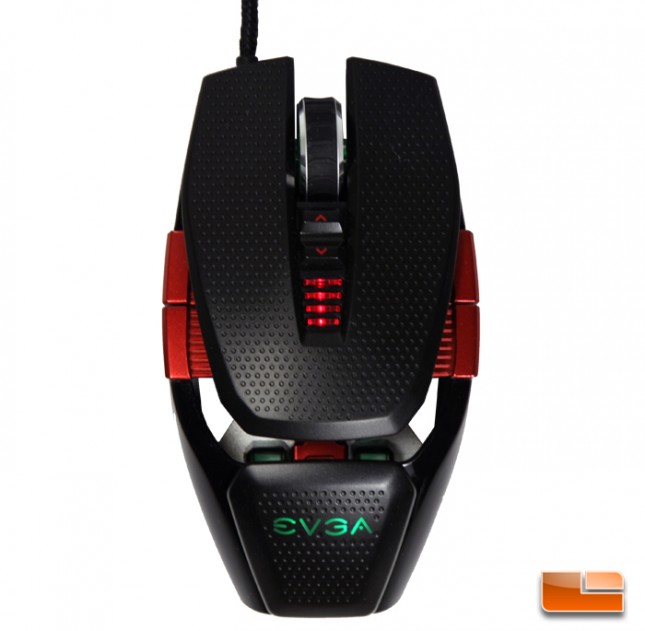 The EVGA TORQ X10 has a fairly standard size for a gaming mouse measuring 2.25 x 4.5 x 1.25 inches (WxLxH) / 57.15 x 114.3 x 31.75 mm. The edges follow a bit of a hyperbolic shape that's actually quite comfortable to hold even if one has a preference for one-handed mice. As better demonstrated in some of the side-view photographs below, the TORQ X10 has a curvature that supports the hand resting on top, but also a steep back for controlling the mouse with a claw grip.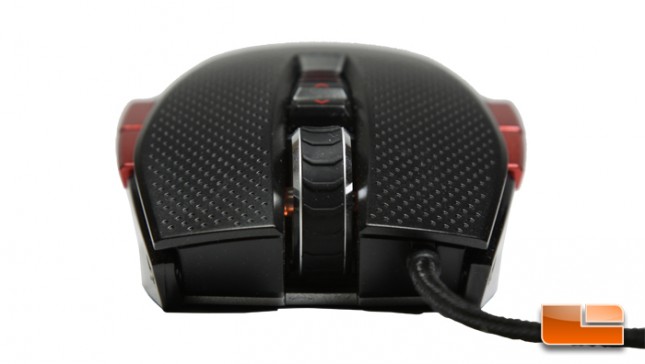 Since this is the TORQ X10 that doesn't have carbon fiber, the shiny parts of the mouse are made of a more common plastic. The top surface is a dimpled black matte plastic.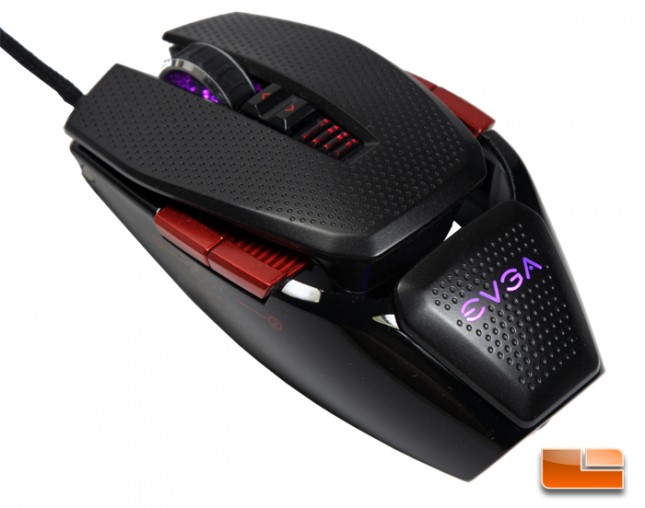 The TORQ X10 has a 6 foot long braided USB cable that comes with a cable tie attached to help manage the cord length.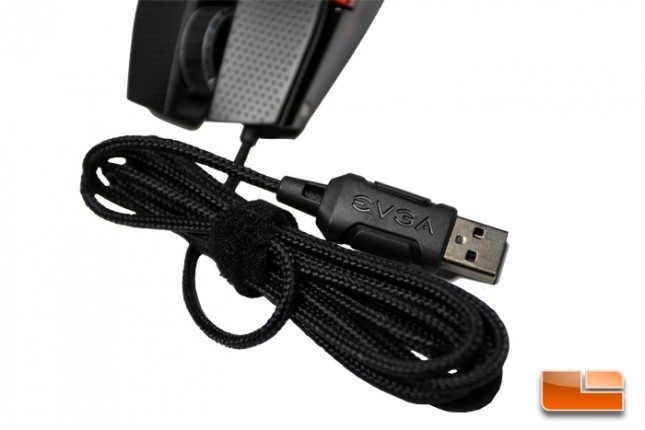 There are two customizable LED lighting zones at the scroll wheel and towards the back end. The range of colors is limited to seven colors in the settings software. The four sensitivity indicators in the center only glow red.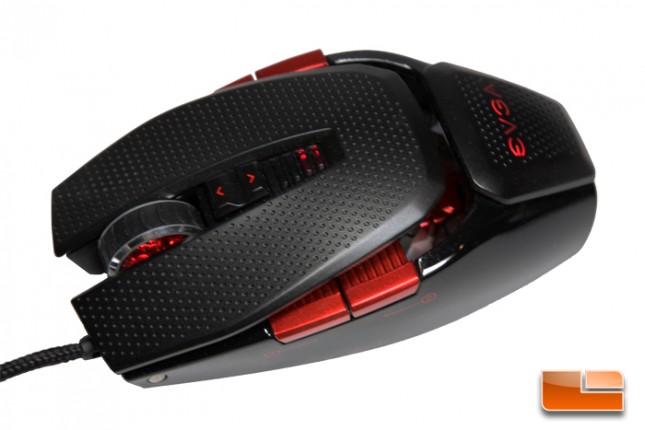 All the buttons on the TORQ X10 are customizable though it is difficult to use the offside thumb buttons with the pinkie or the like.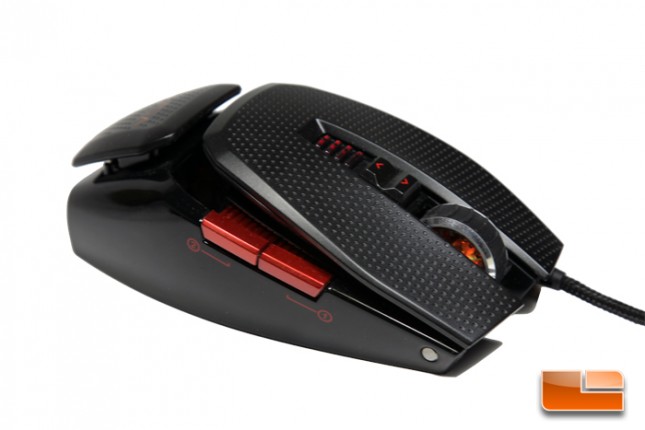 Hidden at the very end of the TORQ X10 mouse is a screw for adjusting the height of the mouse. It doesn't require much force to turn with the included screwdriver and the limit of adjustment can be easily felt when the screw no longer turns.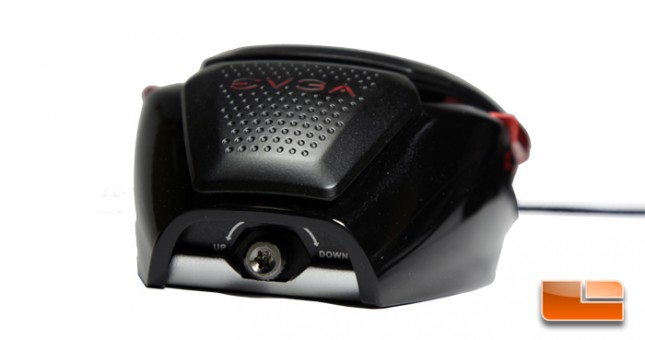 Here these photos demonstrate the adjustable height.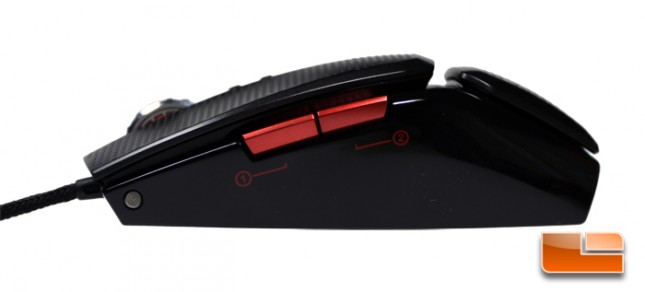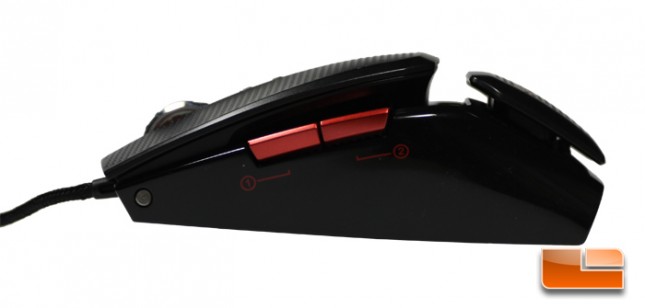 On the underside of the TORQ X10 we see the metal base plate, the laser sensor, and a button. Pressing this button switches to the next mouse setting profile which is great if you opted to not assign a profile cycling command to the other buttons.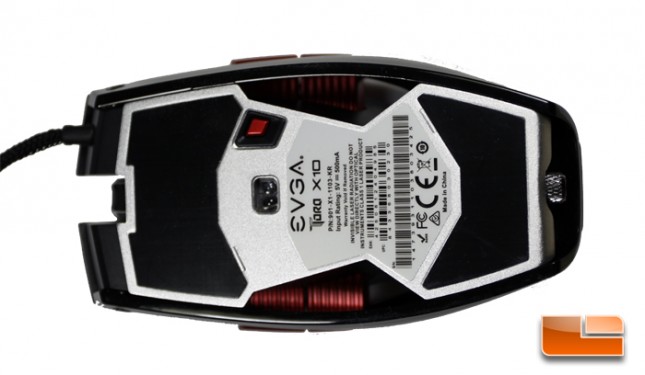 The TORQ X10 features an adjustable weight system hidden behind the top piece that was quite securely latched into the mouse the first time we got around to opening it. It's an interesting place to be place the weight system, but with no room on the underside due to the adjustable height mechanism, the top is probably the next best location.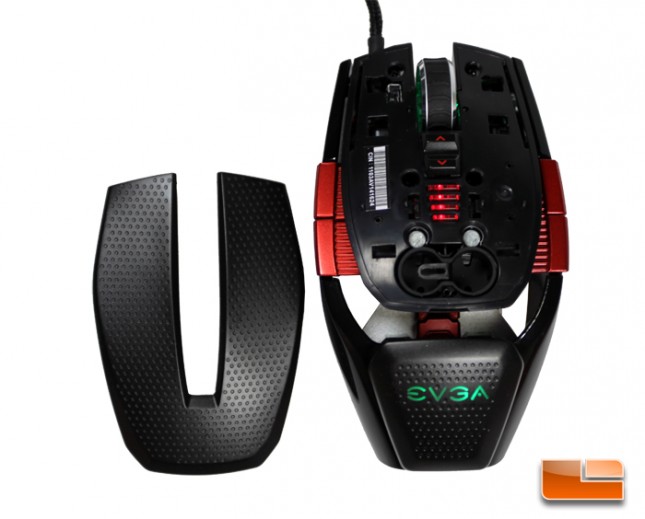 Six weights are included which are loaded into a rubber holder so that there isn't rattling going on inside.