Emerson EM756-8 Android 7″ 8GB Tablet Review
By
Bargain retail chain Dollar General is currently having a 4-day sale on an Emerson EM756BK-8 7-inch tablet running Android 5 'Lollipop' for $35. We just happened to be in the market for some cheap tablets for the kids to watch movies on during holiday travels. Seeing your 2-year old and 4-year old grabbing your expensive smartphone and running around the house with it can be a terrifying experience. So, rather than having your crazed children breaking our expensive smartphone we wanted to see how these cheap $35 tablets would do. Our main goal here is to get a tablet that can successfully play movies with VLC Player stored to microSD card.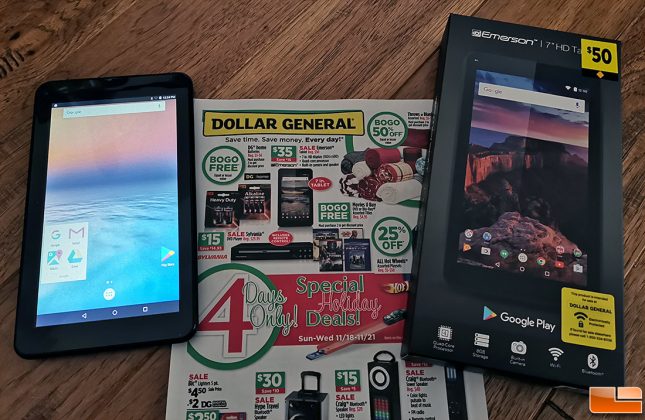 Emerson (Southern Telecom) EM756-8 Tablet Specifications
7-inch 16:9 LCD display (1024 x 600 screen resolution w/ 159 Pixels Per Inch)
CPU: ARMv7 Rockchip RK3188 SoC (Quad-Core ARM Cortex-A9)
GPU: Mali-400MP
RAM: 512MB (492MB Available)
Internal Storage: 8GB (3.44GB Available)
Front Facing Camera: 0.3 MP (640 x 480 resolution)
Battery: 6700 mAh
microSD card slot for expansion (supports up to 32GB cards)
Android 5.1.1 (Kernel 3.10.0 from July 2018)
The specifications on the box say the EM756 tablet features a quad-core processor and the average consumer will likely see that and think this will be a fairly powerful tablet. Once we bought the EM756 tablet and took a closer look at the components we noticed that it was using the Rockchip RK3188 SoC that came to market in 2013. So, this budget-oriented $35 tablet has an aging 28nm processor that will be six years old in 2019. The performance of the Emerson EM756 is lackluster to say the least.
When you first turn on the tablet and go to Google Play you'll discover half a dozen applications that need to be updated. The update process just for these applications will take hours to be completed. Downloading the updates is quick, but installing them is what takes so long. It takes 1 minute 25 seconds to turn on or 'boot up' the Emerson EM756 tablet and the interface is very slow and frustrating to use.
We wanted to give you an idea of the performance of this tablet, so we downloaded GeekBench 4. Unfortunately, both the 'CPU' and 'Compute' benchmarks crash when run on the Emerson EM756. Next, we gave AnTuTu Benchmark a try and found that AnTuTu 3DBench isn't compatible with this device. The reason that you can't find any performance benchmarks for this tablet is because most of the common free benchmarks won't run on it and that isn't a good sign.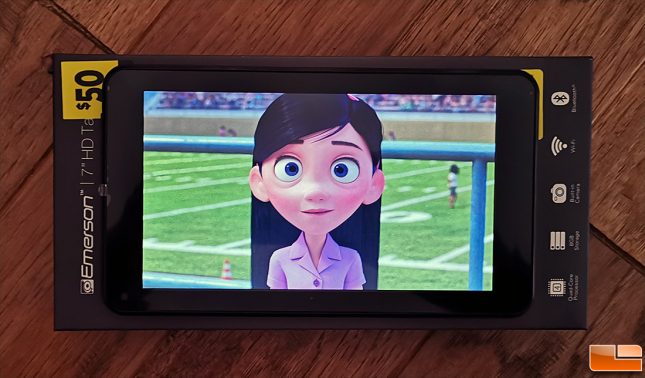 Benchmarks be damned we downloaded VLC Player and popped in our 32GB microSD card full of MKV movies. We were able to use the 'fit to screen' option in VLC Player to get the 1080P movies to fill the entire screen on our 1024 x 600 display. The color and viewing angle left much to be desired, but it worked. Well, it sort of worked… The single speaker on the Emerson EM756 is rear-facing and isn't that loud and you'll only be able to interpret the audio in a quiet area. We connected a pair of JBL JR300BT wireless headphones (our review) and that made a world of difference for the audio. The only problem is that after a few minutes the tablet would lock up while playing the movie and using Bluetooth at the same time. The Emerson EM756 also has a 3.5mm headphone jack, so you can also use that to get better stereo audio that you can actually hear without the issues we encountered with Bluetooth. Our tablet mysteriously stopped seeing our wireless network and whenever that would happen we needed to reboot to get it to find the saved network again.
Battery life while playing a movie with the screen brightness at 53%, wireless on and bluetooth off was found to be right at 2 hours and 5 minutes. That is on a 1-day old fully charged battery, so that is a best case scenario for video playback. This is disappointing as you can barely watch one movie on this tablet with the brightness cranked down.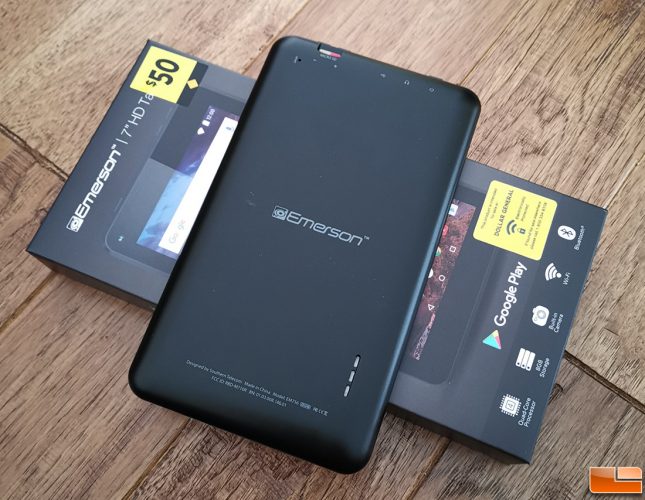 For $35 you get a tablet that has super slow hardware and is going to leave you frustrated at the end of the day. Giving this to an older adult as an introduction to tablets or a child to learn on is going to be catastrophic. Giving it to a teenager or adult that is familiar with tablets or smartphones and they will instantly know this is a piece of garbage and not want to use it. The screen quality is poor, the front facing camera quality was acceptable 10-years ago, applications are slow to install and open and the battery life isn't long enough to watch a 2-hour movie at full brightness.
Who is the target audience for the Emerson EM756? The size of the tablet is great, but the components that Emerson/Southern Telecom are using for this device are low-end. That means it is super slow and failed to meet our expectations even for a $35 device. We'd put this on the list of low-end tablets that we'd not recommend getting even though the price looks good.
If you are given one of these tablets or buy one this holiday season and want to return it you'll quickly notice there is no way to reset the tablet to factory defaults in Android. To do that you'll need to follow the EM756 hard reset instructions found on the Southern Telecom website.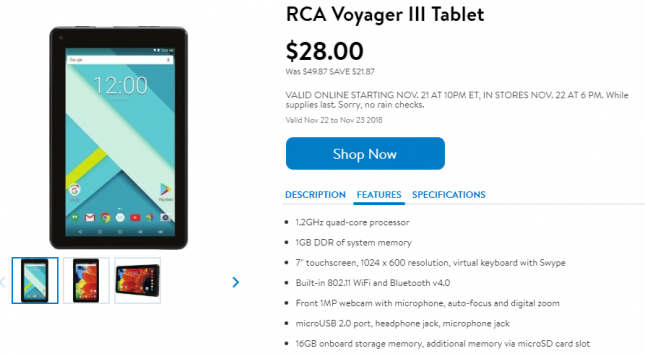 If you are looking for an inexpensive tablet you might want to look at the RCA Voyager at Walmart. It appears that Walmart will be having the RCA Voyager III 7″ 16GB Tablet for $28.00 on Black Friday. It has twice the storage space, twice the RAM, a faster quad-core procesor, a better 1MP camera and runs on the newer Android 6.0 operating system for less money. It's everyday price is $39.98, so the Black Friday sale will save you $12 over the normal price of this tablet.