JBL JR300BT Bluetooth Headphones For Kids Review
By
The 2018 holiday season is here with Thanksgiving and other festivities right around the corner. AAA has projected that over 54 million Americans will be traveling 50 miles or more away from home for just Thanksgiving. That also means that millions of kids will be traveling for the holidays and parents will be stuck trying to keep them entertained for hours on end. Today, we'll be taking a quick look at the JBL JR300BT wireless headphones that are 85dB limited to protect hearing, are super lightweight and properly sized for kids ages 3 to 10 years of age.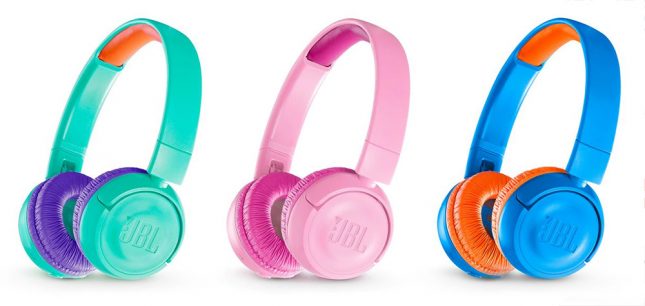 The JBL JR300BT headphones ($49.95 shipped) feature a Bluetooth 4.0 wireless connection that allows one to roam up to 15 meters away from the device it is connected to. This means they can be easily connected to a smartphone, tablet or television without the need for a cord. Battery life is respectable at 12-hours and a quick-recharge of just 10 minutes will give you 1 hour battery life and 2 hours will give you a full charge. The sound quality lives up to the legendary sound JBL is known for with 32mm drivers with a frequency response of 20Hz to 20kHz with the volume always being kept below 85dB.
JBL JR300BT Specifications
Premium 32mm Dynamic Driver
Frequency Response: 20Hz 20kHz
Support: BT 4.0, A2DP v1.2, AVRCP v1.5, HFP v1.5, HSP v1.2
Bluetooth transmitter frequency range: 2.402 2.480GHz
Bluetooth transmitter power: < 4dBm
Bluetooth transmitter modulation: GFSK, /4 DQPSK, 8DPSK
Battery type: Lithium-ion Polymer (3.7V, 170 mAH)
Battery charge time: < 2 hrs
Music play time: 12 hrs
We got in a pair of JBL JR300BT headsets and have been putting them to the test on our own kids. The full color retail packaging on the JR300BT looks sharp and covers all the key features of the headphones. This series is available in three colors; rocker blue, tropic teal and punky pink.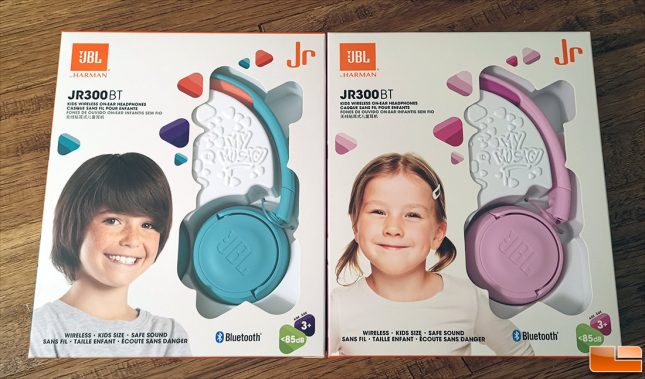 Inside the retail packaging you'll find the on-ear headphones, USB charging cable, quick start guide, warranty card, two pages of stickers and warning card. The two sticker sheets are fun as it allows kids to personalize their headphones or whatever they want to stick them on. The headphones are extremely light at just four ounces or around 113 grams. The speakers are labeled left (L) and right (R) inside the ear cup to make it easier for kids to know how they should put them on.
JBL does not provide a wall charger with this headset, so all you get is a micro-USB to USB type-A charging cable that is about 8-inches in length. It would have been nice to have one included, but most everyone has a ton of USB chargers in their home. Our home is almost all USB Type-C chargers now though. It should be noted that this is the only input port on the headphone. This means that their is no 3.5mm audio jack on this model. If the battery dies they are unusable and you can't use them to plug into an airplane arm wrest if you wanted to watch something on the in-flight entertainment system. So, for really long trips you might want to bring a USB battery pack to help keep them topped off. If you must have a wired connection the JBL JR300 (no BT) model is available for half the price of this Bluetooth model or $24.95 shipped.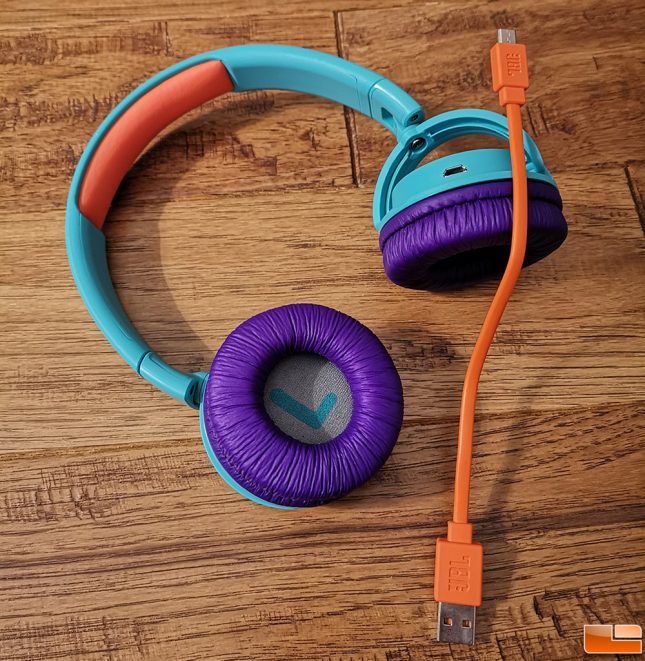 The two control buttons for the JBL JR300BT headphones are located on the left ear cup. You have the power button and the Bluetooth button as the only two buttons on the headphones. There is also an LED light and a microphone that you can see off to the right of the power button in the image below. The LED light shows if it is turned on, charging and status of the Bluetooth connection (either pairing or connected). Hitting the power button while playing music will pause it and will also pick up or hang up phone calls. The volume must be adjusted on the Bluetooth device that you are connected to.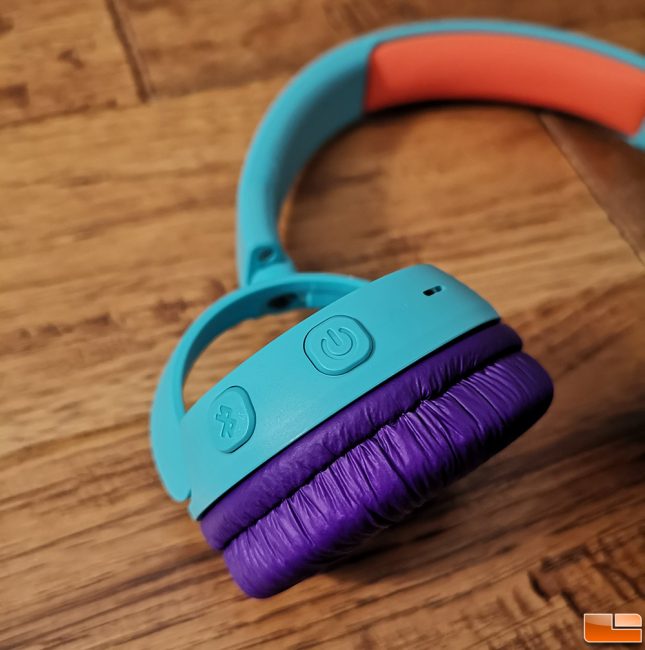 The audio quality of the JBL JR300BT heaphones was more than acceptable for having just 32mm dynamic drivers. You don't get the same sound that you would from the 40mm drivers that JBL uses on many of their adult headphones, but they live up to the JBL name. Most importantly, you have the peace of mind knowing that the volume won't go over 85dB and hurt your kiddos hearing.
The adjustable headband has padding on the top for comfort and and the ear cups have ample cushioning inside. At just 4 ounces and designed for kids over three years of age they are about as comfortable as you can get. They still fit teenagers and adults though the fit is far from ideal, which makes sense as they were designed for kids aged 3-10. The fit on our 2 and 4 year old test subjects was great. These are not like the cheap kids headphones that are readily available all over.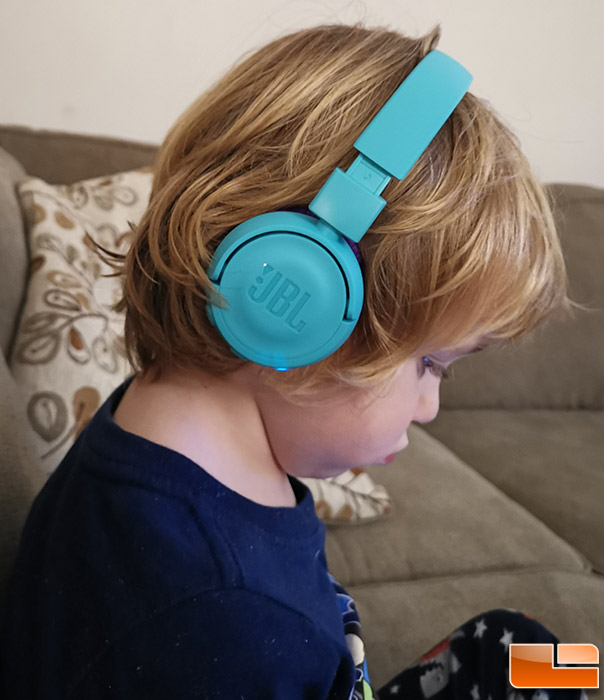 Kids can be tough on electronics and the JBL JR300BT headphones seem to be pretty durable. We haven't used them for months on end, so we'll have to report back with an update as to how they hold up over time. The good news is that JBL backs them with a 1-year warranty. It would have been nice to see a carrying case or storage bag included, but that shouldn't be a deal breaker for anyone.
Finding the JBL JR300BT headphones locally will be tough as we couldn't find them at Walmart, Best Buy, Micro Center or Target. The good news is that Amazon has six sellers listing them ($49.95 shipped) and four have fulfillment being done by Amazon. Amazon also offers a 4-year home AV protection plan for under $2 through square trade that covers parts and labor on all mechanical and electrical failures. That might not be a bad investment as many Lithium-ion batteries have an estimated life of roughly two to three years or 300 to 500 charge cycles, whichever occurs first.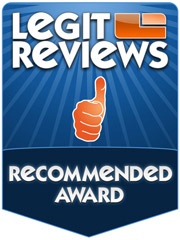 Legit Bottom Line: JBL JR300BT headphones give kids wireless freedom to enjoy high-quality audio on the go!