eDRAM Overclocking on the Intel Core i7-5775C Broadwell CPU
By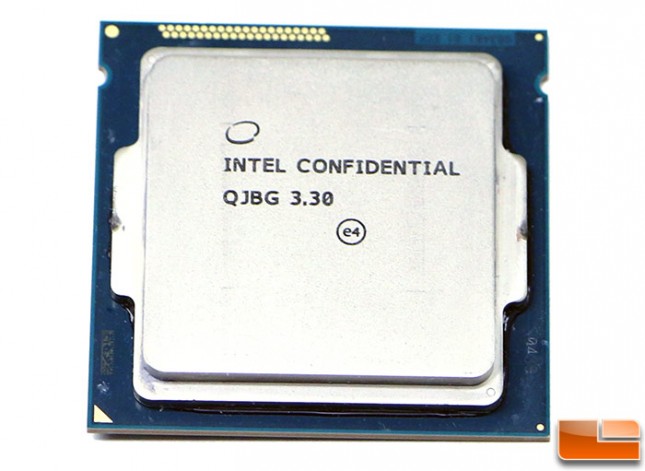 When we reviewed the Intel Core i7-5775C 'Broadwell' processor with Intel Iris Pro 6200 graphics we completed the review with the 128MB of eDRAM locked at 1800MHz. The eDRAM cache in the 4th and 5th generation Intel Core Processors is a 16 way cache which can cache data from both the CPU and GPU. After the review was posted our friends at ASUS gave us the opportunity to try out a new beta UEFI revision that has the option of changing the eDRAM ratio! Intel allowed the eDRAM ratio to be unlocked on the Intel Core i7-5775C and Core i5-5675C processors for under-clocking purposes! This is because when you overclock by increasing the base clock (BCLK) you actually overclock the memory as well. To ensure eDRAM stability it is best to keep the eDRAM frequency around 1800 MHz and you can use various ratios to do this. The chart below has a few examples of the ratios you can use to stay as close to 1800 MHz as possible. It should be noted that eDRAM ratios are only available in even numbers.
| | | |
| --- | --- | --- |
| BCLK | eDRAM Ratio | eDRAM Frequency |
| 100 MHz | 18 | 1800 MHz |
| 125 MHz | 14 | 1750 MHz |
| 167 MHz | 10 | 1670 MHz |
The secondary use of the eDRAM ratio is for overclocking. Overclocking of the eDRAM is possible, but this is the first time anyone has been able to overclock eDRAM. The motherboard vendors all don't support eDRAM ratios in the UEFI just yet, but tier 1 board makers like ASUS and Gigabyte are leading the way and offer eDRAM ratio adjustment. The overclocking gurus inside of Intel has said that 2,200 to 2,250 MHz overclocks have been reached internally, but as with all overclocks no two processors are going to be identical and overclocking may case your part to fail prematurely.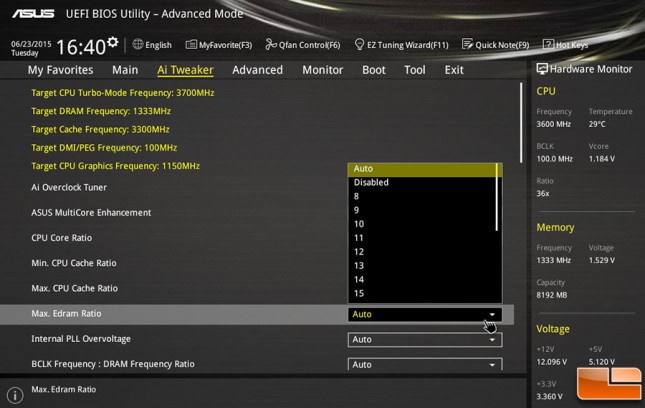 We've been using an ASUS Z97-A motherboard ($148.99 shipped) with UEFI 2501 and have been tinkering around with eDRAM clock speeds recently. The odd ratios don't work, but all the even ones do and you can even disable the eDRAM.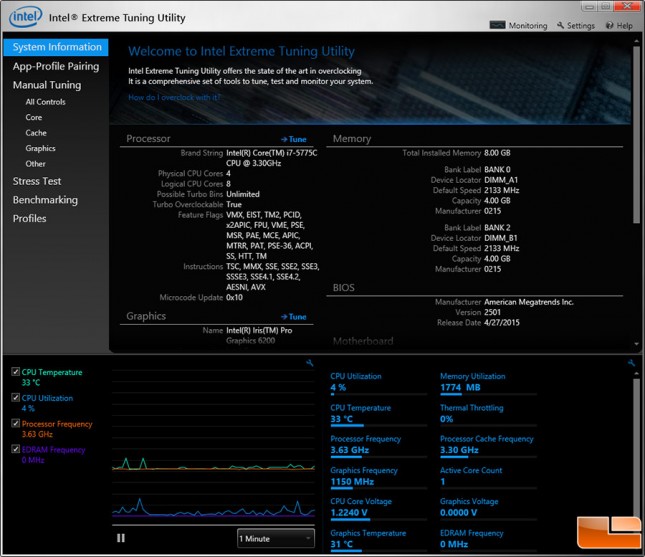 Here is a look at the Intel Extreme Tuning Utility with the eDRAM Frequency disabled in the UEFI and properly showing as 0MHz in the utility.
We also set the eDRAM divider at 14, 16, 18, 20 and 22 on our Intel Core i7-5775C processor at otherwise default settings to see how it would perform. Our contacts inside of Intel said that the primary benefit of EDRAM is seen in 3D applications when Intel Iris Pro 6200 Graphics are being used. This means that the best place to see performance differences would be in 3D game titles and benchmarks. This is because the eDRAM is said to be a key component that allows Intel Iris Pro graphics to challenge the 3D gaming performance of some discrete graphics solutions. Intel believes that Intel Iris Pro graphics is an attractive option for a mid-range gaming machine, but well leave that bold statement alone for another day. The whole point of this article and our research here is to see how eDRAM performs at various clock speeds and how dramatic of a performance drop we'll see with eDRAM disabled.
3DMark Cloud Gate Graphics Test Overall Performance Score
The first benchmark we looked at was 3DMark, which was specifically mentioned to us by Intel as being a test show off eDRAM performance along with SPEC rate (spec 2006). Futuremark 3DMark takes far less time to run and the results are easier for our readers to compare to their personal systems. The performance numbers you'll see below are different than the ones in the initial article as ASUS changed the microcode in the UEFI and we setup the board differently.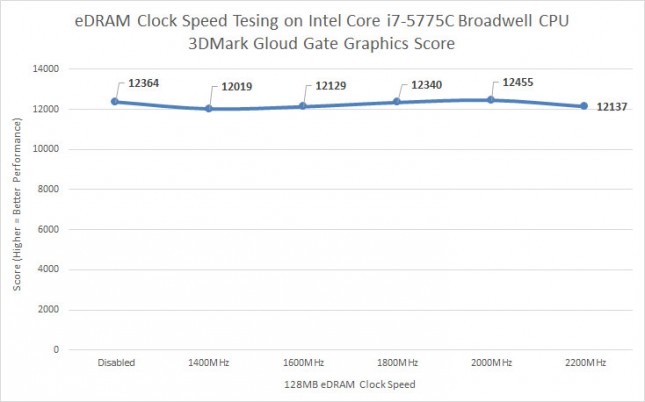 We tested the Intel Core i7-5775C on the ASUS Z97-A motherboard with UEFI 2501. We loaded the optimized default settings, manually set our memory kit to 2133MHz with 9-11-11-31 1T timings and then changed the eDRAM ratio. We tested the ratio at 14, 16, 18, 20, 22 and fully disabled. The results were rather shocking as we got a slightly higher graphics score with the eDRAM disabled than we did with it turned on! Turning on the eDRAM and running it at 1400MHz and 1600MHz was notably slower than at the stock setting of 1800MHz. Bumping up the eDRAM clock speed to 2000MHz gave us a nice little boost in performance over the stock eDRAM clock speed of 1800MHz, but by increasing it up to 2200MHz it appears that was too much for our chip and performance actually decreased.
Cinebench R15 OpenGL Benchmark Score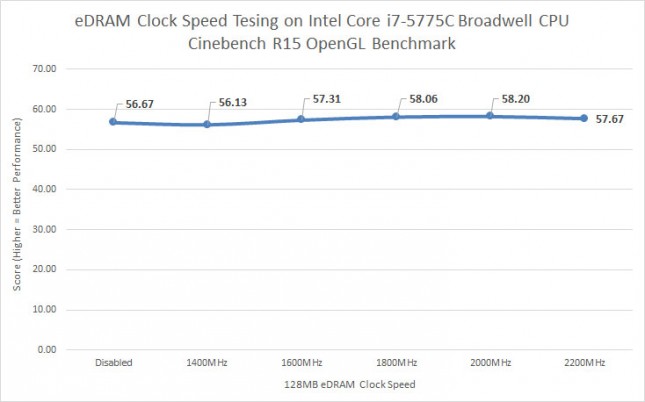 To confirm these scores we turned to Cinebench R15 and ran the OpenGL Benchmark test eight times at each eDRAM ratio setting due to the variance we were seeing between runs. Here we see some similarities, but it is clear that having eDRAM enabled at the stock 1800MHz clock speed is in your best interest. Overclocking the eDRAM up to 2000MHz gave a small performance boost, but pushing it up to 2200MHz gave us a decrease over the stock setting of 1800MHz.
Final Thoughts and Conclusions:
We only did a quick look at some 3D benchmarks on the integrated graphics on the Intel Core i7-5775C processor, but we did see how eDRAM does help performance. eDRAM appears to give a slight boost when clocked at the default speed of 1800MHz and when overclocked to 2200MHz. We were expecting to see some decent performance gains from having the eDRAM enabled, so it was a bit shocking to see this was all the performance gain to be had from it. Having the eDRAM ratio will come in handy for those overclocking and need to lower the ratio to keep the eDRAM frequency in the 1800-2000 MHz range. Overclocking the eDRAM doesn't really appear to do much as a we saw less than a 1% difference on the Cinebench OpenGL and 3DMark Cloud Gate graphics tests.
In other news the Intel Core i7-5775C Broadwell processor still hasn't made it to the market yet. We've talked to system builders, board makers and retailers and all have mixed emotions on these processors. We've also heard there is no hard date for consumer availability and even some talk of delay by the merchandisers. The delay might actually be good though as the UEFI versions are still pretty rough ! Everyone that we spoke with said that both the Intel Core i7-5775C and Core i5-5675C would be released in small quantities worldwide and hinted that this would be a short lived part since Intel Skylake processors are coming so soon. Intel declined to comment on manufacturing numbers when asked. eDRAM will not be present on Skylake processors when they are released in August, but we do expect to see it again when Intel Iris GT4e graphics come out on the Skylake refresh that will happen months after the first processors are released.
We have one more article on the Intel Core i7-5775C processor that we are working on and then we'll shift our focus on Skylake and its associated platform as that is what many are hoping will help boost the PC market sales figures later this summer!