ECS KN1 Extreme NF4 SLI motherboard Review
By
Introduction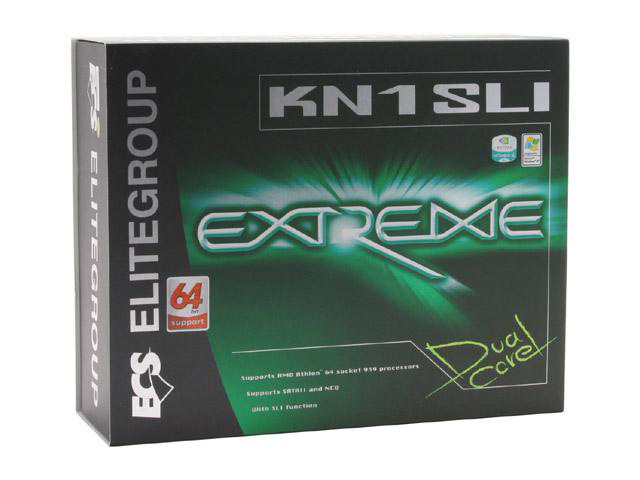 Last month Legit Reviews published two articles detailing the future plans of motherboard maker ECS and a detailed look at one of their first enthusiast motherboards. Gone is the reputation of low end, questionable quality motherboards, and rising from the ashes is a company determined to make an impact on the mainstream motherboard market.
In the first article Nathan Kirsch described his time spent at ECS' North American headquarters as well as ECS' plans to gather a bigger market share, while the article I wrote focused on ECS' release of their impressive AMD based NF4 KN1 Extreme Ultra motherboard. While not a great overclocker, the KN1 Extreme Ultra showed itself to be a very good choice not only in its performance and stability, but high quality bundle as well.
Today, Legit Reviews takes a look at ECS' new flagship motherboard, the KN1 Extreme SLI. Building upon the solid foundation laid by the Ultra, the Extreme SLI promises to take ECS' newfound success and plant it firmly on the mainstream motherboard market due to the $115 price point the board can be found at.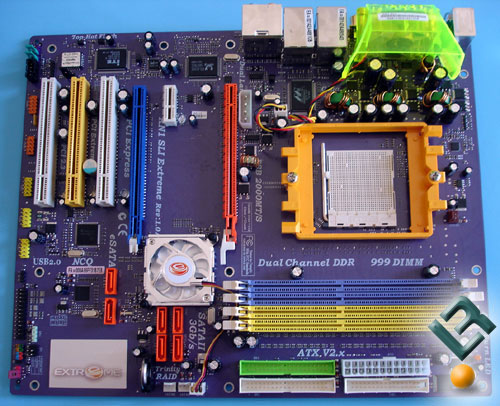 Before we get too far into our praise, lets take a look at the specs and look over the boards layout.
Socket 939 for AMD Athlon? 64/ Athlon? 64 FX processor.
High-performance Hyper Transport CPU interface.
Support transfer rate of 2000/1600/1200/800/400 mega-transfers per second.
CHIPSET
MEMORY

Dual-channel DDR memory architecture
4 x184-pin DDR SDRAM DIMM socket support up to 4 GB
Support DDR400/333/266 DDR SDRAM

EXPANSION SLOTS

2 x PCI Express x16 slot ( SLI mode: x8, x8 )
1 x PCI Express x1 slot
3 x PCI slots

STORAGE

Supported by nForce4 SLI:

4 x Ultra DMA133/100/66 devices
4 x Serial ATA2 devices
RAID0, RAID1& RAID 0+1 configuration

Supported by SiI3132

2 x Serial ATA2 devices
RAID0, RAID1, PM and eSATA support

AUDIO

Realtek ALC850 supports Intel 8 channel audio
Compliant with AC'97 2.3 specification

IEEE 1394a

TI TSB43AB22A support 2 x IEEE1394a

DUAL LAN

Realtek 8100C 10/100 Mbps Fast Ethernet controller
Marvell 88E1111 Giga LAN PHY

INTERNAL I/O CONNECTORS & HEADERS

1 x 24-pin ATX Power Supply connector
1 x 4-pin ATX 12V connector
1 x Auxiliary 4-pin +12V connector
1 x FDD connector supports two 360K~2.88MB FDDs
2 x IDE connectors
6 x Serial ATA connectors
1 x IrDA for SIR header
2 x 1394a headers
3 x USB 2.0 headers support additional 6 USB ports
1 x Front panel switch/LED header
1 x Front panel audio header
1 x 26-pin LPT header
CD in header
CPUFAN/NB_FAN1/CASFAN1~2 connectors

REAR PANEL I/O

1 x PS/2 keyboard & PS/2 mouse connectors
4 x USB ports
2 x RJ45 LAN connectors
2 x Digital SPDIF (Optical & Coaxial) out
1 x Serial port (COM1)
1 x Audio port (Line-in,4x Line-out, Mic_in)

SYSTEM BIOS

Award BIOS with 4Mb Flash ROM
Supports Plug and Play 1.0A, APM 1.2, Multi Boot, DMI
Supports ACPI revision 1.0 specification

FORM FACTOR

Standard ATX Size 305mm*244mm