Eagle Arion 2.1 Speaker System Review
By
The Eagle Arion 2.1 Speakers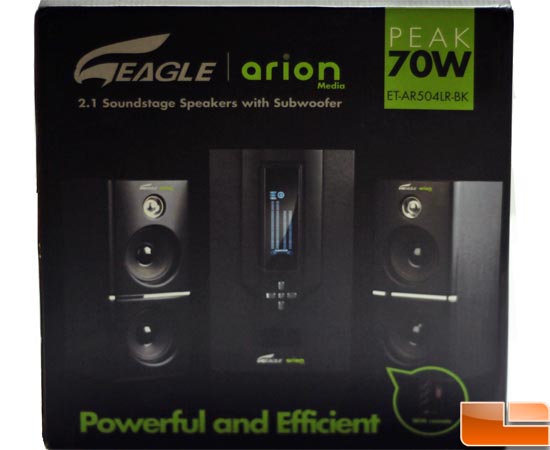 The Eagle Arion 2.1 Soundstage speakers with subwoofer look to deliver excellent sound with a $49.99 price tag. While it is easy to splurge on high speed CPUs and fancy looking cases, often sound is last on the list of things we spend money on. Once you plug in a good pair of speakers and you hear your games and movies come to life, the reason why it is good to spend money on a good pair of speakers suddenly becomes apparent.
As with any market, it is easy to quickly spend a fortune on speakers. How much sound quality you get usually scales with price, so at $49.99 shipped, I was interested to see, or rather, hear how good these speakers sounded.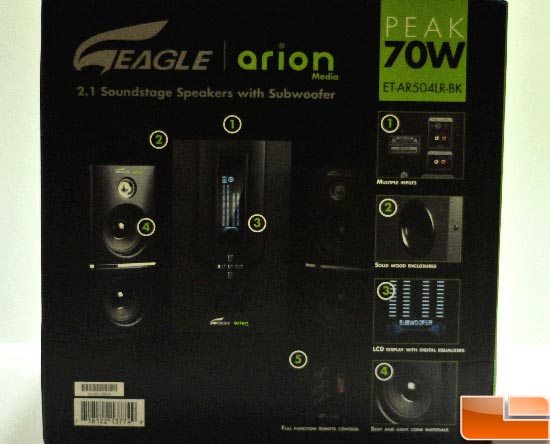 The back of the box shows what is included.
Multiple Inputs (two)
Solid Wood Enclosures
LCD Display with Digital Equalizers
Stiff and Light cone materials
Full Function Remote
The side of the box lists further Features
Exceptional tonal fidelity and low harmonic distortion
Dedicated subwoofer, mid-range and tweeter drivers for high decibel output
LCD displays volume, treble, bass, EQ and more
Raised crossover points of midrange and tweeters
Stiff and light cone materials
Smooth response over broad frequency so you hear the music at exactly the same way it was recorded
Solid wood enclosures accurately amplifies overall sound level
Great for MP3 player, CD, PC, video gaming system, home audio system or just about any other audio sources
The side of the box also further lists the contents
ET-AR504LR-BK Speaker system
Remote control with battery
User Manual
3.5mm to RCA audio cable
And more specifications:
Total RMS power: 35 watts
– Satellites: 10 Watts RMS x 2 (into 4 ohms, @ <=1% THD)
– Subwoofer: 15 Watts RMS x 1 (into 4 ohms, @ <=1% THD)
Total Peak Power: 70 Watts
Frequency Response: 20hz to 20kHz
Drivers:
– Satellites: Dual 3-inch midrange & 1-inch tweeter w/Solid wood enclosure
– Subwoofer: 5.25-inch drivers with solid wood enclosure
Speaker Dimension (H x W x D):
– Satellites 4.33″ x 9.65″ x 4.77″
– Subwoofer: 6.7″ x 11.03″ x 10.25″