Dream Machines DM3 Mini Ambidextrous Gaming Mouse Review
By
Dream Machines DM3 Mini – Who Is The New Guy?
Dream Machines is a Polish company that has been around for a couple of years now, starting off producing gaming laptops and expanding into other territories like speakers and gaming mice. The team at Dream Machines has a real focus on PC gaming and I am always one to welcome a new company to the mix, as competition and innovation is what keeps covering the PC scene so fun and exciting. Dream Machines has recently begun expanding into other territories and wants to make their presence felt here in the USA. Only time can tell if they can succeed and I am very interested in seeing what the Polish company brings to the table.
With mice being perhaps the most important peripheral to any PC gamer, there is no shortage of companies looking to break into the market with the next great product. There are plenty of mice to choose from, so to be viable, a gaming mouse has to have quality switches, an optical sensor and have excellent ergonomics. Dream Machines is aiming to hit all of the right marks with their lineup of mice by offering Omron switches, Pixart optical sensors and quality materials across the board. It is tough to compete with industry giants like Logitech and SteelSeries, but from what I can see, Dream Machines is building mice with a solid concept and their design choices and marketing tell me that the company has an understanding of what gamers truly want out of a mouse. Whether or not the company can execute on their promise is another thing that remains to be seen.

While many gaming mice feature over the top designs with multiple buttons, the DM3 Mini is a minimalist mouse, featuring just two main buttons on a smaller, traditional ambidextrous shaped frame. This design of the DM3 Mini will prohibit it from use as a daily driver for the people out there who rely on thumb buttons for navigation and other tasks, but it may be excellent for FPS and MOBA gamers who need a nimble mouse without extras. Indeed, the DM3 Mini has a specific audience in mind and the two button design reminds me of the older SteelSeries Kinzu, though the DM3 Mini uses better materials, such as Omron 20 million click switches and industry-leading Pixart 3360 sensor.
Dream Machines DM3 Mini – Specifications
Sensor
Sensor Model: Pixart 3360
Sensor Type: Optical
DPI: 6 Preset DPI
Acceleration: 6.45 m/s
Polling Rate: 500HZ/1000HZ Adjustable
Design
Material: Matte
Shape: Ambidextrous
Grip Style: Claw, finger-tip, palm
Number of Buttons: 4 (Main Buttons, Scroll Wheel Button, DPI Change)
Omron 20 Million Click Rated
Illumination: Dual Zone RGB with presets (Scroll and Logo have zones)
Weight: 77 Grams
Length: 118mm
Width: 64mm
Height: 37mm
Cable Length: 1.8 meters / 5′ 11″
Box Contents
DreamMachines DM3 Mini Mouse
DM3 Mini Manual
Extra Set of Mouse Feet
Dream Machines packages the DM3 Mini in a white box that illustrates the product and its features well. This packaging is what I'd expect from a newer company, as it is adequate, but not over the top or quite as refined as the packaging I see from the larger manufacturers like Logitech or SteelSeries. Still, The DM3 Mini packaging is very cleanly laid out and the company has done a great job with illustrating the box to clearly inform the consumer of what is inside.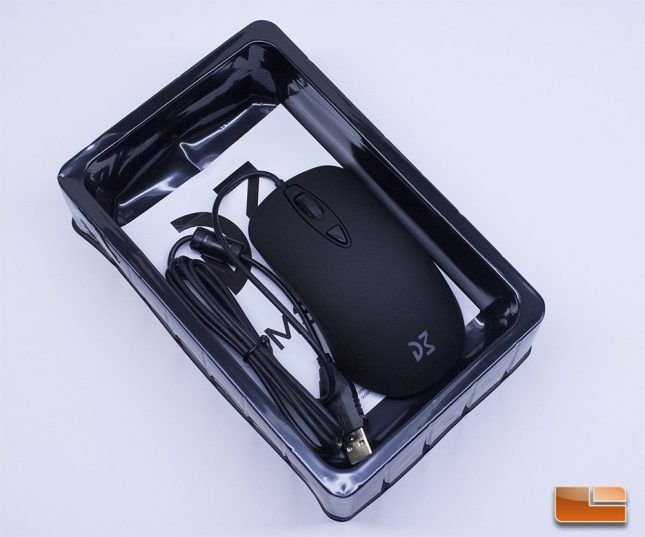 The Dream Machine DM3 Mini is packaged well enough in a two piece plastic clamshell that holds everything together well and keeps it protected, but the presentation leaves a bit to be desired. Still, my sample arrived to me in good shape all the way from Poland, so the packaging did its job.
Dream Machines includes an illustrated manual that reminds you to cover your mouse with an umbrella in the even of rain. The manual is pretty straightforward and easy to follow. Extra mouse feat are something that every mouse manufacturer should include with their products. Even if the stock feet should wear out, which naturally will happen over use, the customer will have an extra set available to keep their mice running. Kudos to Dream Machines for including extra mouse feet with their DM3 Mini. These mouse feet have a Teflon coating on them and are pretty high quality, so they should last for a long time. Mouse feet wear will vary greatly depending on your surface, with low resistance cloth surface mouse pads providing a good surface that doesn't tend to wear down feet too quickly.
I noticed that no warranty was listed on the product page, so I did a bit of digging. In Europe, as required by law, the DM3 Mini is covered by a two year warranty. In the United States, the DM3 Mini gets a one year warranty. This is actually typical of a lot of manufacturers who sell in multiple regions, as they are merely adhering to EU protection laws and aren't providing a two year warranty there out of the grace of their hearts. A one year warranty on a PC gaming peripheral is decent, but manufacturers like Corsair and Logitech offer two year warranties on their mice in the United States, so I would like to see other manufacturers follow suit in this competitive arena.
Let's take a closer look at the Dream Machines DM3 Mini, next.