DFI LanParty Jr. 790GX-M3H5 Motherboard
By
790GX-M3H5 Motherboard Specs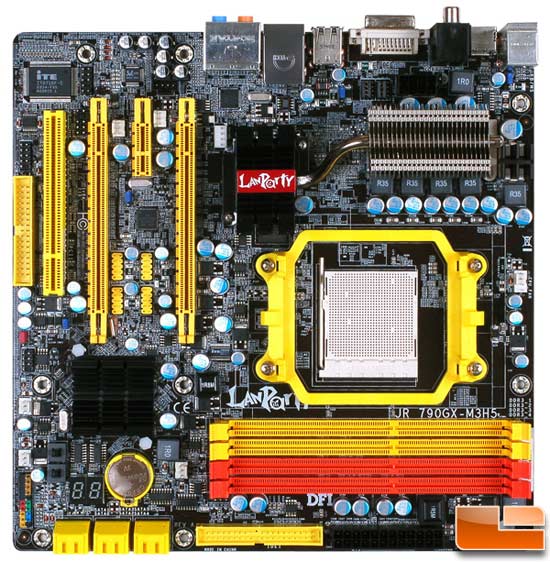 The DFI LanParty Jr 790GX-M3H5 motherboard is a Socket AM3 mATX motherboard that features the AMD790GX northbridge paired with the AMD SB750 southbridge. The board is part of the LanParty series, and is geared to the enthusiast crowd. DFI made a splash when they first introduced their LanParty series of boards. They have been known to be great performers as well as great overclockers and have usually come with a pretty good bundle. We are all ready to dig in and find out just what this board has to offer, so let's do it! First off, the specs!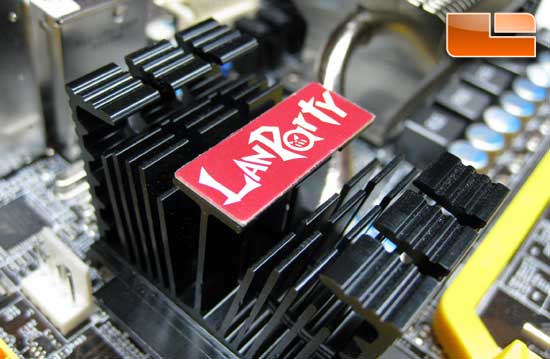 LANPARTY JR 790GX-M3H5 Specifications:
CPU
AMD Phenom II processor
HyperTransport 3.0 (5200MT/s) HyperTransport 1.0 (2000/1600MT/s)
AMD OverDrive provides tuning options using the new Advanced Clock Calibration overclocking feature.
Socket 938 AM3 45nm
Chipset
AMD chipset
Northbridge: AMD 790GX
Southbridge: AMD SB750
System Memory
Four 240-pin DDR3 DIMM sockets
Supports DDR3 1600(O.C.)/1333/1066 MHz
Delivers up to 21Gb/s bandwidth at 1333MHz
Supports dual channel (128-bit wide) memory interface
Supports non-ECC unbuffered DIMMs
Supports up to 16GB system memory
Expansion Slots
2 PCI Express (Gen 2) x16 slots
Hybrid CrossFireX
combination of the integrated graphics and a discrete graphics card in a PCIE slot (8-lane port).
Two graphics cards support CrossFireX; each operating at x8 (8-lane ports) bandwidth
BIOS
Award BIOS
CMOS Reloaded
CPU/DRAM overclocking
CPU/DRAM/Chipset overvoltage
8Mbit SPI flash memory
Graphics
Integrated ATI Radeon HD 3300 graphics core
Onboard graphics interface
HDMI port for both digital audio and video HD display
DVI-I port for digital LCD display
Microsoft DirectX 10
Hybrid CrossFireX technology combines the onboard GPU and a discrete PCIE graphics card
Onboard Performance cache for added performance
Audio
Realtek ALC885 8-channel HD Audio Codec
High-performance DACs with 106dB dynamic range (A-Weight), ADCs with 101dB dynamic range (A-Weight)
LAN
Marvell 88E8056 PCIE Gigabit LAN controllers
Fully compliant to IEEE 802.3 (10BASE-T), 802.3u (100BASE-TX) and 802.3ab (1000BASE-T) standards
Serial ATA with RAID
Supports up to 6 SATA devices
SATA speed up to 3Gb/s
RAID 0/1/0+1(10)/5/JBOD/AHCI
IDE
One IDE connector allows connecting up to two UltraDMA 133Mbps hard drives
Rear Panel I/O
1 mini-DIN-6 PS/2 mouse port
1 mini-DIN-6 PS/2 keyboard port
1 HDMI-out port
1 coaxial RCA S/PDIF-out port
1 optical S/PDIF-out port
1 DVI-I port
4 USB 2.0/1.1 ports
1 RJ45 LAN port
Center/subwoofer, rear R/L and side R/L jacks
Line-in, line-out (front R/L) and mic-in jacks
Internal I/O
4 connectors for 8 additional external USB 2.0 ports
1 connector for an external COM port
1 front audio connector
1 CD-in connector
1 IrDA connector
1 CIR connector
6 Serial ATA connectors
1 40-pin IDE connector
1 floppy connector
1 24-pin ATX power connector
1 8-pin 12V power connector
1 4-pin 5V/12V power connector (FDD type)
1 front panel connector
6 fan connectors
EZ touch switches (power switch and reset switch)
Power Management
ACPI and OS Directed Power Management
ACPI STR (Suspend to RAM) function
Wake-On-PS/2 Keyboard/Mouse
Wake-On-USB Keyboard/Mouse
Wake-On-Ring
Wake-On-LAN
RTC timer to power-on the system
AC power failure recovery
Hardware Monitor
Monitors CPU/system/chipset temperature
Monitors 12V/5V/3.3V/Vcore/Vbat/5Vsb/Vdimm/Vchip voltages
Monitors the speed of the cooling fans
CPU Overheat Protection function monitors CPU temperature during system boot-up
PCB
microATX form factor
24.5cm (9.64) x 24.5cm (9.64)
Let's move on and take a look at the layout of the board!