Deus Ex: Mankind Divided DX11 Video Card Benchmarks
By
Deus Ex: Mankind Divided PC Performance Benchmarks
Deus Ex: Mankind Divided came out yesterday and while the PC version looks good despite being tough on graphics cards. We've gotten over the disappointment Deus Ex: Mankind Divided will not be getting DX12 support until September and that folks paid for day 1 DLC and are only allowed to use it once. An Eidos-Montreal community manager explained the situation a bit in in a Reddit post:
Hi everyone. Here's how things work:

Consumables (Praxis Kits, Ammo, Credits, Crafting Parts) are one-time use items. They will be in the storage section of your inventory, until you decide to add them to it. Once you do, they will be 'consumed' in your current playthrough, and not re-usable. Consumables work the way they do due to first party constraints.

Durables (Weapons, Skins, Augmentations) are not one-time use. They will automatically be available in all of your playthroughs, once you have downloaded and installed them.
The good news for us is that we are interested in how Deus Ex: Mankind Divided performs, so we'll skip the general stuff and look how nine different NVIDIA and AMD desktop graphics cards perform.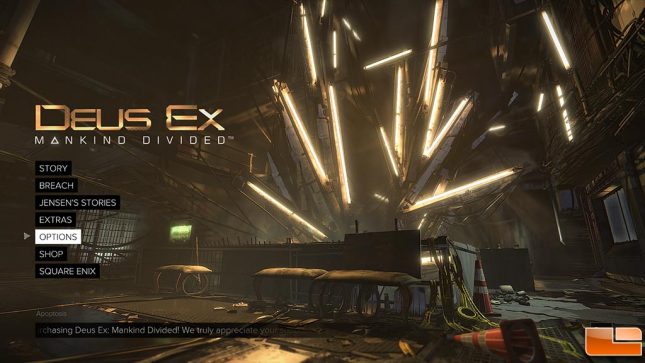 The recommended graphics card for Deus Ex: Mankind Divided is an AMD Radeon RX 480 4GB or NVIDIA GeForce GTX 970 4GB, paired with an Intel Core i7-3770K processor. Nixxes says that this should get you around 60 FPS average at 1080p with the High image quality preset. Those that have a high-end graphics card or multi-GPU setup beyond the recommended specifications can try to use the Very High and Ultra presets as they are aimed at those willing to trade framerate for image quality. Not many cards will be able to run the Very High preset entirely let alone the Ultra preset, so be ready to experiment with individual settings to get the optimal settings for your specific gaming PC. Nixxes Software has a PC Performance Tuning Guide over on the Square-Enix forums for those that are looking for more information on how to tweak the graphics properly.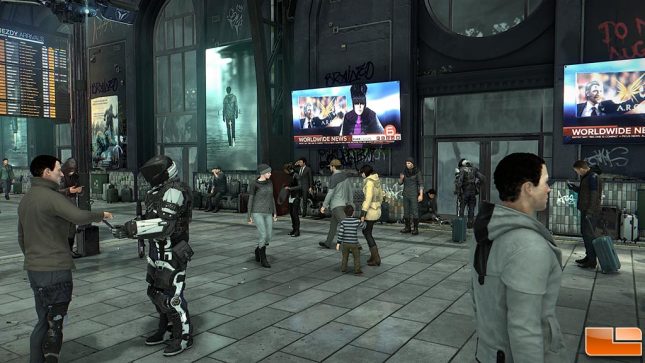 Deus Ex: Mankind Divided PC System Specifications
Minimum:
OS: Windows 7.1SP1 or above (64-bit Operating System Required)
CPU: Intel Core i3-2100 or AMD equivalent
RAM: 8 GB
Graphics: AMD Radeon HD 7870 (2GB) or NVIDIA GeForce GTX 660 (2GB)
HDD/SSD: 45 GB
Recommended:
OS: Windows 10 64-bit
CPU: Intel Core i7-3770K or AMD FX 8350 Wraith
RAM: 16 GB
Graphics: AMD Radeon RX 480 – 1920 x 1080 or NVIDIA GTX 970 – 1920 x 1080
HDD/SSD: 55GB (Including DLC)
Before we look at the numbers, let's take a brief look at the test system that was used.