Deepcool Killer Whale Premium CPU Cooler Review
By
Deepcool Killer Whale Premium All Copper CPU Cooler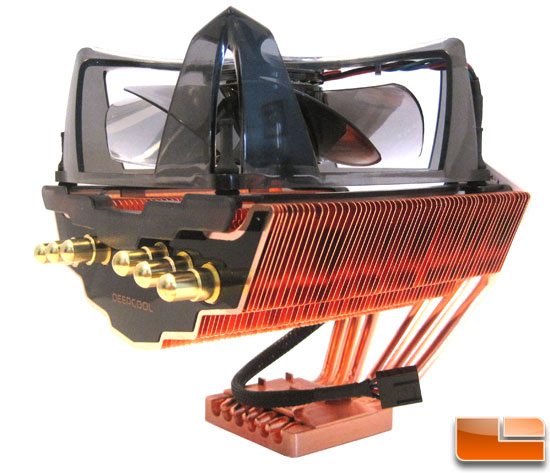 Today we are looking at the Killer Whale Premium CPU cooler from Deepcool. With it being named after a whale you would imagine the cooler would be big and heavy. The Killer Whale Premium is not that large, but it is quite heavy: 1.225kg or 2.7lbs heavy. This is mainly due to the cooler being completely made of copper.
The Killer Whale Premium is a C-shaped top-down style cooler. The fan for the Killer Whale Premium is slightly different than a standard 120mm fan. A standard 120mm fan is 25mm thick; the fan for the Killer Whale Premium is 48mm thick. The extra thickness allows for more static pressure at the same RPM as the thinner fan. The fan for the Killer Whale Premium operates with an RPM range of 800 to 1800 RPM, 19.1 to 31.8dBA, and pushes up to 78.31CFM.
Features of the Killer Whale Premium
Equipped with multiple clips to support Intel LGA1366/1155/1156/775 and AMD AM3/AM2/AM2+/940/939/754.
6 sintered powder heatpipes conduct heat from the processor quickly to protect it from overheating.
Mirror polished copper base gives perfect contact with the CPU surface.
55 pieces of copper fins with big surface dissipate heat efficiently.
120x120x48mm PWM fan with built-in blue LED, modding looking, offers a perfect balance between airflow and noise.
De-vibration rubber buckles absorb operating noise maximumly.
Cool the CPU and the surrounding components like Mainboard, memory card, chipset, etc.
150W solution, a perfect choice for overclockers.
Specifications of the Killer Whale Premium
Overall Dimension: 154.5X143X143.5mm
Fan Dimension: 120X120X48mm
Net Weight: 1225g
Bearing Type: Hydro Bearing
Rated Voltage: 12VDC
Operating Voltage: 10.8-13.2VDC
Starting Voltage: 7VDC
Rated Current: 0.22+/-10%A(MAX)
Power Input: 2.64W
Fan Speed: 800+/-150-1800+/-10%RPM
Max. Air Flow: 78.31CFM
Noise: 19.1-31.8dB(A)