DDR2 800MHz Roundup: A-Data, Kingston, & Mushkin
By
Overclocking The Memory Modules
When it comes to overclocking memory every user has different beliefs and goals when doing so. Since our test system is on the open test bench we placed a single 80mm fan on top of the DIMM slots to cool the modules. This should simulate the movement of air through the case. We then increased the voltage to 2.3V (The most that is avaialable on the ASUS P5WD2 Premium) and adjusted the memory divider when needed. If the modules would not operate at CL4 or CL3 at 800MHz it will be marked as "No Post" or "Not Stable".
A-DATA:
A-Data Vitesta PC2-6400 Overclocking Results

Timings

Voltage

Results

5-5-5-15

2.3V

1020MHz

4-4-4-12

2.3V

894MHz

3-2-2-8

2.3V

No Post
Results: The A-DATA Vitesta XP6400 memory modules with the Elipda memory IC's turned out to be a big shocker for us when it came to overclocking. The modules easily posted at 1050MHz and loaded Windows XP without any fuss. Under stress testing the modules failed at these high speeds and could not pass RST Pro 2 testing or make exact rounds in Super Pi benchmarking. After lowering clock frequency of the memory down to 1020MHz, yes that is over 1GHz, we were able to have a stable test system. Moving to tighter CL4 timings the memory was able to post just over 900MHz, but ran like a champ at 894MHz. If you are trying to run CL3 with these modules dream on as our test system would not post. When you combine the sub $150 price of a 1GB kit of these modules and the above overclocking results we are still in shock.
Kingston:
Kingston HyperX PC2-6400 Overclocking Results

Timings

Voltage

Results

5-5-5-15

2.3V

900MHz

4-4-4-12

2.3V

No Post

3-2-2-8

2.3V

No Post
Results: After testing the overclocking abilities of the A-DATA modules the Kingston modules performed under our expectations. At CL5 the modules were able to overclock to 900MHz with 100% stability, which is a solid 100Mhz overclock. When we tried to run CL4 or CL3 timings on the Kingston HyperX modules the system would not post at these timings at 800MHz.
Mushkin:
Mushkin eXtreme PC2-6400 Overclocking Results

Timings

Voltage

Results

5-5-5-15

2.3V

1042MHz

4-4-4-12

2.3V

946MHz

3-2-2-8

2.3V

No Post
Results: Mushkin uses "Fat Body" Micron D9 memory IC's on their eXtreme PC2-6400 memory and we know for a fact that these are some of the best IC's that money can buy right now. Legit Reviews was the first to break the 1GHz memory frequency back in March and posted the article in April on our adventure. Our thoughts were backed up when the Mushkin eXtreme PC2-6400 modules loaded Windows at 1060MHz on the first try. Although we later found that 1060MHz was unstable this was an impressive achievement. After RST Pro2 testing we found that 1042MHz was 100% stable on our 2GB memory kit. Below is a screen shot of our 2GB kit running at the highest stable memory overclock.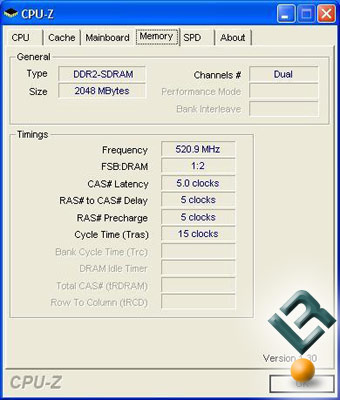 Time to round up our thoughts and conclude our DDR2 800MHz article!