DDR2 800MHz Roundup: A-Data, Kingston, & Mushkin
By
Kingston HyperX DDR2-800
Kingston Technology just recently came out with their 800MHz, 900MHz, and 1000MHz DDR2 memory lines and we are happy to be one of the first sites to get a look at these new modules. Kingston's HyperX line of high-performance DDR memory modules is geared toward the avid gamer and PC enthusiast markets. With HyperX memory modules Kingston gives gamers and PC enthusiasts a chance to take full advantage of their system's performance with the increased performance that is gained from overclocking a platform.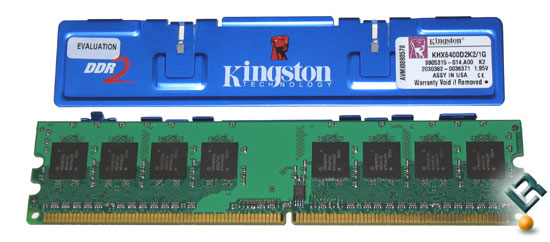 Once I removed the heat spreaders I found that Kingston was using screened Infineon memory IC's for their KHX6400D2K2/1G high speed memory modules. The memory was also noted as being built using single-sided memory modules (containing FBGA components on only one side). The PCB that was used is unmarked and unkown by visual inspection. I asked Kingston if they could help us identify what PCB, but wouldn't comment since it was considered proprietary information. Each Kingston PC2-6400 module has eight 64M x 8-bit DDR2 FBGA memory IC's. Kingston has programmed each module to post at 5-5-5-15 timings in the SPD. This makes the modules plug-in-play for ease of use. Consumers don't have to adujst any memory timings, but the voltage does need to be bumped up to 1.9 volts in the BIOS for the memory to be 100% stable at 800MHz.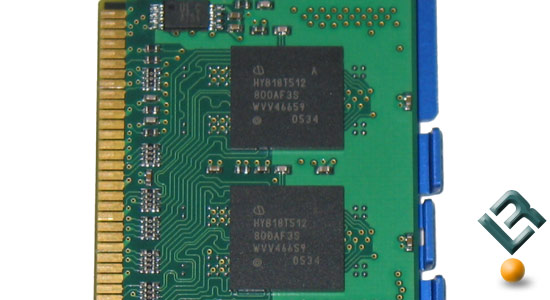 Kingston uses Infineon Technology FBGA 512Mbit DDR2 memory IC's on their PC2-6400 memory series. After removing our heat spreaders we found the full model number to be HYB18T512800AF-3S. The last "3S" on the part number stands for DDR2-667 5-5-5. This means that Kingston is using binned memory IC's for these DDR2 800MHz modules to ensure they are able to operate at such high frequencies. We know that Infineon is going to be releasing a new IC with the part number HYB18T512800BF-3 in Q4 2005 that is rated at DDR2-667 just like the IC's on our module, but at tighter CL4 timings. It will be interesting to see if Kingston switches over to these newer Infineon IC's in the future if they find performance or timing improvements during qualifications. Before changing IC's companies like Kingston must also verify that there is enough volume to build their orders and also that Infineon will keep them in production long enough for Kingston to be interested in buying them.
Key Features:
Memory amount: 2 x 512MB
Access time: Infineon IC's
800MHz (PC2-6400) Unbuffered non-ECC DDR2 Modules
CAS latency: 5 clock cycles
RAS precharge: 5 cycles
RAS active to precharge: 15 cycles
Blue heat spreader for thermal diffusion
Latency: 5-5-5-15
1.9V
Lifetime Warranty
On October 13th Kingston finally put up their HyperX PC2-6400 memory modules on their shopping site and they come priced at $223 for the 2x512MB kit or $112 for a single 512MB module. This makes the 512mb Kingston module 55.8% more expensive than the 512MB A-DATA PC2-6400 module.