Cryorig R1 Ultimate CPU Cooler Review
By
Cryorig R1 Ultimate CPU Cooler – Installation
Intel Z97 Test Bench
Intel LGA 1150 Test Platform
Component
Brand/Model
Live Pricing

Processor

Core i7-4790K

Motherboard

MSI Z97 Gaming 5

Memory

Corsair Vengeance LP DDR3 1600MHz 16GB (2x8GB)

OS Drive

Samsung EVO 850 250GB

Power Supply

Corsair RM750

Operating System

Windows 10 64-Bit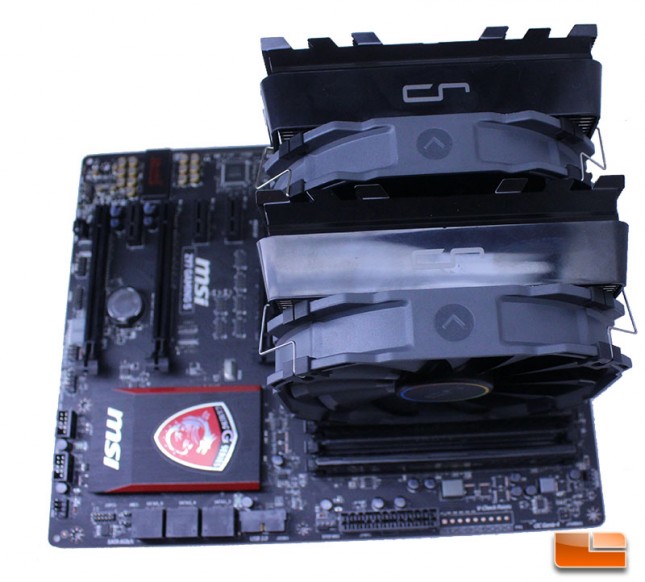 The sheer size of the Cryorig R1 Ultimate becomes apparent once you install it on a motherboard. The installation process was quite simple, as the backplate simply threads into the motherboard and is then secured with thumbscrews. Once you've installed the MultiSeg backplate and crossbars, the heatsink can be screwed in. There are screwdriver guides on each side of the heatsink, so removal of the fans to install isn't necessary. The whole process takes just a few minutes. Here, you can see the R1 Ultimate simply dwarf the Z97 Gaming 5 from MSI, taking focus away from every component on the board.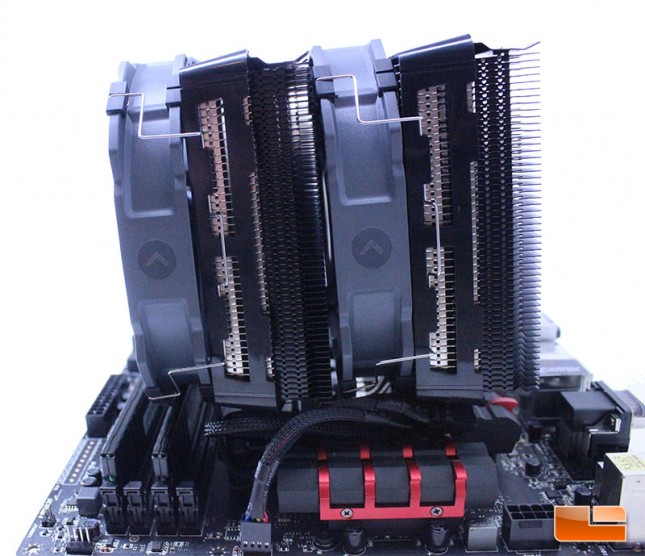 The XF140 fan covers the first and second DIMM slots on the Z97 Gaming 5 motherboard. Thankfully, there is clearance for the Corsair Vengeance LP RAM. Users that have memory with tall heatspreaders will definitely want to look at the R1 Universal, as it has additional clearance around the DIMM slots. The PWM fan splitter comes in really handy hear, allowing both fans to run off a single header to ensure RPM matching.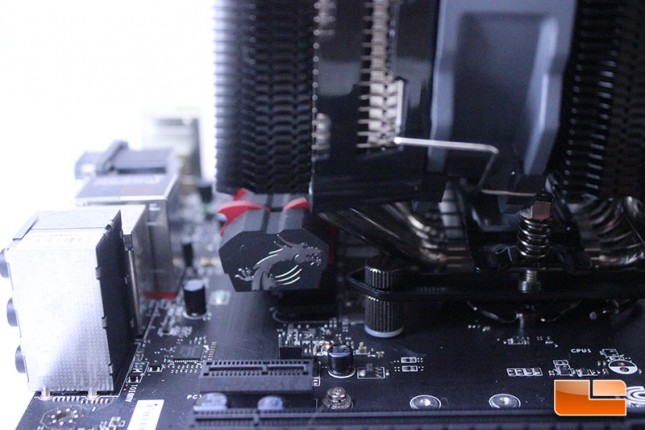 While the R1 Ultimate was able to clear the VRM heatsink on the Z97 Gaming 5, there are motherboard with large heatsinks that may pose compatibility problems. We advise checking Cryorig's compatibility chart before purchase if you aren't sure if the R1 Ultimate will fit on your board.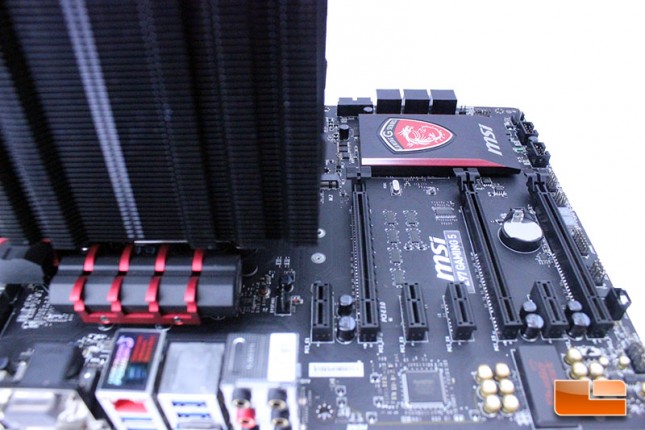 Surprisingly, the R1 Ultimate is able to barely clear the PCI-E x1 slot nearest the CPU. This is excellent, as some large heatsinks are unable to do this. This slot will likely be used for a wireless card, so the likelihood of backplate interference isn't really an issue. Boards that have a PCI-E x16 slot nearest the CPU may have interference issues with certain GPU backplates, though this isn't a common issue or problem with the R1 Ultimate from what we've been able to gather.
Though the R1 Ultimate is a large heatsink, we feel that Cryorig has done a good job in keeping it compatible with various motherboards. It doesn't interfere with the memory or PCI-E cards, nor does it have VRM clearance issues. Overall, we are very pleased with the installation process here and despite the large size of the R1 Ultimate, it was actually quite nimble to work with. Let's take a look at our performance results.