Crucial Ballistix Sport LT 2400MHz DDR4 SODIMM Memory Kit Review
By
Crucial Ballistix Sport LT SODIMM Kits Aimed At Enthusiasts
Last month our friends over at Crucial announced the availability of Ballistix Sport LT DDR4 SODIMMs that are aimed gamers and performance enthusiasts looking to get the most from their mobile platforms. The modules feature a 'stealth digital camo' design, Intel XMP 2.0 profiles, speeds of at least 2400MHz and a black PCB design. Crucial knows that these improvements will increase overall system performance, especially mobile platforms running Intel integrated graphics, over their standard Crucial DDR4 memory series.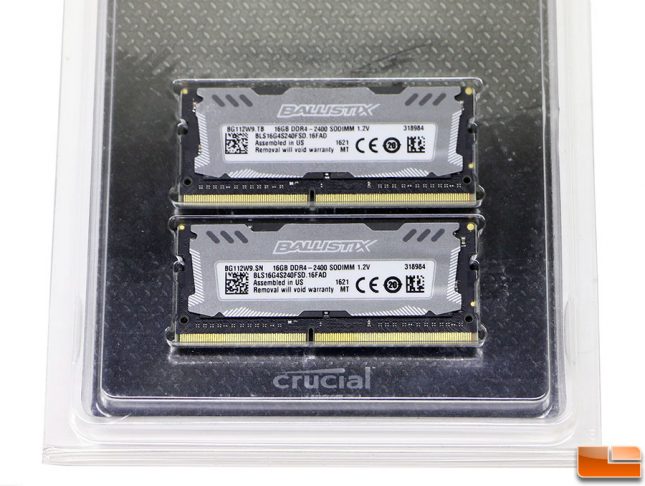 Crucial Ballistix Sport LT DDR4 SODIMMs Dual Channel Kits
| Density | Part # | Speed | Latency | Voltage | Price |
| --- | --- | --- | --- | --- | --- |
| 8GB Kit (2x4GB) | BLS2K4G4S240FSD | DDR4-2400 | CL16 (16-16-16) | 1.2V | $43.99 |
| 16GB Kit (2x8GB) | BLS2K8G4S240FSD | DDR4-2400 | CL16 (16-16-16) | 1.2V | $79.99 |
| 32GB Kit (2x16GB) | BLS2K16G4S240FSD | DDR4-2400 | CL16 (16-16-16) | 1.2V | $179.99 |
The Crucual Ballistix Sport LT SODIMM series is only available at this time at 2400MHz clock speeds, but you can pick from 8GB, 16GB and 32GB dual-channel DDR4 memory kits. All the kits have the same timings and voltage, so you just need to simply pick with the memory density that you need for your PC needs.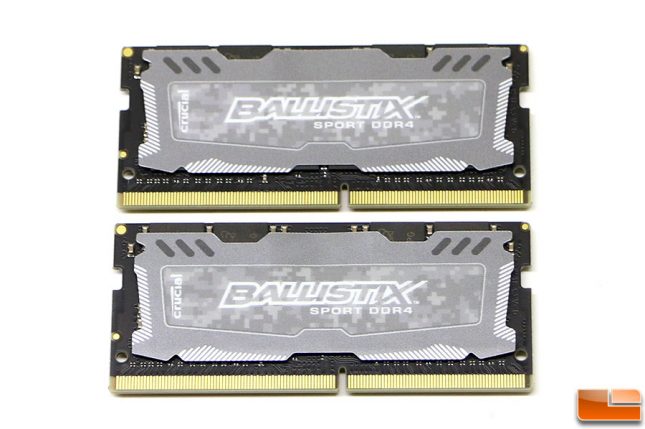 We were able to get our hands on the Crucial Ballistix Sport LT 32GB (2x16GB) DDR4 2400MHz CL16 260-pin SODIMM memory kit to benchmark for this review. The part number on this memory kit is BLS2K16G4S240FSD. This kit features a lifetime warranty and SPD settings to run at 2400MHz with 16-16-16-39 timings with a 2T command rate.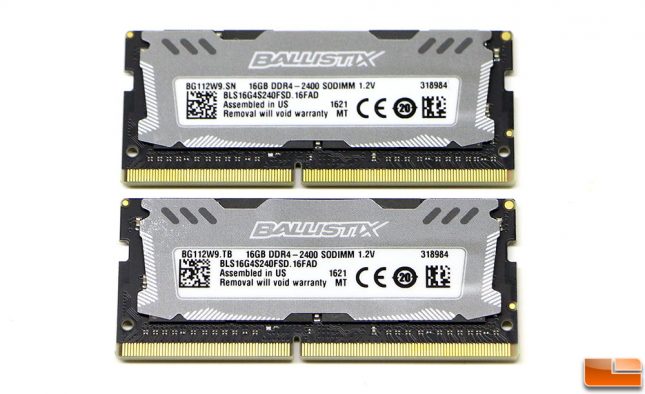 Crucial went with Micron DDR4 memory chips that were marked with FBGA Code C9BDG. This part marking was decoded to being CT40A1G8PM-083E:A, which means these 8Gb density chips come from Micron rated at 2400MHz with CL11 (16-16-16) timings at 1.20V. The product data sheet also notes that these IC's are backward compatible to 2133MHz with CL15 timings, 1866MHz with CL 13 timings and 1600MHz with CL11 timings.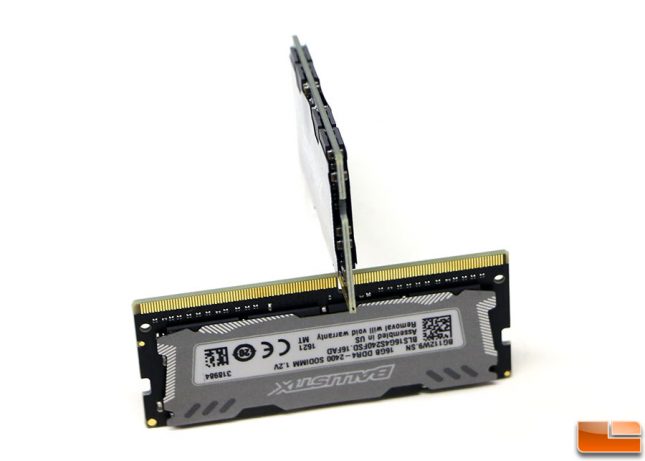 It may look like the Crucial Ballistix Sport LT SO-DIMM modules have a silver aluminum heat spreader on them, but that is just a thin sticker! Companies have tried to use heat spreaders on SO-DIMMS for almost a decade, but there always seems to be thickness issues and in recent years most all memory makers have stopped using them.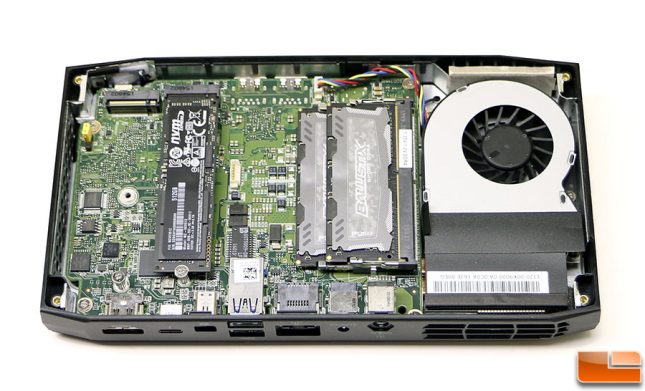 We'll be using this memory kit the Intel NUC NUC6i7KYK 'Skull Canyon' mini PC to see how it performs versus the 32GB (2x16GB) 2400MHz DDR4 CL14 memory kit we previously tested.
Let's see how the Intel NUC NUC6i7KYK performs with a different brands 2400MHz (PC4-19200) DDR4 dual-channel memory kit!