Crucial Ballistix Sport DDR4 2400MHz 32GB Memory Kit Review
By
Final Thoughts & Conclusions:
Where do we begin with the Crucial Ballistix Sport 32GB 2400MHz DDR4 memory kit? This kit was a joy to work with from the beginning thanks to the Intel XMP 2.0 profile that allows for plug-in-play ready for operation at 2400MHz with CL16 timings. Having this profile makes it easy for users of any skill level to get this kit of memory installed and operational. This kit really gets exciting though when you overclock it beyond factory specifications. When overclocking with memory dividers we were able to get this particular kit of memory up to 2666MHz and better yet, we were able to drastically reduce the timings. We never imagined that we'd be able to get 2666MHz with CL12 timings and a 1T command rate with this kit, but we did. We are floored with the results and are happy to see 12-12-12-30 timings with a 1T command rate on a 32GB DDR4 memory kit that was overclocked up to 2666MHz! The Crucial Ballistix Sport DDR4 32GB 2400MHz memory kit is one of the most impressive DDR4 memory kits that we have used to date.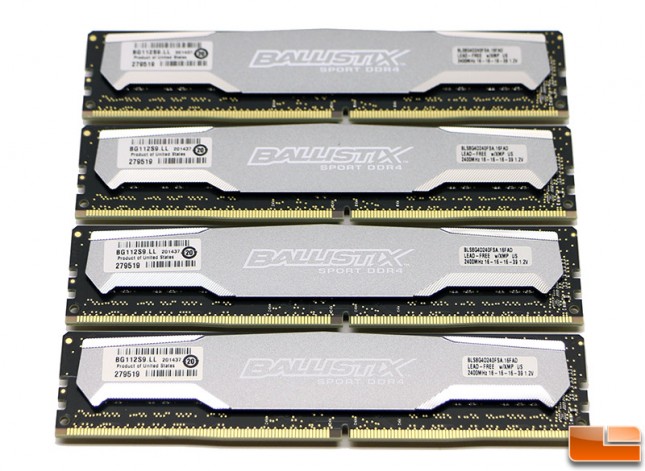 The Sandra Memory Bandwidth test is arguably the standard benchmark to look at when looking at any memory kit. We found a nice 27% increase in the aggregate memory performance when going from 2133MHz with CL14 timings to 2666MHz with CL12 timings! Being able to break 60GB/s of memory bandwidth at 2666MHz is pretty damn impressive as that is something as most 3000MHz memory kits with CL15 timings have a hard time passing that threshold. We said that 2666MHz is likely going to be the sweet spot when it comes to DDR4 memory with respect to price versus performance, but if all Crucial Ballistix Sport 32GB 2400MHz memory kits overclock like we might have a sleeper kit of memory here.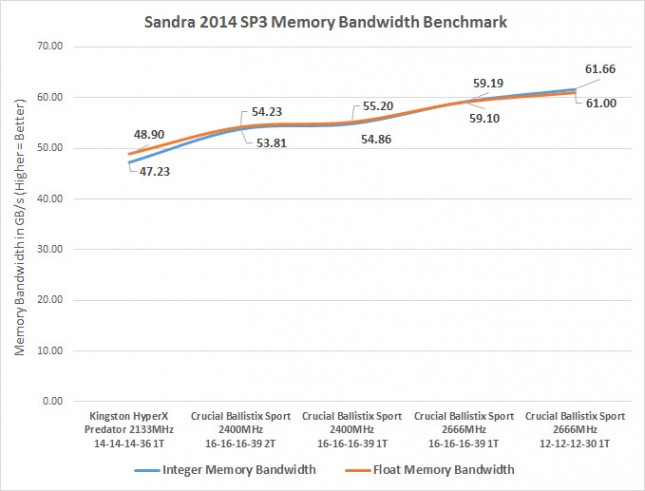 When it comes to pricing and availability it looks like the Crucial Ballistix Sport DDR4 memory kits are in high demand as Amazon, Newegg and even Crucial.com are all sold out for the time being. We contacted Crucial and they are going to let us know what the deal is with availability. Once the word gets out that these 2400MHz kits could possibly overclock up to 2666MHz with CL12 timings and a 1T command rate at 1.35V we expect that some enthusiasts will be running out for a kit. The Crucial MSRP for the 32GB kit is $392 and the 16GB kit is priced as $279.99. Right now the price on Newegg and Amazon is over MSRP on the 32GB kit and under on the 16GB kit. The Crucial Ballistix Sport 32GB (4 x 8GB) DDR2 2400MHz (PC4-19200) desktop memory kit that we looked at today is $450. That puts it a bit on the higher side when it comes to 2400MHz memory kits, but take a look at how it prices out compared to the other brands 2666MHz memory kits.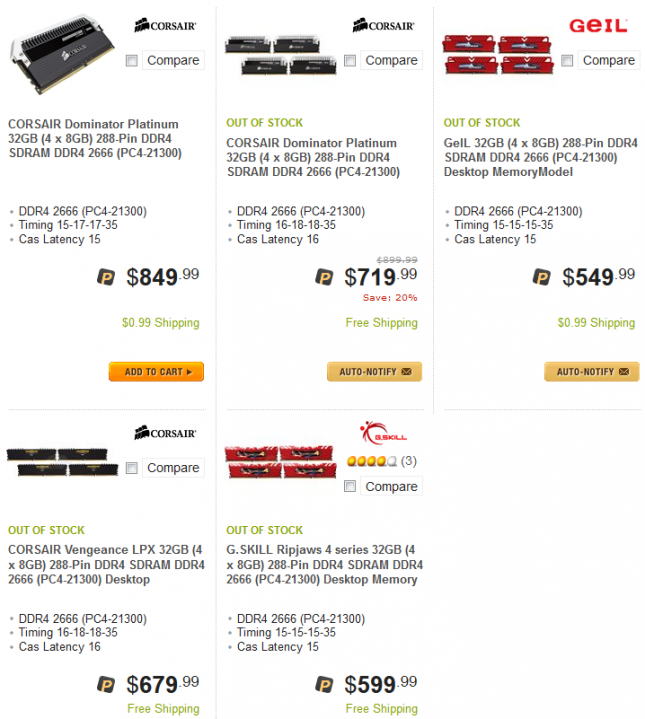 Right now on Newegg there are five 32GB 2400MHz DDR4 memory kits and the all have CL15 and CL16 timings. The lowest priced kit is $550 by GeIL and the highest priced kit is $849.99 by Corsair. The Crucial Ballistix Sport 32GB (8 x 4GB) 2400MHz DDR4 Kit with part number BLS4K8G4D240FSA is able to match that speed with much better timings for $100 to 400 less money. The Crucial Ballistix Sport 32GB memory kit is a a heck of a value if you are looking for a kit that can be overclocked with very respectable timings.
Crucial DDR4 Lineup:
After using the Crucial Ballistix Sport 32GB 2400MHz DDR4 memory kit we are left impressed by it. We were told we did not get a cherry picked sample and that ours was randomly shipped from the warehouse just like any kit would be that is bought through Crucial. This is good news, but what will happen when Crucial starts sorting modules for speeds about 2666MHz? This is the fastest Ballistix Sport module available, so this module is not using DDR4 memory ICs that is fallout from higher binning. Will that change in the months ahead? We aren't sure, but today we are impressed and think that we found a gem of a memory kit that is a heck of a buy even at $450. All Crucial DDR4 memory kits are lifetime warrantied, so your expensive investment is covered should it ever fail.
We easily give this kit out Editor's Choice award and wish our readers luck on finding one. If you do buy a kit please post up your overclocking results in the comment section so we can make sure our kit isn't special!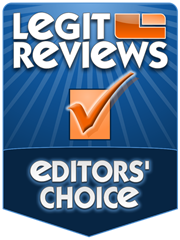 Legit Bottom Line: The Crucial Ballistix Sport 32GB 2400MHz DDR4 Memory kit comes with CL16 timings, but overclocked up to 2666MHz with impressive 12-12-12-30 1T timings!