CPU-Z 1.73 Now Available with New Benchmark Tool
By
CPUID released version 1.73 of their popular freeware utility called CPU-Z that gathers the most critical system information on your PC. This new version features a new validation system, a new built-in CPU benchmark, the ability to show L4 cache (eDRAM) clock frequency and Windows 10 support. Download the latest version of CPU-Z here if you would like to be running the latest version!
Changes in CPU-Z 1.73 Include:
New validation
eXtreme Overclock Mode with light CPU load
New tab : CPU Benchmark
Added L4 cache frequency (cache tab)
Added Windows 10 editions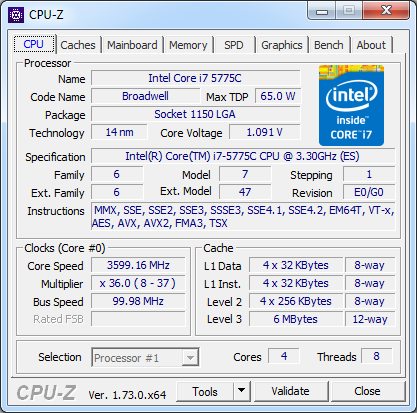 CPU-Z 1.73 managed to read our Intel Core i7-5775C processor just fine.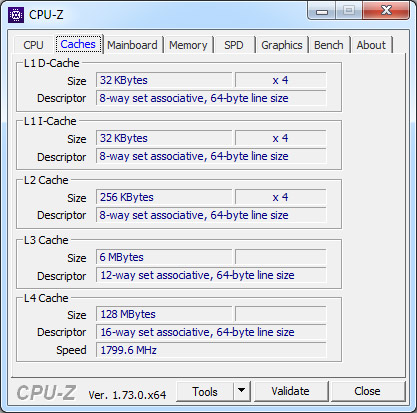 Here is a look at the new L4 cache frequency reading that can be found under the caches tab on our Intel Core i7-5775C Broadwell processor. You can see that the 128MB of eDRAM is properly detected as it shows up as being clocked at 1800MHz.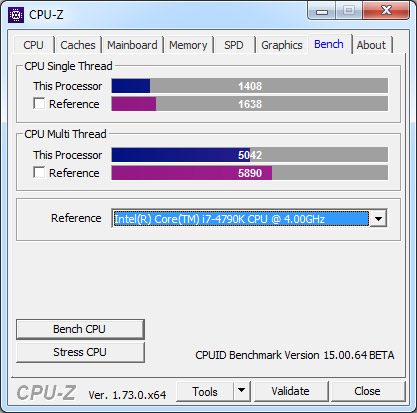 The new CPU Benchmark tab allows you to run either a benchmark or a stress test on your processor. We ran the Bench CPU test on our all stock Intel Core i7-5775C processor in the ASUS Maximus VII Impact with UEFI 2801 and scored 1408 in the CPU Single Thread test and 5042 in the CPU Multi Thread test. We used the drop down reference menu to show that this is slightly behind the reference scores of a Core i7-4790K processor, which sounds about right as for raw CPU performance the Core i7-4790K was found faster in our review of the Core i7-5775C Broadwell CPU.