Corsair ST100 RGB Premium Gaming Headset Stand Review
By
Corsair ST100 RGB Premium Headset Stand – A Shrine For Your Headset
When I first saw Corsair demo the ST100 RGB Premium Headset stand, I wanted to try it out and see how it would fit in on my desktop. Now that I've got it, I am very happy with what Corsair has produced and the ST100 RGB Premium Headset stand is exceeding my expectations in terms of how much practical use it would see. I was able to run the single-connector wire from the HyperX Cloud Alpha headset to the Corsair ST100 RGB Premium Headset Stand and eliminate the extension cable, which gave my desktop a cleaner look. I now use the Corsair ST100 RGB Premium as the exclusive sound card when using a headset, in addition to using the USB pass thru ports to connect the receivers of my wireless peripherals. I originally was interested in the Corsair ST100 RGB Premium because it looks great and I needed a place to store my headphones, but it ended up serving much more functional purpose than that.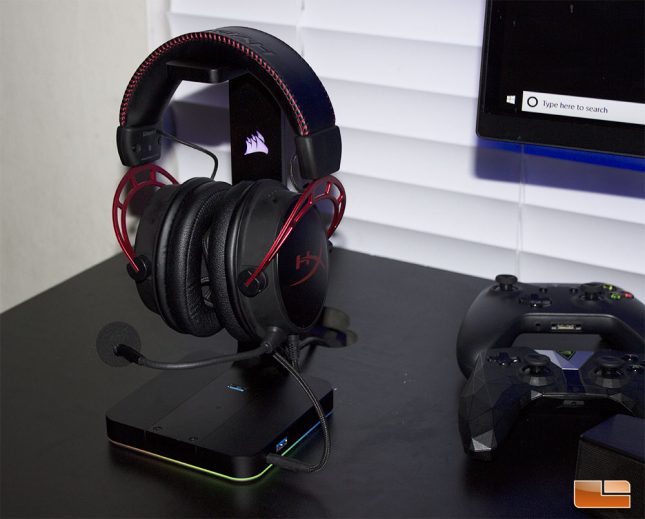 The sound card included with the Corsair ST100 RGB Premium Headset Stand offers good, clean output and its ability to double as a mic input while it also functions as an audio output will be very welcome with owners of single-connector gaming headsets. I found that the ST100 RGB Premium's built in sound card was capable of outputting audio fairly well to my 65 Ohm HyperX Cloud Alpha headset, but this is likely going to be about the upper range of impedance supported by the ST100 RGB Premium Headset Stand. The virtual surround worked fine, with clearly defined sound produced that was comparable to the other virtual algorithms I've heard. I did notice it was a bit difficult to tell whether shots were in front or behind me with the 7.1 virtual enabled, though, so I often left it disabled, which worked better in most of the games I tried. The ST100 RGB Premium isn't designed to replaced a high end DAC, but it is a a decently capable sound card that can bring virtual 7.1 surround audio to any headset, while also providing a clean microphone input that isn't subject to the possible noise presented by the onboard audio on certain motherboards.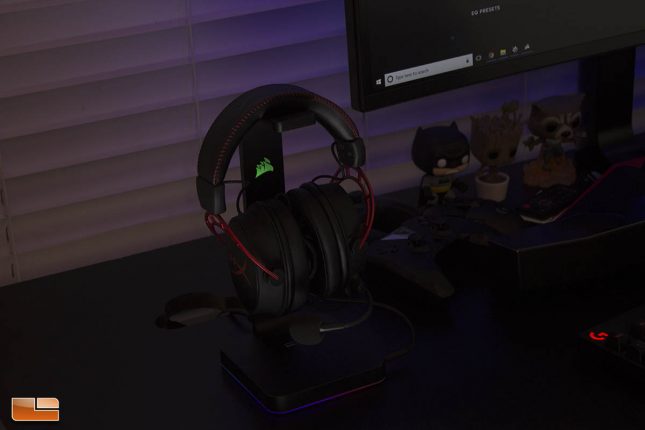 While the ST100 RGB Premium Headset Stand is a properly executed product that looks great and has some solid functionality, there are a few issues for Corsair to iron out before they release their next revision. The upper band of the ST100 RGB should have rolled edges on the sides, because as it is, the straight edges will cause soft headband materials to indent. This issue will correct itself when you take the headset off of the stand, but Corsair should have thought about this from the beginning. The back bar of the ST100 RGB could have been outfitted with two small hooks for cable management, as it would have been nice to wrap extra long headset cables around the back of the stand during storage.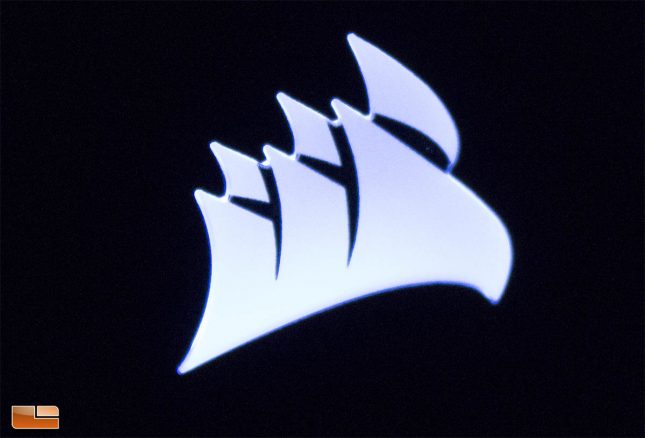 Sticklers for attention to detail might complain about the Corsair logo having small connecting lines that aren't present on the logo with other products, but unless you are looking really closely, it isn't noticeable. Corsair designed the ST100 RGB Premium Headset Stand for use on the right side of the desk and the effects with Corsair Lighting Link are coordinated as such, which is another small issue that may be a letdown to the hardcore enthusiasts who buy this product.
Whether you need a premium headset stand is a personal choice and I feel that it is really a niche product, but the Corsair ST100 RGB Premium Headset Stand has an undeniable cool factor. In addition to looking good and working great as a headset stand, the Corsair ST100 RGB Premium Headset Stand is also packing some decent functionality that can come in handy to users looking to clean up their desktop aesthetic. You can purchase the Corsai Gaming ST100 RGB Premium Headset Stand for $59.99 shipped at Amazon or Newegg. Razer also offers their Chroma Base Station RGB headset stand for $59.99 shipped, but the Corsair unit has a better overall build quality, a built-in sound card and the faster USB 3.1 technology. If you are the type of user who has already invested in premium components for your desktop and want the Cadillac of headset stands, the Corsair ST100 RGB Premium Headset Stand is probably already in your Amazon shopping cart. For the rest of you, a banana holder will work just fine and will save you about fifty bucks.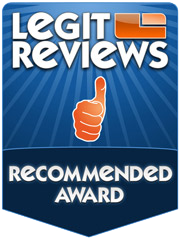 Legit Bottom Line: If you are an RGB junkie looking for a headset stand with some added functionality, the Corsair ST100 RGB Premium Headset stand is a well-built piece of tech that will look amazing on pretty much any desktop.