Corsair ST100 RGB Premium Gaming Headset Stand Review
By
Corsair ST100 RGB Premium Gaming Headset Stand
Corsair is one of the premier peripheral and component manufacturers in the PC gaming industry and we've covered their products quite a bit here at LegitReviews. In their noble and righteous quest to introduce RGB lighting to every computer peripheral imaginable, Corsair recently released the ST100 RGB Premium Headset Stand. Made out of aircraft grade aluminum and featuring two USB 3.1 Gen1 pass thru ports, along with a built-in sound card that is capable of producing 7.1 virtual surround sound, the Corsair ST100 RGB Premium Headset Stand is definitely aimed towards a specific crowd of PC enthusiasts.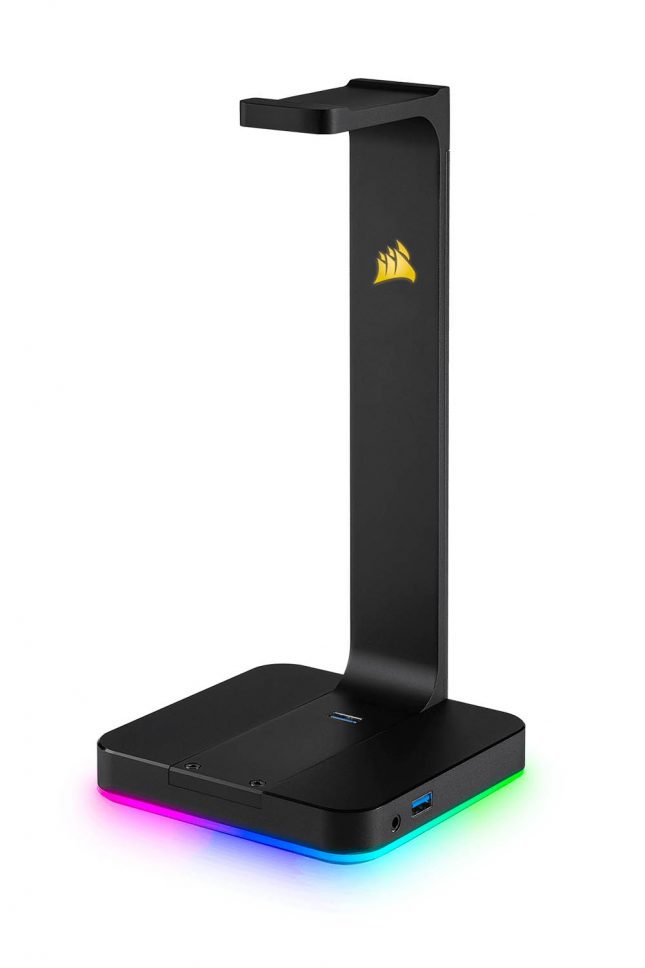 While some consumers feel perfectly fine storing their headsets on a desk, or using a banana holder, there are enthusiasts out there who demand premium products that fit within their current peripheral ecosystem. Customers who already own a Corsair gaming headset, such as the Void Pro, may very well appreciate the ability to outfit their desk with a matching accessory that addresses the concern of where to store their premium headset. Of course, the $59.99 ST100 RGB Premium Headset Stand isn't only compatible with Corsair headsets, it will work with most headsets/headphones on the market and look good while doing so.
Keeping your headset on a stand can have benefits, as it will keep them from being accidentally damaged or warped due to sitting with awkward pressure on the earcups or supporting band, along with putting them on display to impress your audiophile friends. In a time when expensive wireless RGB gaming headsets and audiophile headphones are so commonplace on the desks of PC enthusiasts, the idea of an RGB headset stand with some very useful features doesn't seem so far-fetched.
Always a company whom wants to outshine their competition, Corsair has outfitted the ST100 RGB Premium Headset Stand with nine RGB LED zones that allow for individual control through Corsair CUE software. Corsair CUE software currently controls various peripherals from the company, including mice, headsets, keyboards, mouse pads and now, the ST100 RGB Premium Headset Stand. Since the ST100 RGB Premium Headset Stand is CUE-compatible, it can sync with any of the other Corsair CUE-compatible RGB devices to display synchronized lighting effects and perfectly matched colors. Corsair continues to evolve their RGB landscape with new products and hopefully it is only a matter of time before they introduce the Sync software they displayed at Computex to the public, which allows their peripherals to sync up with the in-case lighting provided by the Corsair Lighting Node Pro and associated components.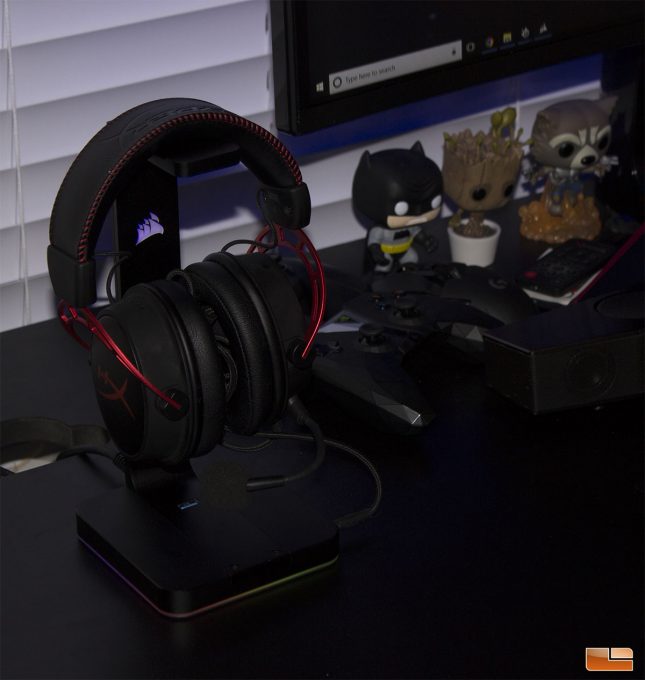 The Corsair ST100 RGB Premium Headset Stand also moonlights as a pretty capable sound card with 7.1 virtual surround support
Perhaps the most undervalued component of the ST100 RGB Premium Headset is the built-in sound card, which has a single 3.5 mm input/output that is capable of 7.1 virtual surround sound, along with serving double-duty as a mic input, which allows it to work with gaming headsets that have a single 3.5 mm connector for both the microphone and headset, such as the HyperX Cloud Alpha that I recently reviewed. The Corsair ST100 RGB Premium Headset should allow for cleaner routing of headset cables, since it won't have to run across a long distance and can easily be wrapped around the base of the stand.
Corsair ST100 RGB Premium Headset Stand Contents and Specifications
Package Contents
ST100 RGB Premium Headset Stand
USB 3.1 (Gen 1) Micro B cable, 1.8m
Quick Start Guide
Warranty Card
Compatibility
PC with USB port
Windows 10, Windows 8, Windows 7
Internet connection (for CUE software download)
Warranty
Corsair ships the $59.99 ST100 RGB Premium Headset Stand in a box that definitely evokes a premium feel. There is a yellow rim around the outside of the box, with a rainbow stripe across the bottom. Corsair uses this style of packaging on many of their products, which should help make them easier to identify for users specifically seeking out Corsair products on store shelves. Corsair seemed to be struggling with brand identify a couple years ago with their 'Corsair Gaming' brand and associated 'tramp stamp' logo, but things are a lot more under control now, with their products all featuring the Corsair "sails" logo that has a distinct, stylish look.

An illustrative manual that explains how to set up the Corsair ST100 RGB Premium Headset Stand and install Corsair CUE software is included in the box, along with the required USB 3.1 Micro B cable and a warranty guide. A two year warranty is standard for all of Corsair's audio products, so if the ST100 RGB Premium happens to fail due to manufacturing-related issues, Corsair has you covered. The ST100 RGB Premium Headset Stand is made from very high quality aluminum and I have no doubt that it will last for decades in terms of headset stand functionality, but it's good to know that the RGB lighting, sound card and USB ports are covered for two years, as these all can be susceptible to failure regardless of the initial quality of components used.
The MicroB USB USB 3.1 cable that Corsair ships with the ST100 RGB Premium Headset Stand has a rubber coating and is about six feet long. The cable length was more than adequate to be routed under my desk and to a vacant USB port on my PC that sits on the other side of the desk, but some users with larger desks may find the cable to be too short if they are trying to place the headset stand on the opposite side of their PC. Since this cable has a Micro-B end where it connects to the ST100 RGB Premium Headset Stand, this shortcoming may be a bit of a nuisance, but sourcing a longer replacement cable on Amazon shouldn't be an issue. Corsair did their research and six feet is the typical length of most premium peripheral cables, but it would be nice to have a slightly longer cable included to suit users with larger desktop environments. This cable also doesn't match the black and yellow connector style of other Corsair peripherals, which isn't a major issue since it won't typically be in a position where it will be seen, but that attention to detail would be nice.
Let's take a closer look at the Corsair ST100 RGB Premium Gaming Headset Stand.