Corsair K95 RGB Platinum XT Gaming Keyboard Review
By
Corsair K95 RGB Platinum XT: Testing and Conclusion
Cherry MX Brown switches are not linear since they provide a tactile bump. They are not as loud as blue switches, but they are still very good to type and game with. They have also been proven to be very reliable over time with their 50 million click cycles and overall build quality. Because Cherry has been producing mechanical switches for several decades, I am confident enough to say these switches will last a long time especially since Corsair has been a partner with Cherry for a long while now. These switches have a clear switch housing to allow light to spread more evenly across the switch and surface. The LEDs are located inside the switches, which seem to mount on the PCB.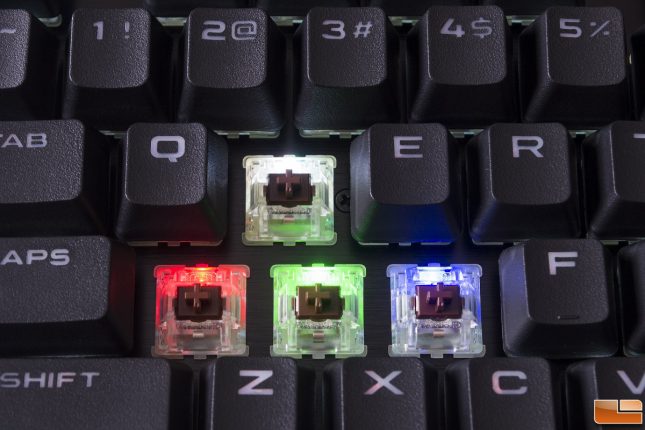 When it comes to performance, the K95 Platinum XT performed very well due to the 1000Hz polling rate and the responsiveness of the Cherry MX Brown switches. That is to be expected since keyboards, unlike a mouse, are not devices that deliver precision aiming and accuracy. Cherry MX Speed switches do provide quicker actuation times due to their 1.2mm actuation distance. But for many people, the standard 2.0mm actuation distance of a regular switch, like these brown switches, will do fine in most occasions.
One thing I would like to see improve are the rattling sounds the larger keys give off. Rattles are often heard while pressing larger keys, especially the space bar. I have noticed this issue in other Corsair keyboards and keyboards of other brands. There was one keyboard, the A4Tech Bloody B820R, that did it perfectly. But the B820R did not use Cherry MX switches; it had its own proprietary LK Optic Switch, which had a more stable stem than a Cherry switch.

With the palm rest attached, the keyboard does gain some extra height. It is initially a large keyboard in terms of width. Be prepared to have some desk space available if you want to use it with the attached palm rest.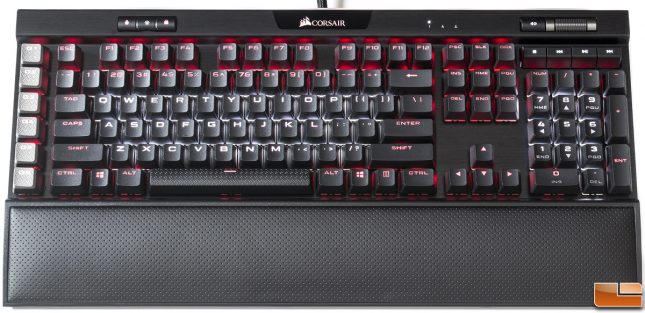 The leatherette palm rest on the XT model is much better than on the previous model. It feels very soft to the touch and it is very easy to maintain and clean. It does not absorb liquids, so a little bit of water mixed with isopropyl alcohol and a microfiber cloth will clean it very easily.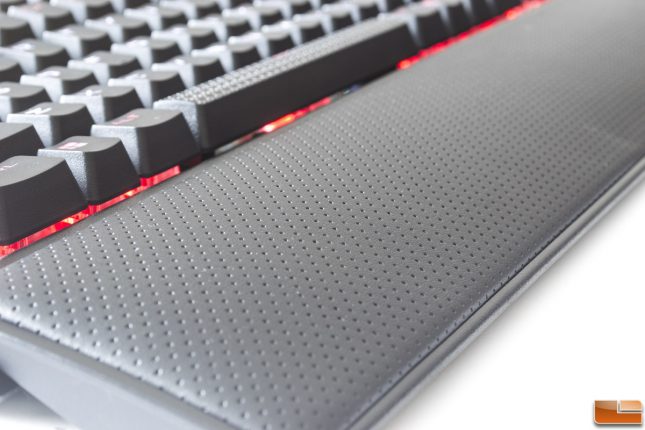 Taking a closer look at the swappable WASD keys, the keys all curve towards the center. This lets the player know where the WASD keys are without misplacing their fingers. This is a nice touch that I would like to see more in other gaming keyboards.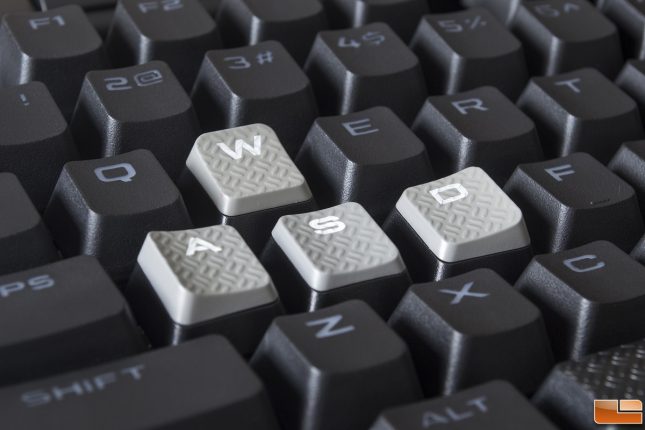 The same holds true for the rest of the swappable keycaps. This set of keycaps also curves towards the center for the QWER keys and DF keys.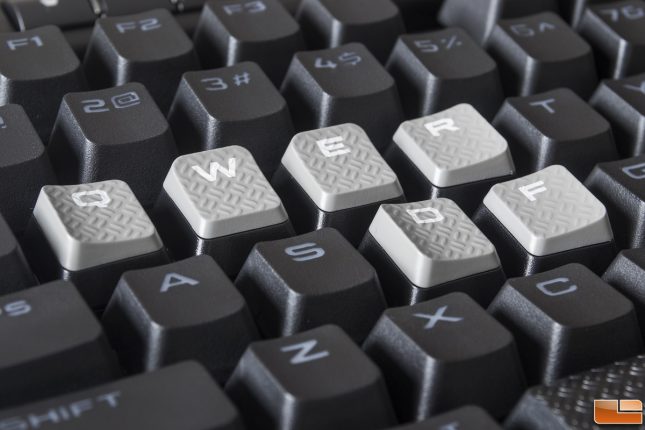 Lighting effects look great with this keyboard especially since it has the top LED strip. It is customizable via the iCUE software. Like its predecessor, there are a few dimmer areas on the LED strip, and when setting it to white, there are some noticeable green and red colors. For most RGB products, this is rather common. The LED strip may not have the brightest output, but it does look great in a slightly darker room.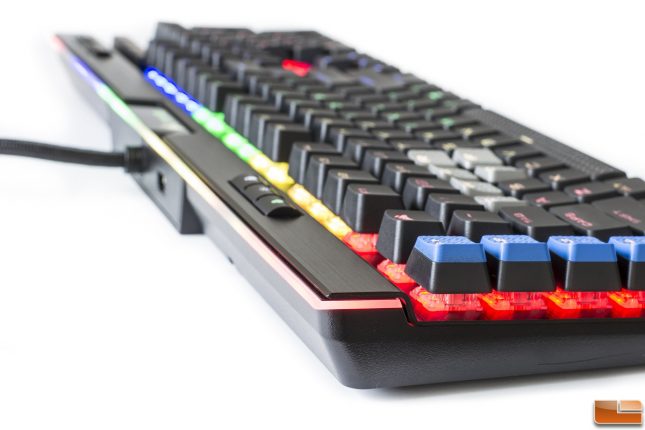 In addition to the blue S-keys Corsair has included with the K95 RGB Platinum XT is the optional Elgato Stream Deck software. Corsair acquired Elgato back in 2018 to widen its reach to the huge Twitch streaming market. The Elgato Stream Deck software is available for download here.
The Elgato software allows for dragging and dropping different streaming functionalities onto any of the six macro keys. There is also a vertical representation on the desktop that displays what functions are in the six macro keys, which makes a good visual reminder of what each key does. Clicking on the visual representation does not execute the functions as executions only work when pressing down on the actual keys.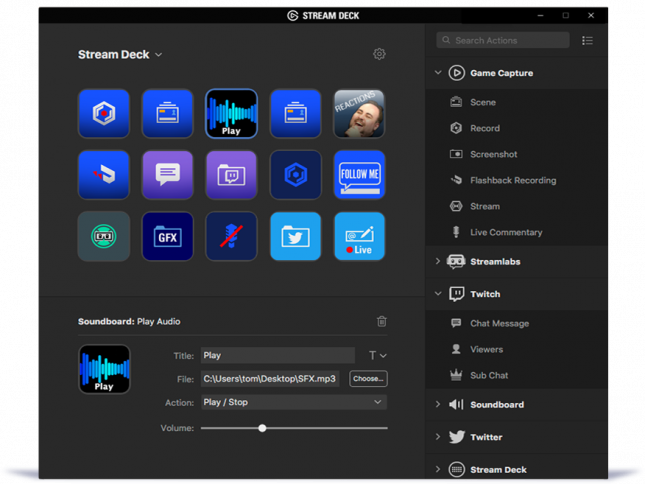 Although I enjoyed using the K95 RGB Platinum XT, I did expect to see more from it. It looks identical to its predecessor aside from the textured keycaps, the cushioned palm rest, and the included S-keys. The Elgato Stream Deck software is only integrated through software, which makes it compatible with even the older K95 RGB Platinum. I would have liked to see the Stream Deck somehow integrated with the keyboard in terms of hardware. It would be cool to have customizable LCD keys just like the actual Stream Deck device.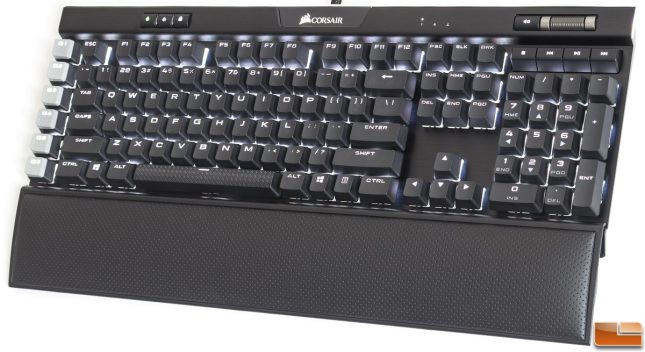 The Corsair K95 RGB Platinum XT is currently on sale for $199.99 shipped on Amazon, which can only mean there is a discounted price on the K95 RGB Platinum. Right now the original Corsair K95 RGB Platinum can be picked up for $129.99 shipped. For someone with an older keyboard and is currently into streaming, it makes sense to jump to the K95 RGB Platinum XT. But for gamers with older keyboards who just want to play games, the older K95 RGB Platinum makes much more sense.
I would have liked to see more with this keyboard, as there is not much that makes it stand out from the older version. Of course, we do get a new palm rest, the blue S-keys, and textured keycaps. But I expected to see more especially since it has been three years since the last K95 release. A hardware integration with the Elgato Stream Deck device would have been a great feature. Having customizable LCD keycaps would set a new standard for a gaming+streaming keyboard.
Overall, this is a good keyboard, but it is difficult to recommend it since is so similar to the older K95 RGB Platinum. I would have liked to give it our Recommended Award, but there is just not enough over its predecessor to justify its asking price. In the next revision, I hope to see some kind of hardware integration with the Stream Deck to really make this keyboard an all-in-one streaming device. I think if Corsair went that route, they would have nailed it for sure.
Legit Bottom Line: The Corsair K95 RGB Platinum XT includes several improvements over its predecessor, but there is not enough innovation to justify its asking price.