Corsair GLAIVE RGB Gaming Mouse Review
By
Corsair GLAIVE Use and Final Thoughts
I spent a few days using the GLAIVE for both gaming and general computing to see how well it performed all-around. I found it to be very similar to the M65 PRO I had been using in the shape, feel, and overall tracking. No real issues or complaints with any of those. It's well balanced with enough weight steady movements but not too heavy as to be tiring. The tracking is very precise and no lagging was never experienced. Corsair did partner with Pixart on the PMW3367 optical sensor so you won't find it inside a mouse from any other maker. All of the buttons give nice tactile feedback and the aluminum scroll wheel rolls nicely without undue friction preventing unwanted movement.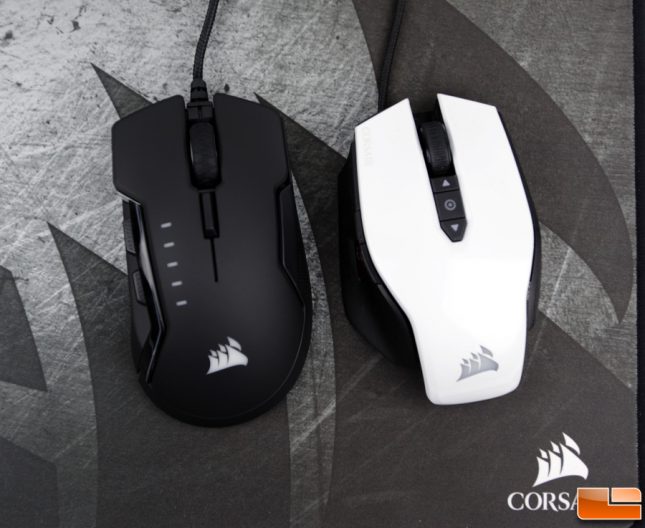 The DPI button cycles through the five presets from bottom to top as you look at the mouse from the rear so if you have one set to a super slow tracking sniper mode, it will take several clicks to get there and back. However, remember this is a programmable mouse so you can easily set one of the thumb (or other if you choose) to become a sniper type button or even execute a keypress to activate some action in the game you're playing. With profiles, you can set up any number of game specific configurations to load prior to gaming so that your settings are in place for some fragging. To be honest, I didn't spend a lot of time playing with the various macro/action settings. It's not something I normally use but I can understand where this can be a very powerful tool for many and I think it adds a lot of value for those that would take full advantage of it.

Overall, the build quality seems excellent with the heft and soft touch plastics giving it a perceptively luxurious feel. The swappable thumb grips are super easy to use. They're magnetic with a single male/female connector pair to align the piece properly and just pull off strategically and pop into place. They never feel loose and you'd never know they were separate pieces otherwise. The bag that comes with the mouse is a nice touch to store these aware before they get lost in a junk drawer somewhere.
I found myself liking the largest of the thumb grips – the one with the curved out bottom that you can rest your thumb on. The others felt just fine though I personally preferred the textured version of the remaining two pieces simply because it provided a better grip for me. None really meaningfully change the overall size of the mouse so they're more of a comfort tweak than a hand size accommodation mechanism. I have medium to large hands and the overall size felt just right to me. The large skates on the bottom made gliding around near effortless with enough drag to mitigate unwanted movement. They also felt at home on bare wood and paper as well.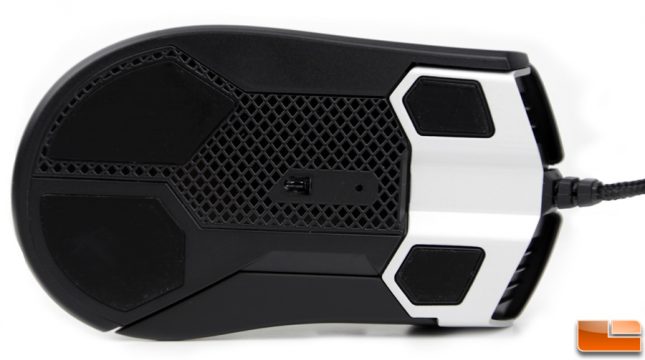 I definitely like the forward/back buttons on the GLAIVE as I never found myself accidentally hitting the 'back' button thanks to the location and firmness required to trigger the button. Accidental invoking of this can be a real pain when filling out forms or data in a browser which happens to me more often than I'd like with the M65 PRO RGB. They have a nice definitive gap between them to easily differentiate them by feel. Using the CUE 2 software is pretty straightforward and doesn't appear to add a lot of overhead to run in the background. That said, The color choices in the software seemed to align pretty closely with what was emitted from the hardware except orange which always seemed to be more yellow or red depending on how you adjusted it. In the end, the lighting is a purely aesthetic feature so it appeals to those that want some dazzle and flash with their setup – especially if they have a keyboard with similar capabilities.
As with all products, nothing is perfect, nor does it work for everyone but I think they did a pretty nice job appealing to the masses. While I found the GLAIVE RGB gaming mouse to be a good fit for me, those with smaller hands may feel it to be a little large depending on your grip preference and as usual, lefties aren't going to appreciate the design near as much. Still, I think the vast majority of consumers will find this to suit them just fine and only those looking for a myriad of extra macro buttons for things like MMO/MOBA may find the feature set lacking but Corsair does offer the SCIMITAR PRO RGB mice just for them. Retailing for $69.99, it's priced on the high-end of the sweet spot for gaming mice. Typically anything less expensive and you are giving up features or component quality and anything more begins to get into the "I take my gaming very seriously" realm with hardcore features and more metal, less plastic. There are a lot of options in this price range and ultimately it will come down to which feels the best in hand and brand loyalty preferences.
Legit Bottom Line: The Corsair GLAIVE Gaming Mouse is feature packed with both hardware and software customizations that should appeal to a wide audience, regardless of the type of gaming they do and feels just as at home wasting some demons in Doom as it does carving up an Excel spreadsheet.