Corsair COOL Water Cooling
By
Introduction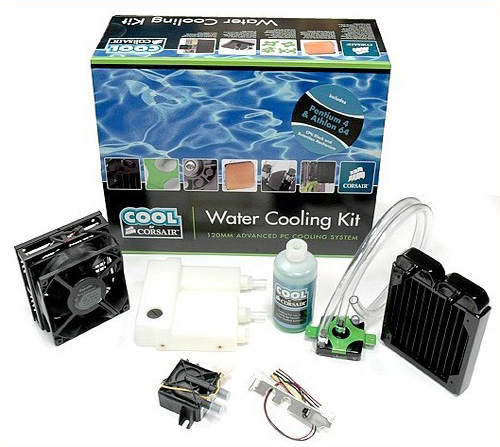 Back in early January, while at CES, I brought you a short bit on Corsair's newest water cooling solution, the Corsair "Cool". At that time I didn't give it much mention as I wanted to get my hands on a kit and abuse it…of course for your benefit. After spending a week doing just that, I'm here to share the results with you.
While Corsair is widely regarded as the industry leader in system memory, they also have a great reputation for external water cooling solutions. Their Hydro-Cool ex200 is arguably the finest external water cooling unit on the market.
Three years ago, water cooling was limited to the brave few who were able to fabricate their own coolers or those who chose to invest in very basic setups. Over the next year, with hotter processors and more ingenious enthusiasts, cooling became more important, and exotic cooling became more main stream. Companies like Danger Den, Swiftech, Koolance, and Asetek, among others began fabricating quality water cooling kits. A couple of issues have really kept water cooling from becoming as common as it should be. First, kits can be hard to set up, and sometimes messy, and in the hands of an inexperienced modder…dangerous. Most people are leery of mixing water with their computer parts, for obvious reasons. Another issue is room, most people like mid-tower cases, which are not conducive to water cooled systems. When you take into account the size of a radiator, fans, reservoir, and tubing, a small case really doesn't benefit from water cooling. That brings us to external kits. External kits bring into consideration a whole other set of issues. While moving everything but the tubing and blocks outside of your case, external kits are cumbersome (you basically have another small case to consider), most of the time, these external kits were beset by inferior parts…bad pumps and poor heat dissipation among other issues.
Can Corsair's "Cool" address all of these issues and bring water cooling to the masses? Who will benefit the most from this system?
Before we get too far, let's check out some of the Specs of Corsair's "Cool"…
Kit for Intel Pentium 4 (478) and AMD Athlon 64

Kit for Intel Pentium 4 (775) and AMD Athlon XP

High Performance 12 volt pump
Sourced for compatibility and performance with other kit components, the high-pressure 12 volt pump runs off the existing computer power supply. No external power is needed. The compact design and small form factor allow convenient mounting and easy installation.
High Flow Resevoir
The high-flow design of the reservoir increases water flow through the cooling system. The raised section eliminates bubbles and their noise for quieter operation.
120MM Low Restriction Radiator
Radiator features 120mm low-restriction design for greater cooling efficiency through increased water flow. Includes "RadBox" options for internal or external chassis mounting.
120MM Low Noise, High Flow Fan
120mm fan provides low superior cooling properties with minimal noise.
240 Pin Copper CPU Block
The directional design of the all copper, 240 copper pin CPU block maximizes heat dissipation as the it removes heat from the CPU and disperses to the coolant. A variety of mounting brackets are included for support of wide variety of CPUs.
Custom Retention Mechanisms
CPU water block retention mechanisms designed specifically to work with your motherboard and CPU. Your kit will include hardware for Pentium 4 and Athlon 64 CPUs or Pentium 4-LGA775 and Athlon XP CPUs.
High Flow, Low Resistance Tubing
The entire Cool system is based on 3/8″ inner diameter tubing which yields higher flow, fewer restrictions and more efficient cooling. No converters to restrict flow.
Corsair's Specially Coolant
Specially formulated green coolant offers superior cooling qualities with corrosion inhibitors added to the coolant to protect your system.
Also includes all mounting hardware and an easy-to-follow users manual.