Corsair CMPSU-620HX 620 Watt Power Supply Review
By
Corsair Enters The Power Supply Market!

With the power supply market looking lucrative we have seen a number of memory companies take the plunge and ship parts in the market over the past few years with great success. Each company brings something a little different to the table and takes the shot at trying to be the best. Corsair by no means rushed into the power supply industry as they took their time and saw what other companies were doing with their product lines before they produced their own. Instead of blindly entering a new market with no experience Corsair was able to hire on staff with prior experience in the power supply market to help get their series out the door. The end result was the introduction of the Corsair HX Series of power supplies, which currently has a 520W and 620W models.
If you missed the press release from yesterday here is a blurb from it that will get you caught up on the news!
"Corsair Memory, the worldwide leader in design and manufacture of high performance memory and cooling solutions, today announced the introduction of the Corsair HX Series power supply product line. The HX Series modular power supplies mark a new exciting first for Corsair. As the latest entrant into the power supply industry, Corsair?s best in class, high performance, ultra-efficient power supplies are expected to set new performance expectations for modular power supply solutions.
Corsair?s HX Series feature an enhanced modular cable solution, offering flexible cables for superior cable routing. The modular design eliminates cable clusters and optimizes the airflow inside the computer case to help keep the system cool. Available in 620Watt and 520Watt models, the HX Series efficiently delivers continuous fully rated output with solid triple +12V rails for a combined maximum output rating of 50Amp (40Amp on 520Watt) even at 50C ambient temperature. These output ratings exceed the requirements for even the most power hungry computers. Additionally, the HX620W and HX520W models offer native support for dual graphics card configurations and include two PCI-Express cables. The HX Series has been thoroughly tested and is compatible with today?s NVIDIA?s SLI and ATI?s Crossfire solutions."
Let me introduce the Corsair HX620W power supply that we will be reviewing today!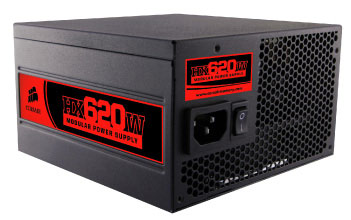 This power supply is aimed at the enthusiast crowd and comes without the load of marketing B.S. that other are throwing out there to get some buzz going. The power supply is a matte black and features red and black labels on the sides and back. I like how Corsair kept it black as their performance memory line started with black heat spreaders and it just helps with branding if you ask me. Corsair is aiming this power supply at the high end enthusiast market and doesn't believe that incorporating LED lights and windows is where they should put their focus. I have to agree with Corsair as I want a rock solid power supply with no frills.
Let's take a look at the specifications and features.
Specifications:
Support latest ATX12V v2.2 and EPS12V 2.91 standards and is backwards compatible with ATX12 2,01 systems
Guaranteed to deliver rated specifications at 50C
Active Power Factor Correction with PF value=0.99 provides clean and reliable power to your system.
8 Searial ATA connectors (4 on 520W)
105C rated industrial grade capacitors provide uncompromised perfermance and reliability, delivering 4 times the lifespan of conventional 85C rated capacitors.
Powerful + 5Vsb rail with 3A rating
Over Current/Valtage/Power Protection, Under Valtage Protection, and Short Circuit Protection provide maximum safty for your critical components.
Gold plated connectors provide oxide free ultra low-resistance contact between the power supply and your critical components.
Dimension: 5.9″(W) x 3.4″(H) x 5.9″ (L)
MTBF: 1000,000 Hours

General Features:
Powerful
The HX Series efficently delivers continuous full rated putput with solid triple + 12V rails for combined maximun output rating of 50A (40A on 520W), and is engineered to exceed the requirements for even the most power hungry of computers.
Efficent
Utilizing advanced double-forward switching circuitry design, the HX series provides 80% + high efficiency and Active Power Factor Correction (PFC), ensuring the PSU generates minimal heat during operation and uses less electricity.
Customizable
The enhance modular cable solution provides flexible cables for superior cable routing. This eliminates cable clusters and optimizes the airflow inside your case.
Quiet and Cool
The high quality thermally controlled double ball-bearing 120mm fan delivers excellent air flow with whisper quiet operation.
Dual GPU Ready
The HX Series offers native support for dual graphic card configurations with two PCI-Express cables and high performance +12V rails. It is compatible with either nVidia's SLI OR ATI's Crossfire solution.