Corsair Carbide Air 740 Case Review
By
Corsair Carbide Air 740 Case Review
Corsair has a long history of making some of the highest quality computer components available. They are constantly watching the market and developing new products to meet new demands. Since CES 2016, their computer case division has been silently working on some new designs. Today, we are looking at one of these new designs, in the Carbide Air 740, the follow-up to one of their most popular cases, the Air 540, which we took a look at back in 2013! Available in September 2016, the Air 740 has a suggested retail price of $149 and comes with Corsairs 2 year warranty.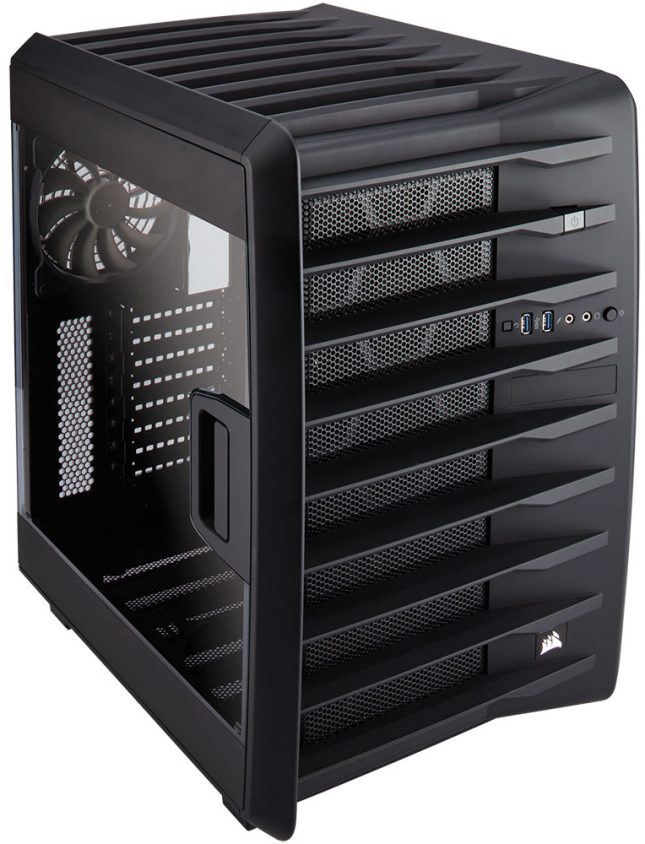 The Air 740 builds on the most popular Air 540 features that includes dual-chamber layout, Direct Airflow Path, and a large number of cooling options, and expands on those features. For cooling, the Air 740 includes support for up to eight 120mm or seven 140mm fans (Corsair includes three AF140L fans), if you prefer liquid cooling, the top will support up to a 280mm, while the front supports up to 360mm just to name a few. On the back side of the dual chamber design, you find the power supply and tool-less cages for 3.5″ and 2.5″ drives. The Air 740 supports up to four 2.5″ drives in a cage, and three 3.5″ drives using the common tray system.
Sticking with pretty standard packaging, the front of the box for the Air 740 presents a high level overview of the case, along with a short list of its features. Flipping the box around to the back of the box, we get to see an exploded view of the case, plus some additional information on it's features. The key specifications are listed out on both sides of the box, in various languages.
Features and Specifications:
Dual-Chamber Direct Airflow Path: utilizes dual chambers to deliver cooler air to your CPU, graphics cards, motherboard, memory and other PCI-E components without drives or power supply getting in the way
Industrial-Style Ergonomics and Space-Saving Internal Design
Custom Air Series AF140L intake and exhaust fans
Expansion Room for up to eight 120mm or seven 140mm fans; a 240mm or 280mm top radiator, up to 360mm front radiator
Corsair Carbide Air 740 Specifications
Form Factor
ATX
Drive Bays
Front: None

Internal: 3x 3.5″ tool free, 4x 2.5″ tool free

Cooling
Front: 2x 140mm AF140L Fans

Rear: 1x 140mm AF140L Fan

Top: None

Side: None

Bottom: Supports up to 3x 120mm or 2x 140mm fans

Radiator Support
Front: Up to 280/360mm

Rear: Up to 120/140mm

Top: Up to 240/280mm

Side: None

Bottom: Up to 240/280mm

Expansion Slots
8
I/O Port
2x USB 3.0

Headphone and mic

Power Supply Standard
ATX (not included)
Clearances
Heatsink: 170mm

PSU: 225mm

Graphics: 370mm

Warranty
2 Years
MSRP
$149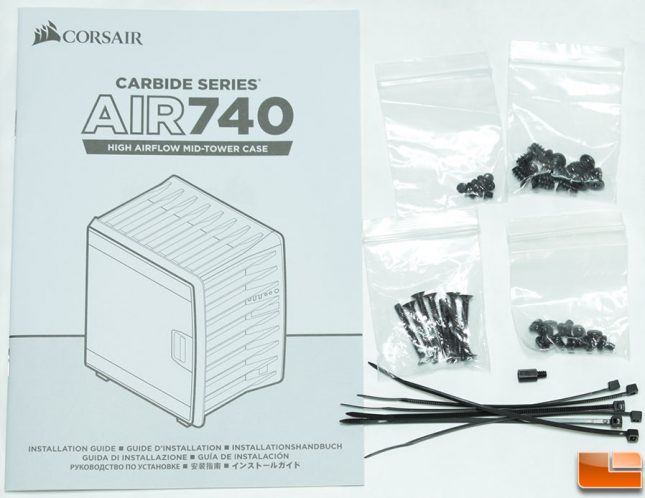 As always, Corsair includes an accessory pack that includes an installation guide. The accessory pack includes six cable ties, 1 additional motherboard stand off, 8 long fan screws, 12 short fan screws, motherboard screws and 8 SSD screws.
Let's take the Air 740 out of the box and take a look around the case before opening it up.