Cooler Master Masterkeys Lite L Combo Review
By
Checking out the Cooler Master Masterkeys Lite L Combo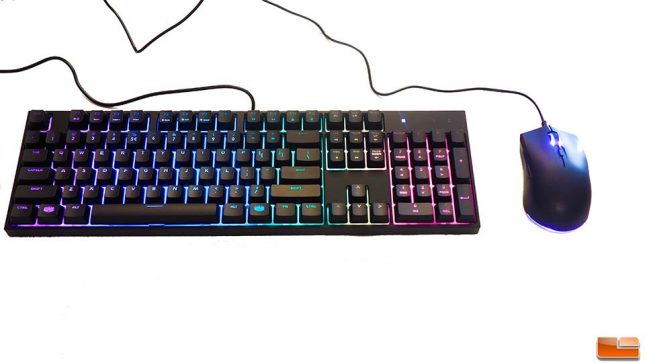 As mentioned before the combo features RGB lighting on both keyboard and mouse which is definitely what makes this keyboard-mouse combo shine. For the price of $59.99 USD lets see what Cooler Master has to offer.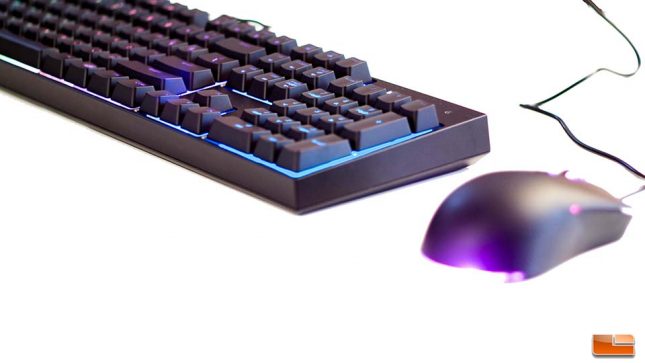 The initial impression given by the combo left me questioning the keyboard and mouses durability. The plastic of the keys seemed fairly thin when compared to the keyboard I use for my home setup (Razer Blackwidow Chroma) and the size of the mouse could be compared to that of a standard desktop mouse.
The dimensions of the mouse are 114mm x 64mm x 39mm and weigh 91 g without the cable. The mouse features the Optical AVAGO 3050 sensor, a rubber 1.8m cable (connecting with a 2.0 USB), and provides the user with a 2-year warranty.
The dimensions of the keyboard are 439mm x 129mm x 41mm and weigh 967g without the cable. The keyboard features the Cooler Master Mem-chanical keys with a 125 Hz polling rate as well as the normal 1x/Turbo 8x repeat rate. The keyboard connects to the computer via a 1.8m rubber cable and USB 2.0 with a 2-year warranty just like the mouse.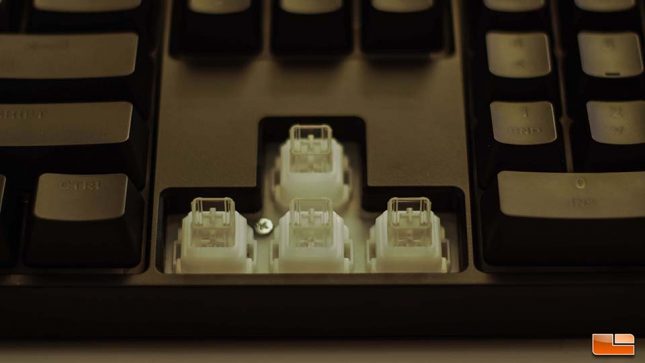 The keys (exclusive to Cooler Master) are Mem-chanical and described as membrane keys with a feel similar to that of mechanical keys and have twice the life cycle of a normal membrane switch. Although the keys seem fairly thin to begin with I find it acceptable considering the price ($59.99 USD) of the combo. A nice addition to the keyboard is that the keys can be switched out for other Cherry MX switches. Also, the square housing of the keys allows for stability to prevent loose keys. The transparent plunger seen in the photos above help aid the RGB lighting by giving the light a medium to travel through resulting in an increase in the brightness of the effects.
We just covered some of the specs for the Cooler Master Masterkeys Lite L Combo including the innovative Mem-chanical key switches which introduce the somewhat tactile feel similar to that of the mechanical keyboard to the membrane key switches. Coming up on the next page is a little video we included which displays the RGB wave lighting on the keyboard as well as the spectral cycle of the mouse and a short walkthrough on how color customization of the RGB lighting works for the Masterkeys Lite L Combo.