Cooler Master Masterkeys Lite L Combo Review
By
Cooler Master Masterkeys Lite L Combo Review
For those of us gamers or PC users who love the look presented by RGB PC peripherals Cooler Master has something in store for us. In addition to Cooler Masters cooling units and cases they also produce computer peripherals such as keyboards, mice, headsets, earphones, and mousepads. Cooler Master has just released a mem-chanical (membrane switches with a tactile feel similar to that of a mechanical switch but longer life than conventional membrane switches) keyboard and mouse combo that could potentially make a great RGB addition to a casual home setup/beginner's gaming rig. Here at Legit Reviews we were given the new affordable (considering the starting price of quality RGB gaming keyboards run for around $100 to start) Masterkeys Lite L Combo by Cooler Master at $59.99 shipped with a two year warranty included for both keyboard and mouse. For younger gamers and/or those of us shopping on a budget this may be the RGB keyboard for you.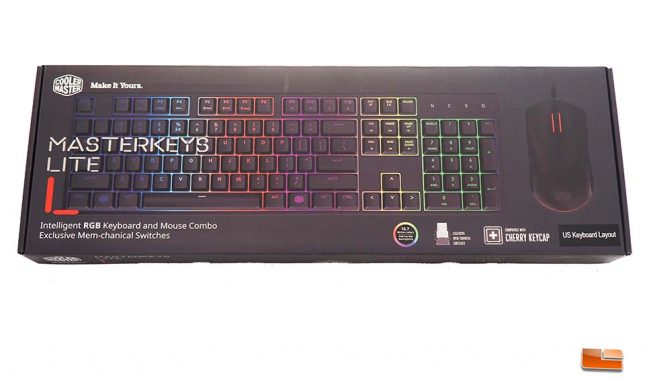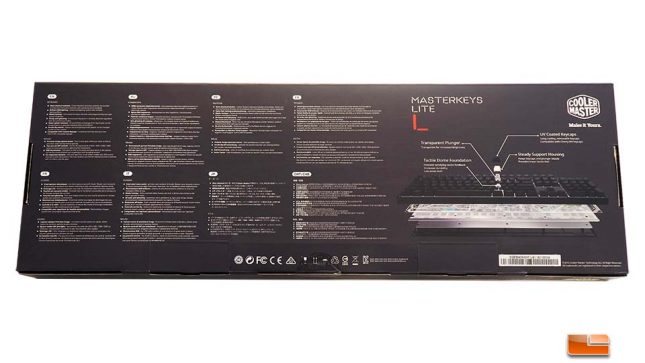 The Cooler Master Masterkeys Lite L Combo is an RGB keyboard and mouse set featuring customizable key caps on the splash-resistant keyboard. The RGB lighting on the keyboard and mouse can be customized by several hotkeys which allow the user to change the effects. The keyboards backlight control features allows for a change in color, effect, speed, as well as area for control for light. In addition, the F9 to F12 keys control the repeat rate/windows as well as a full key lock. The media control buttons are located above the arrow keys.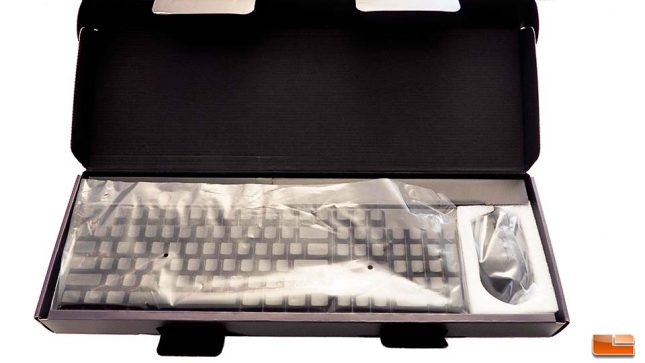 The product is packaged simply but secure with foam padding around the mouse and a layer of cellophane covering the keyboard. The only things included is the packaging box, a basic user manual, the Masterkeys Lite L keyboard and the mouse included in the combo.
The rest of the review will cover the features, RGB and shortcut customization, as well as some final thoughts and conclusion. The following page will provide you with the specifications of both keyboard and mouse included in the Cooler Master Masterkeys Lite L Combo.