Cooler Master MasterAir Pro 3 & Pro 4 CPU Cooler Review
By
Introduction to the CM MasterAir Pro 3 & Pro 4 CPU Coolers
Cooler Master is no slouch when it comes to CPU cooling solutions. Today theyre introducing two new products to the MasterAir series, called the MasterAir Pro 3 and MasterAir Pro 4. Previously the MasterAir series was only comprised of the Maker 8, which is a highly decked out air cooler, included dual LED fans, and overall the cooler is pretty pricey. The coolers that were looking at today are a quite a bit more budget friendly and include a single non-LED fan needless to say, theyre not as fancy, but still designed to be a very good general cooler.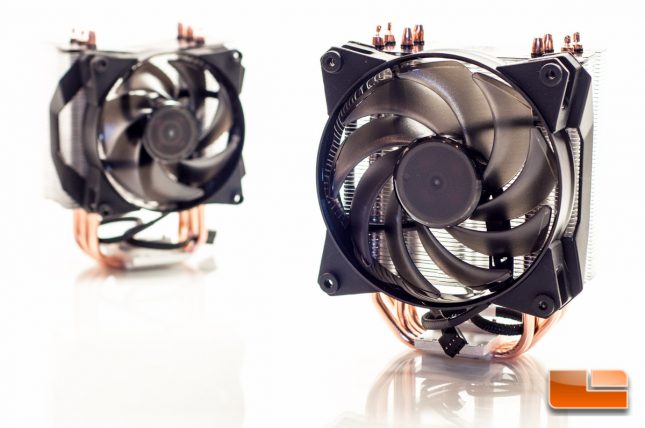 The new coolers to the MasterAir series implore Cooler Masters Continuous Direct Contact Technology 2.0, which basically increases the surface area by 45% by compressing heatpipes together, which helps to dissipate heat more efficiently. Included with the Pro 3 is a single 92mm fan, rated for 28 CFM @ 2.5 mmH2O and a max noise level of 30 dBA. The Pro 4 includes a single 120mm fan, rated for 66.7 CFM @ 2.34 mmH2O and a max noise level of 30 dBA as well. Installation was designed to be made easier with an X-bracket, which you basically slide to your sockets setting, or you can use the same installation method that the stock Intel cooler uses with the push-pin.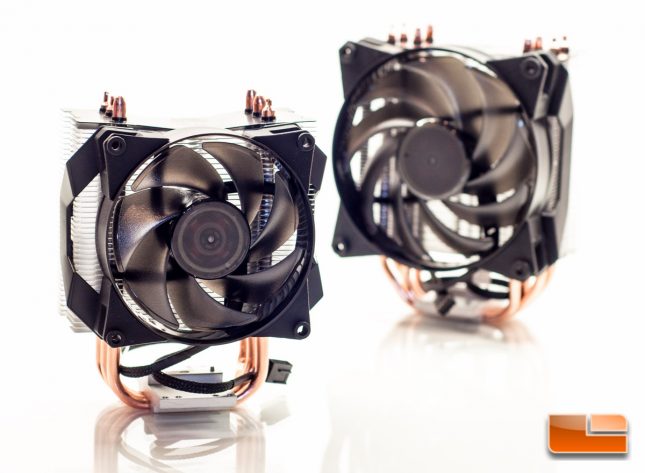 MasterAir Pro 4 is a decently larger cooler compared to the Pro 3. One feature that you will notice is that the Pro 3 has three heatpipes while the Pro 4 has four.
The MSRP price difference between both of the coolers is very minimal, and theyre quite affordable period. You will be able to pick up the MasterAir Pro 3 for $39.99 or less and the MasterAir Pro 4 for $44.99 or less. Both coolers feature a 5-year warranty!
SPECIFICATIONS
MasterAir Pro 3
MasterAir Pro 4
Model
MAY-T3PN-930PK-R1
MAY-T3PN-930PK-R1
CPU Socket
Intel LGA 2011-v3 / 2011 / 1151 / 1150 / 1155 / 1156 / 1366 / 775
AMD AM3+ / AM3 / AM2+ /AM2 / FM2+ / FM2 / FM1
Dimensions (LxWxH)
78x117x140mm
84x129x158.5mm
Heat Sink Dimensions (LxWxH)
61.5x108x140mm
60x116x158.5mm
Heat Sink Material
3 Heat Pipes / CDC 2.0 / Aluminum Fins
4 Heat Pipes / CDC 2.0 / Aluminum Fins
Heat Sink Weight
390 g
472 g
Fan Dimensions
92 x 92 x 25 mm
120 x 120 x 25 mm
Fan Speed
650 3,000 RPM (PWM) 10%
650 2,000 RPM (PWM) 10%
Fan Air Flow
28 CFM (Max)
66.7 CFM (Max)
Fan Air Pressure
2.5 mmH2O (Max)
2.34 mmH2O (Max)
Fan MTTF
350,000 hours
490,000 hours
Fan L-10 Life
50,000 hours
70,000 hours
Fan Connector
4-Pin
Fan Noise Level
6~30 dBA (Max)
Fan Rated Current
0.1 A
0.15A
Fan Safety Current
0.2 A
0.4A
Fan Power Consumption
1.2w
1.8 W
Both of these coolers look really nice and appear relatively simple to install, but we will find that out in later sections. First, lets take a look at how these coolers are packaged and take a quick look at them.