Cooler Master Hyper 612 Version 2 CPU Cooler Review
By
CM Hyper 612 V2 CPU Cooler Introduction
We've taken a look at many different CPU coolers over the last several years, with a large focus on liquid CPU cooling as of late. Liquid CPU cooling has become quite inexpensive to invest into and has proven itself to be worthy in many all-in-one kits. However, there are still plenty of people out there that don't fully trust liquid coolers inside their systems, built with their hard-earned cash, or they don't want to / can't invest as much money into a cooler but they still want great performance. We've also seen many liquid cooling kits have to be noisy in order to cool efficiently, and that's not appealing at all. With that said, we do still find plenty of air coolers in production today, catering to this market. Today we're going to take a look at a cooler that Cooler Master released Q4 2014, called the Hyper 612 Version 2 (part number RR-H6V2-13PK-R1); obviously a remake of the original Hyper 612 – which is for the better. This cooler was redesigned with peace and quiet in mind all while achieving a high level of performance and a simplistic installation.
The original Hyper 612 came out back in 2011 and was well liked by those who invested into it. Since we're now in 2015, Cooler Master has taken that success into consideration and built upon it for this updated version. The first thing of note that Cooler Master updated is how the heat pipes work. Version 2 adopts Cooler Master's Continuous Direct Contact (CDC) technology to boost the performance of the cooler. CDC improves cooling performance by utilizing a side-by-side heat pipe configuration, with no gaps between the six pipes, and the pipes also come in direct contact with the CPU "hot spot." This in turn will provide the absolute best heat conduction.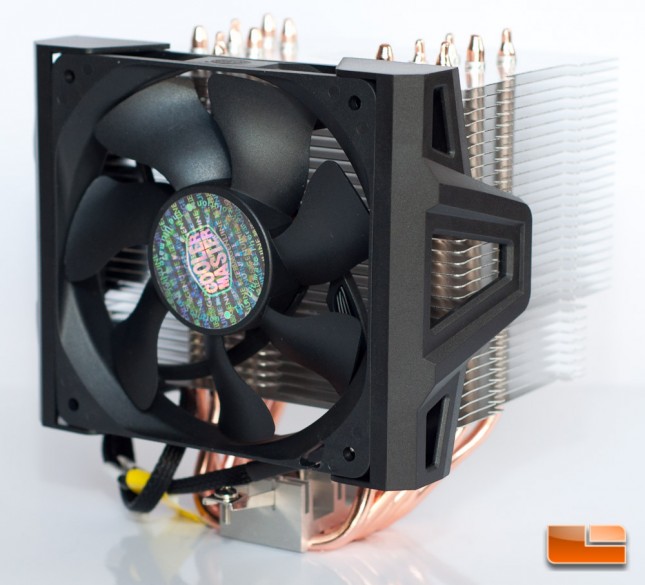 Another item that was redesigned is the fin technology. Where you found wider gaps on the original Hyper 612, Version 2 boasts a folding fin design to provide higher efficiency of heat dissipation.
One last item that was updated on this cooler is the exclusive use of X-Vent technology. Each heat pipe has an series of vents placed at a 45-degreen angle to the pipe, creating an X. This is designed to create vortices around the pipe and further increase efficiency of the cooler. These vortices are created by a single 120mm PWM fan that is capable of pushing 44.2 CFM with 1.6 mmH2O at 20 dBA or less. Cooler Master isn't forcing you to use a fan with this cooler, as you can still use it as a straight passive cooler.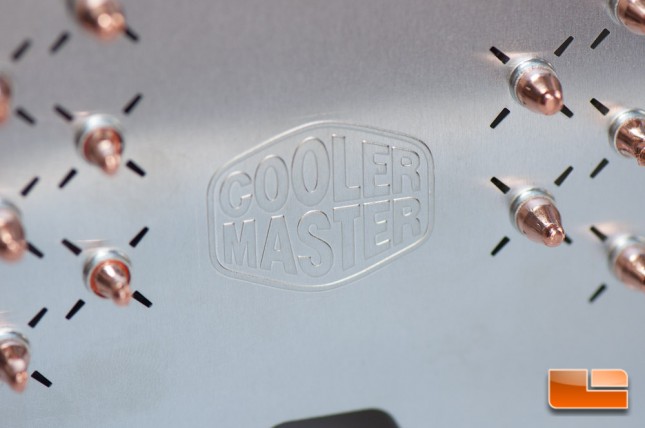 At the time of writing this article, both Amazon and Newegg are directly sold out of the Hyper 612 Version 2, though you can find it listed for $47.18 shipped on Amazon and via a 3rd party's ridiculous price on Newegg. The great thing about this cooler is it comes with a 2-year warranty and has very little moving parts to wear out.
Hyper 612 v2 Technical Specifications
Model Number
RR-H6V2-13PK-R1
Supported Platforms
Intel LGA 2011-3/2011/1366/1156/1155/1150/775
AMD FM2+/FM2/FM1/AM3+/AM3/AM2+/AM2
Heatsink Dimensions (LxWxH)
139 x 102 x 160.4 mm (5.5 x 4 x 6.3 inch)
Heatsink Material
6 Continuous Direct contact heatpipes / Aluminum fins
Heatsink Weight
732 g / 1.6 lb
Heatpipe Dimensions
6 mm
Thermal Solution
180 Watts
Fan Dimensions (LxWxH)
120 x 120 x 25 mm (4.7 x 4.7 x 1 inch)
Fan Speed
800~1,300 RPM 10%
Fan Air Flow
26.6 – 44.2 CFM (45.2 75 m3/h)10%
Fan Air Pressure
0.6 – 1.6 mm H2O 10%
Fan Life Expectancy
40,000 hrs 40
Noise Level
11-20 dBA
Bearing Type
Rifle bearing
Connector
4-Pin
Rated Voltage
12 VDC
Rated Current
0.09 A
Power Consumption
1.08 W
Fan Weight
154 g / 0.34 lb
Warranty
2 Years
Let's move on and take a quick look at the packaging and what comes inside the box, and follow that up with a review of this nice looking cooler.