Cooler Master HAF Stacker 935 Case Review
By
Cooler Master HAF Stacker 935
Cooler Master is no stranger to breaking new ground in the wide world of computer peripherals having been in the business since 1992. Their portfolio includes many OEM products, as well as consumer grade products. Breaking the consumer products down, they manufacture products for budget minded users to the high end enthusiasts. By looking at the market, they take risks by developing new products based on market trends.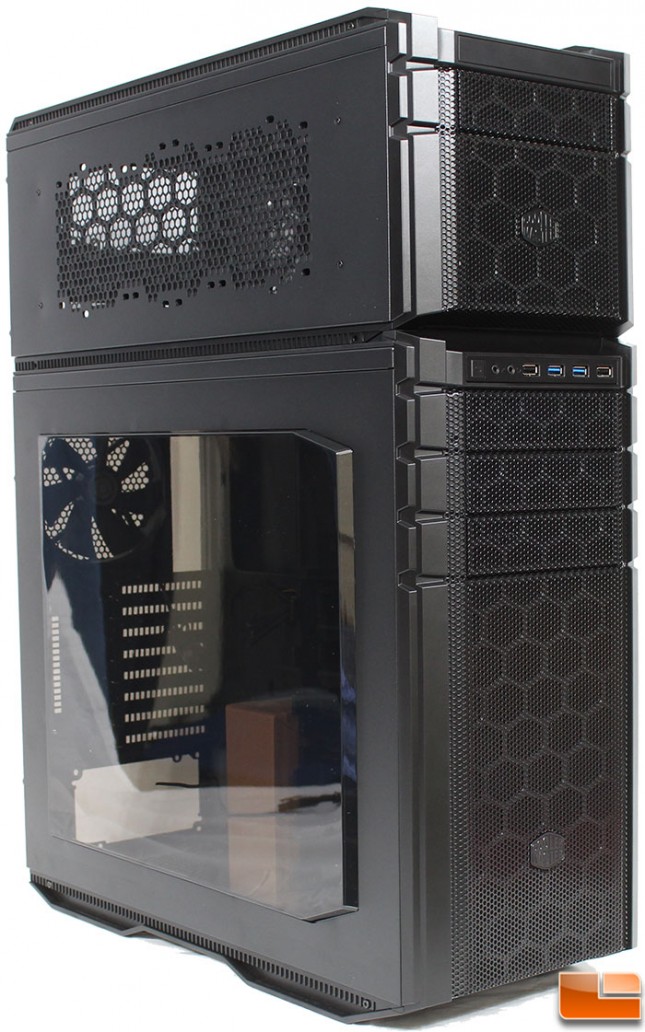 The HAF, or High Air Flow case design has been around since 2008, in 2013 they introduced a new model, the Stacker. The Stacker is a stackable "mod-tower" that takes their experience with the HAF line and expands it to an easily expandable case. At the heart of the Stacker line is a mid-tower along with two ITX cases, the 915R and 915F. These can be combined in any configuration to meet the users need. The basic combo model is the 935, commonly referred to as HAF-935-KWN1, which includes the mid-tower and the 915R. Combined, the 935 is a very large system coming in at 9.255 X 28.8 X 22.75 (WxHxL), and includes a 2 year warranty; the Stacker 935 currently sells for $169.99 with free shipping at Amazon.com when it is in stock.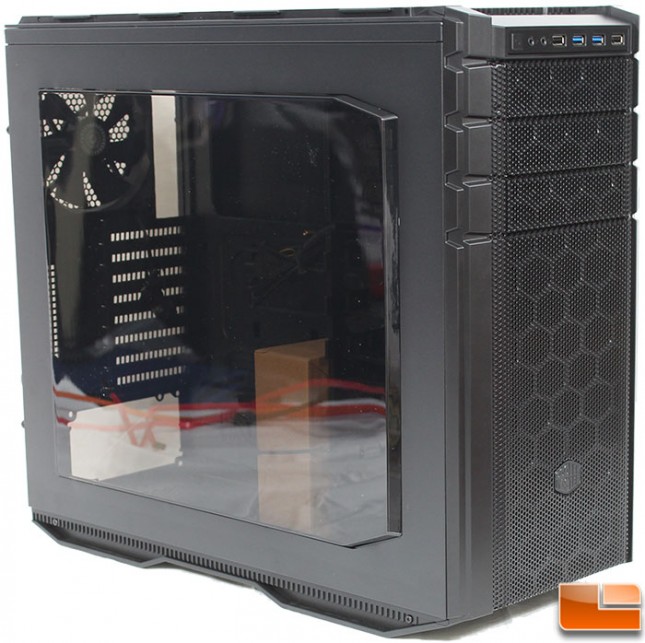 The mid-tower includes features that are commonly found on enthusiast grade mid-towers. These features include liquid cooling compatibility, removable hard drive cages, tinted side window, SuperSpeed USB 3.0, filtered air intakes and more.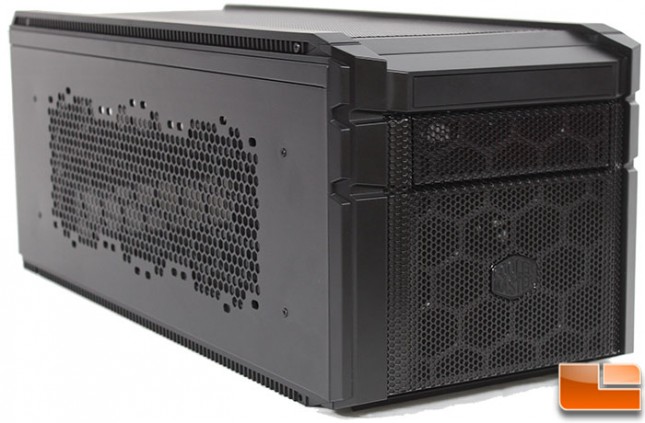 The two 915 models are much smaller as they support only mini-ITX systems, and can be configured to support custom liquid cooling solutions or they can be configured to support up to 9 3.5″ hard drives (additional hardware is necessary). Between the two models of 915, there is a slight difference; one has a Rear mounted power supply (HAF-915R-KKN1), while the other has a Front mounted power supply (HAF-915F-KKN1). The 915 models are relatively small, measuring only 8.97 X 9.76 X 22.75 inches (WxHxL). While the 915R is included with the 935, it is also available separately. The smaller 915 models sell for $69.99 shipped at Amazon.
Cooler Master HAF Stacker 915 Features and Specifications:
World's first "mod-tower" with stacking functionality for limitless utility

Stack extra 915F or 915R for dual/triple system or additional water cooling and storage

Dust filtered intakes and sliding filter frames

Intuitive design for flexible and easy installations

Greater storage expandability with transferrable drive cages between chassis

Full window version (tinted)

Modular I/O functionality for future-proof connectivity

Multiple removable dust filters (top, front, bottom, side panel) for improved system maintenance
[youtube]http://www.youtube.com/watch?v=aF44j77TpRQ[/youtube]
Model
HAF-935-KWN1
Color
Black / Black
Material
Bezel: Mesh/Polymer; Case body: Steel SGCC-t0.7
Dimension
235 x 719 x 578 mm / 9.25 x 28.8 x 22.75 inch
Weight
15.6 kg / 34.5 lbs (Net Weight)
M/B Type
EATX, ATX, microATX, Mini-ITX (915R)
5.25″ Drive Bay
3 + 1 (915R)
3.5″ Drive Bay
9 (3 x modular cage)
SSD Bays
9 (converted), 1 (MB tray) + 3 (915R)
I/O Panel
USB 3.0 x 2, USB x 2, Audio
Expansion Slots
8 + 1 and 2 (915R)
Cooling System
Top: 120mm x 2
Front: 120mm x 2 / 92mm x 1 (included)
Rear: 140mm (included) / 120mm x 1
Side: 120mm x 6, 140mm x 4 (915R)
Radiators: 360mm x 2 / 280mm x 2 (Side); 140mm / 120mm x 1 (Rear)
Power Supply
Standard ATX PS2 x 2
Rear / Bottom Mounted
Maximum Compatibility
VGA card length: 354mm / 13.9 inch; 360mm / 14.17 inch
CPU cooler height: 180mm / 7 inch; 80mm / 3.15 inch
Warranty
2 years
UPC Code
884102025228