CES 2015 – Voxx International Updates Lineup
By
Voxx International CES 2015 Keynote
Voxx International might be better known as any one of it's subsideriaries; 808 Audio, Acoustic Research, RCA and AudioVox. At CES 2015, they presented their 2015 line-up which included new headphones from 808 Audio, speakers from Acoustic Research and multiple vehicle integration products from AudioVox.
808 Audio
Performer Headphones
The Performer Headphones is their latest top of the line headphone that will be available in both wired and wireless Bluetooth models. Brings to market 808 Audio's latest innovation the FlexFit. This new design ensures a secure, snug and comfortable fit on almost anybody. With spring mounted earcups, it will automatically adjust to ensure they fit. In addition, while many earcups will rotate to lay flat, the Performer headphones will rotate vertically, similar to how many microphones do. The Bluetooth model will have close to 15 hour battery life before they will need to be recharged.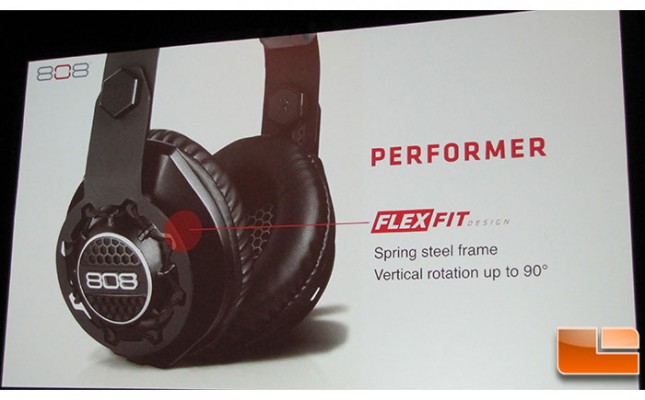 With a suggested retail price of $79.99 for the wired, and $99.99 for the Bluetooth models, they are priced to provide a high end audio experience at a reasonable price point. You will be able to find them in major retailers around March 2015.
Shox Headphones
The Shox Headphone line-up is 808 Audio's value line, and features the same speaker technology as their higher end Performer line. The Shox does not include the FlexFit earcups, but does include PivotFit which allows the earcups to pivot 360 degrees.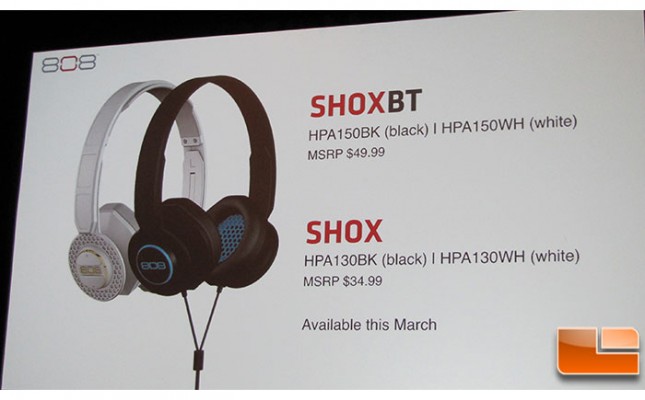 The Shox Headphones will be available in March 2015 as well, with a lower cost of $34.99 for the wired, and $49.99 for the Bluetooth.
NRG and NRG Glo Speaker
New "soda can" type of speaker that is designed for on the go usage. Pair it with any Bluetooth device and when it is turned on will provide 12 hours of playback with a 360 degree audio experience. Two models will be available in May 2015, NRG and NRG Glo. While they are nearly identical, the Glo model included a top mounted LED light ring that has four different lighting modes.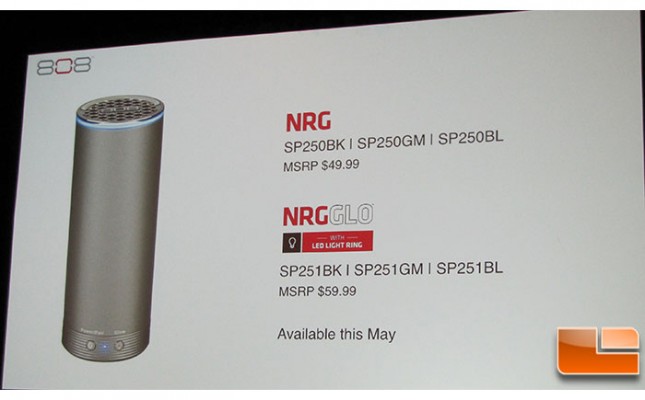 The NRG and NRG Glow will be available starting at $49.99 for the base model, and $59.99 for the Glo model. This keeps it at a low price point, making it one of the more affordable Bluetooth speakers available.
XS Speaker
The XS Speaker is another Bluetooth speaker, designed for on the go users. Small enough to fit in a pocket, it can go virtually anywhere. On the front it has dual speakers, with a bass enhancement on the back. Fully rechargeable, it has a 12 hour playback, allowing for a full day of use before worrying about needing to recharge it.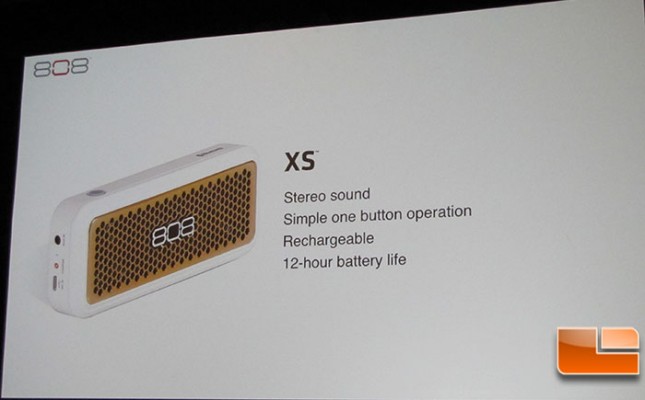 The XS speaker will be available starting in April 2015 for $59.99 in three different colors.