Budget Mining On The Radeon RX 560, Radeon RX 550 and GeForce GTX 1050 Ti
By
If you are interested in cryptocurrencies and want to start mining alt coins you can do so without breaking the bank. Most all the coverage on mining focuses on high-end desktop discrete graphics cards since they turn the most profit. The only problem is that most all those cards are sold out and happen to be in such high demand that pricing is out of this world. The good news is that you can start mining on lower-end graphics cards fairly easily and without taking out a second mortgage or selling off body parts. You won't make much a day, but the blockchain transactions that you help process will earn you something and that is better than nothing. It's also a great opportunity for someone that has never owned a PC before to learn how to put one together and then use it as a money printing machine thanks to the alt coin market.
Today we are going to focus on the cards just below the mining sweet spot and that would be the NVIDIA GeForce GTX 1050 Ti and the AMD Radeon RX560/550 series cards. These cards are the models right below the NVIDIA GeForce GTX 1060 and AMD Radeon RX 570, which are highly coveted by miners. A quick look on Amazon discovered that the AMD Radeon RX 560 4GB graphics card can be found starting at $187.00 plus shipping and the NVIDIA GeForce GTX 1050 Ti 4GB can be picked up for $202.85 shipped. When the NVIDIA GeForce GTX 1050 Ti first came out in 2016 it was priced at $139, so even these lower-end models have not been entirely immune to the mining craze.
The big miners don't make enough off these cards to pay much attention to them, so you'll be able to find many of these cards in-stock. The question is, if the big miners don't want them are they worth it to you? Cryptocurrency prices are down right now, but these cards are looking at turning in a revenue of about $1 per day before electric expenses if one were to mine popular coins like Ethereum and sold the coins straight away. Many miners take risks though and mine new currencies with the hopes that they will pop some day like Ethereum did in 2017. With over 900 mineable alt coins, there might be a low difficulty coin to mine where you can mine dozens to thousands of coins that will pop and reward you with riches. Who doesn't want to become crypto-wealthy and talk about buying Lamborghinis? Or maybe you want to mine because you believe that cryptocurrency will decentralize power and wealth, changing the world order. Whatever your reason for wanting to mine, you have to purchase a card and jump into the deep end.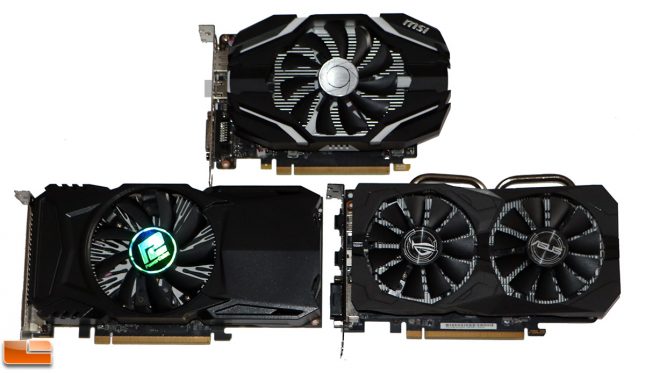 We have three affordable gaming graphics cards that we are going to be looking at today with regards to mining performance. Up top we have the MSI GeForce GTX 1050 Ti OC 4GB GDDR5 that features the NVIDIA GP107 Pascal GPU with 768 CUDA cores that have a core clock of 1341MHz and a boost clock of 1455MHz. The boards 4GB of GDDR5 memory runs on a 128-bit memory interface at 7Gbps (1750 MHz). This card has a 75W TDP rating and is super tiny at under 7-inches in length. NVIDIA GeForce 390.77 drivers were used for testing.
To directly compete with that card we have the ASUS ROG Strix Radeon RX 560 O4GB EVO Gaming on the lower right hand corner. The AMD Radeon RX 560 is a tricky card to purchase as there are two variants floating around. You have the highly desirable models with the Polaris21 GPU that has 1024 Stream processors and then there is the less desirable models with the Baffin GPU that has just 896 stream processors. Our ASUS RX560 ROG Strix EVO Gaming has the RX560D Baffin GPU that has 896 cores running at 1187 MHz base and the 4GB of GDDR5 memory runs at 6 Gbps (1500 MHz) on a 128-bit memory interface. This card is rated at 75W TDP and measures in at 7.6-inches in length. AMD Radeon Software Crimson Adrenalin Edition 18.2.2 drivers were used for testing.
On the lower left we have the PowerColor Red Dragon Radeon RX 550 2GB GDDR5 (AXRX 550 4GBD5-DH/OC). This card was launched in April 2017 and has 512 stream processors running at up to 1190MHz. The big downside to this card is that it has just 2GB of GDDR5 memory running on a 128-bit memory interface at 7Gbps (1750 MHz). You need more than 2GB of memory on a graphics card to mine Ethereum, but we are including it as you can still mine other alt coins with this model that has a power rating of just 50W. AMD Radeon Software Crimson Adrenalin Edition 18.2.2 drivers were used for testing.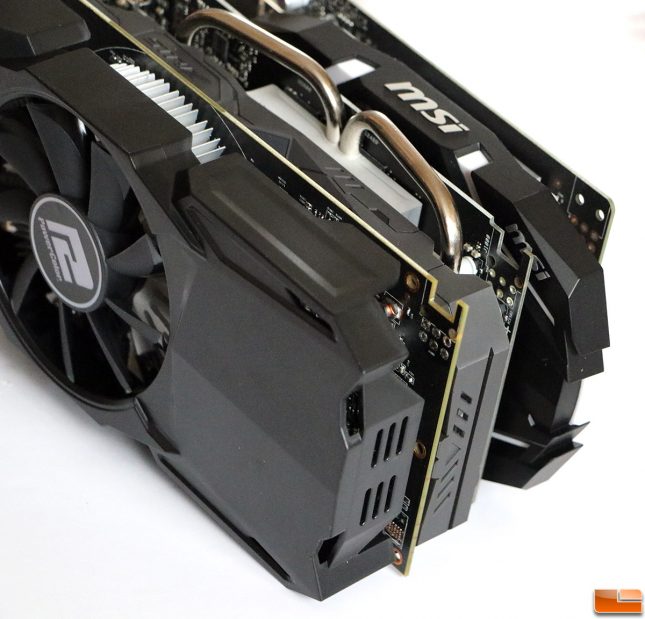 The best part about the AMD Radeon RX 560, AMD Radeon RX 550 and the NVIDIA GeForce GTX 1050 Ti is that many models are available without any PCIe power connectors. All three of the cards that we are using today don't have 6-pin PCIe power connectors. This makes installation a breeze as these cards get all the power they need from the PCIe slot.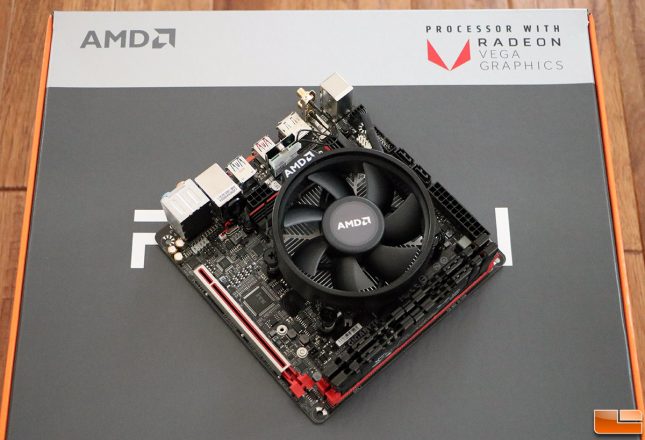 To test these cards we'll be running them individually on AMD's new Raven Ridge platform with the AMD Ryzen 5 2400G processor and 16GB of DDR4 3200MHz memory from G.Skill (check out the full platform here). We ran Windows 10 v1709 with all available updates and only tweaked the OS by disabling Windows Defender as it wreaks havoc with the latest mining utilities. We won't be modifying the vBIOS on any of these cards as casual miners don't go to those extremes trying to get the most performance as they often use the same system they mine on for daily tasks or gaming.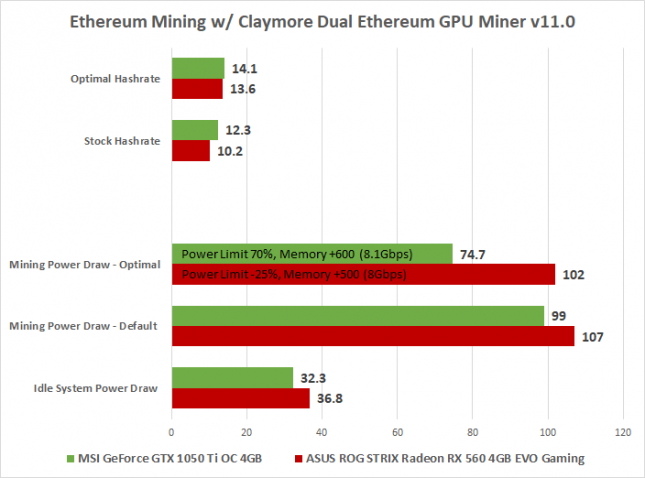 When it comes to mining Ether we found the Radeon RX 560 in stock form came in at 10.2 MH/s at 102 Watts. This platform with the Radeon RX 560 in it pulled 36.8 Watts at idle, so we were looking at 65 Watts of extra power to mine. When we manually adjusted the cards power settings and overclocked it with AMD's Radeon Wattman utility, we were able to increase the mining performance up to 13.6 MH/s and lower the power consumption down to 102 Watts. This was done by simply lowering the power target down to -25% and overclocking the memory from 7 Gbps to 8 Gbps. It should be noted that MSI Afterburner only allowed the memory to be overclocked up to 1950MHz, so we used Wattman to get to 2000MHz. Not every overclocking utility allows for the same overclocks as the limits are different.
The NVIDIA GeForce GTX 1050 Ti started out life at 12.3 MH/s with stock settings and by overclocking the card we managed to improve that up to 14.1 MH/s. We got this nice jump in performance by overclocking the memory from 1752MHz up to 2052MHz and was able to take the power limit down by 30%, which is the max on this model. With the NVIDIA GeForce GTX 1050 Ti in the Raven Ridge test platform we got total system idle power numbers of just 32.3 Watts and that jumped up to 99 Watts when mining at stock settings and just 75 Watts with optimal settings. That means mining Ethereum at just over 14 MH/s was being done for 42.5 Watts of power. Pretty impressive efficiency!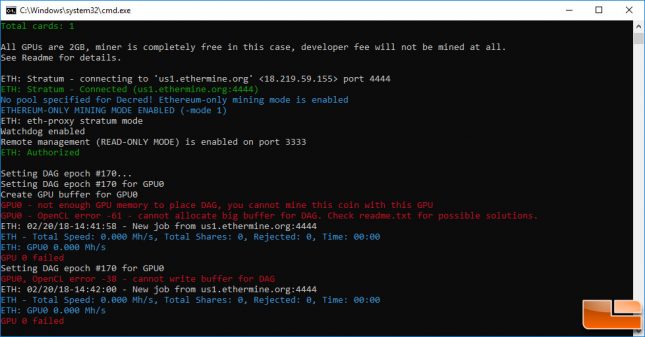 We don't have any Ethereum mining results on the AMD Radeon RX 550 as the 2GB frame buffer is too small. There are several reasons why there're no ASICs for Ethereum. The Ethash algorithm was designed to be ASIC-resistance via memory-hardness and currently requires 3GB of frame buffer and that will eventually increase to 4GB when the DAG Epoch continues to increase. High-end graphics card memory is expensive and in short supply and so far that has kept Bitmain's rumored Etehreum ASIC miner from hitting the market.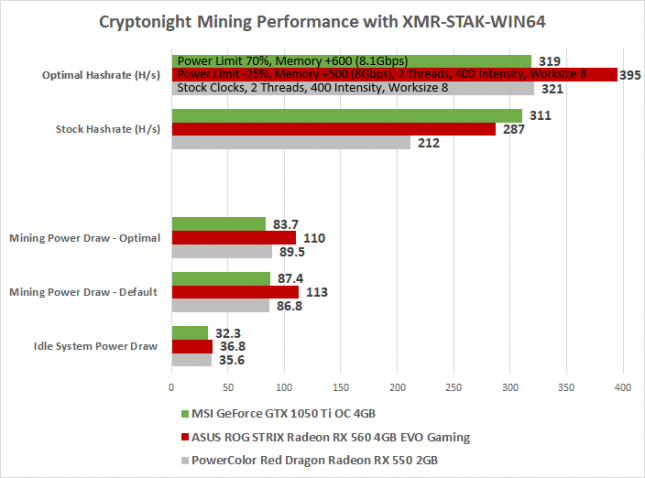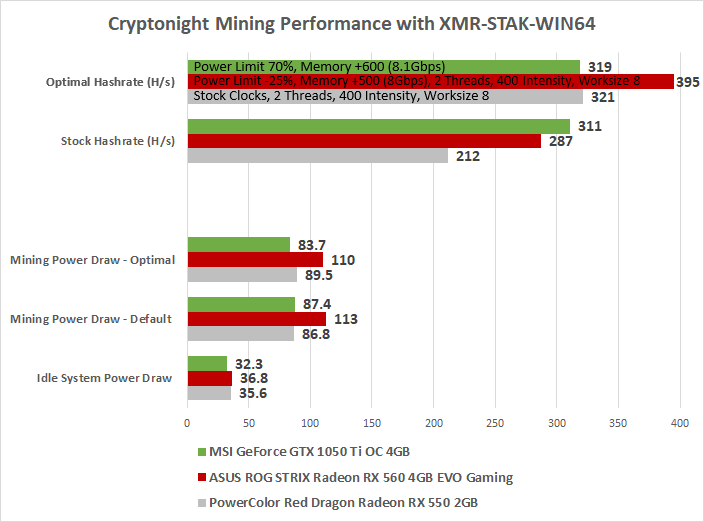 If the Ethash algorithm coins aren't of interest to you there are plenty of others out there. One of the other popular algorithms for alt coins is CryptoNight and that is an area where AMD hardware has done extremely well at. Some alt coins using this algorithm that can easily be mined are Monero, Karbo, Electroneum, Sumokoin, Dinastycoin and Bytecoin. The results here were taken with XMR-STAK-WIN64.
Straight out of the box with no adjustments you see the MSI GeForce GTX 1050 Ti coming in at 310 H/s, the ASUS Radeon RX 560 coming in at 290 H/s and lastly the PowerColor RX 550 at 210 H/s. Not bad scores, but overclocking and tweaking the mining utilities advanced settings will help improve performance.
Overclocking the PowerColor Radeon RX 550 2GB (Elpida GDDR5 was on our card) from 1190 MHz core to 1300 MHz and taking the 2GB Elpida GDDR5 memory from 1750MHz to 1800MHz didn't budge the hashrate. We even increased the power target and nothing significant happened. It was only when we setup two threads in XMR-STAK and adjusted the intensity for each thread that we were able to see performance improvements. Our Radeon RX 550 went from 212 H/s to 321 H/s by going up to two threads at 400 intensity! That is a 52% performance improvement. More advanced miners are able to BIOS mod RX 550 cards and adjust the straps to get over 400 H/s on this model!
The ASUS ROG STRIX RX560 4GB (Micron GDDR5 was on our card) model that we used for testing has the less desirable Baffin GPU that has just 896 cores, but we were able to go from 287 H/s up to 395 H/s. This is a nice 34% increase in performance thanks to overclock and config file tweaks in XMR-STAK.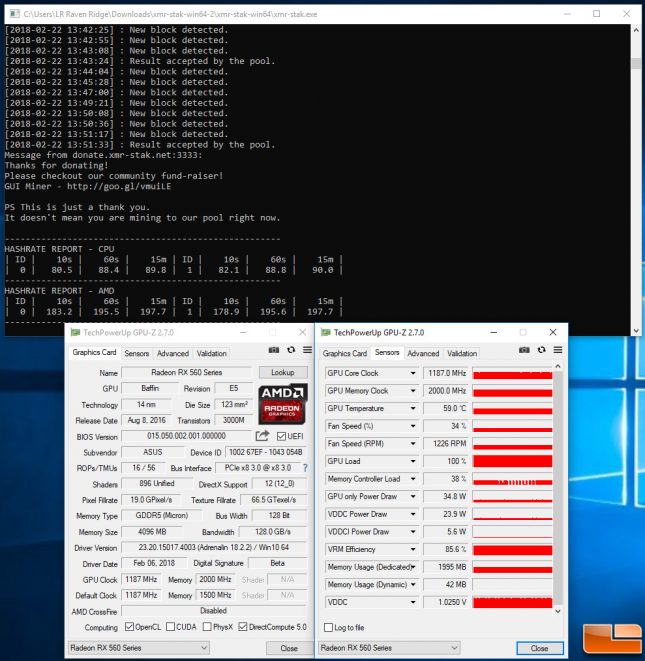 Final Thoughts:
If you are thinking about doing some casual mining the three cards we looked at today are solid choices for those on a budget. These cards won't be breaking any hashrate records, but they are overclocking and modding friendly. If you are a newb at mining and are ready to get some cards to learn how to tweak and mod the BIOS on your particular model, then these cards are perfect. They are inexpensive in the big picture and you can see if you enjoy alt coin mining. These cards are also extremely flexible and can mine many different currencies.
For example, just for fun we fired up Nicehash on the NVIDIA GeForce GTX 1050 Ti when we were playing around with it at stock clock speeds and over the course of a day it was seen doing the following algorithms: NeoScrypt (435 KH/s), Equihash (172 H/s), CryptoNight (311 H/s) and Ethash (12.3 MH/s). Respectable scores across the board and that is important as if one of the popular coins of today goes belly up there are hundreds of others that you can mine. Just remember making any money is better than not making any and all! Mining on one or several of these cards won't bring in gobs of profit a day, but they do turn a profit and are darn near silent when mining.
Pricing Links To The Models We Used Today on Amazon:
NVIDIA GeForce GTX 1050 Ti
AMD Radeon RX 560
AMD Radeon RX 550