ATI Radeon HD 3450 and Radeon HD 3650 Video Cards
By
Radeon HD 3450 and 3650 Video Cards Reviewed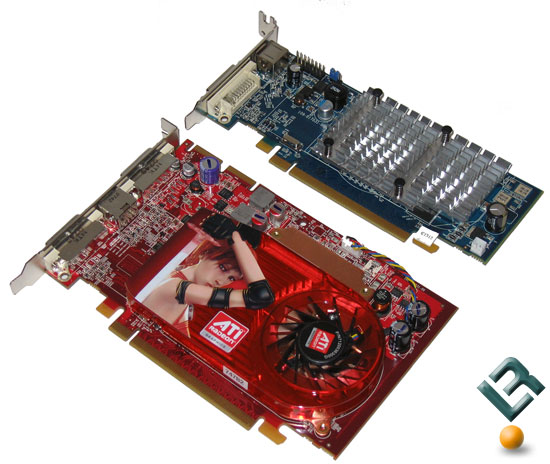 It's hard to believe that two months have passed since the launch of the ATI Radeon HD 3870 and the Radeon HD 3850 video cards, but it has been that long. ATI has been busy the past couple months getting the Radeon HD 3400 and 3600 series out the door and today is the day! ATI has moved on to the 55nm process which is an improvement over the 65nm manufacturing process and both the Radeon HD 3650 and 3450 are built on the new process. You might have heard rumors about these video cards under the code names RV620 and RV635, but now that they are official they have been given real product names. The ATI Radeon HD 3650 and Radeon 3450/3470 cards all range between $49 and $99 so they are competitively priced entry-level DirectX 10.1 compliant GPUs that offer full UVD support with all the latest technology that ATI uses. The ATI Radeon HD 3650 and Radeon HD 3450 have been put to the test lately here at Legit Reviews, so read on to find out more about them and how they perform!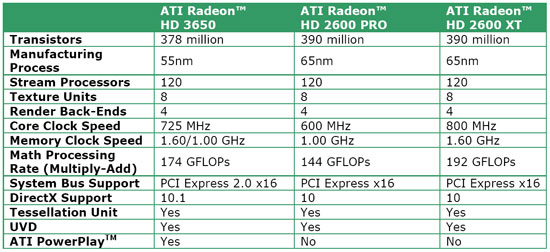 The ATI Radeon HD 3650 is the direct replacement for the ATI Radeon HD 2600 Pro as you can tell from the chart above. The ATI Radeon HD 3650 is active cooled with a core clock of 725MHz and a memory clock of 800MHz and will be available with two kinds of memory ICs – GDDR3 and GDDR2. The slower and older GDDR2 memory chips will be used on the $79 price point cards, while the $99 cards will feature faster GDDR3 memory ICs. The reference Radeon HD 3650 that Legit Reviews has today uses GDDR3 memory IC's, so it is the $99 card. The faster clock speed and memory frequencies improve the memory bandwidth and math processing rate on the Radeon HD 3650 when compared to the older Radeon HD 2600 Pro. Also keep in mind that both the Radeon 3400 series and 3600 series are PCI Express 2.0 compliant and support DirectX 10.1 features as well as ATI PowerPlay software.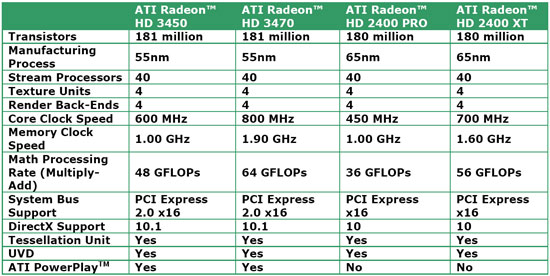 The ATI Radeon HD 3450 and Radeon 3470 are the new entry level cards from ATI and are priced at $49 and $59, respectively. Legit Reviews has the Sapphire Radeon HD 3450, which is a nice little passively cooled card with a blue PCB. With just 48 GFLOPS of math processing power its not going to get you excited, but it's slighty better than integrated graphics and will be popular for those that want to run Hybrid CrossFire down the road. Both the Radeon HD 3450 and Radeon HD 3470 use GDDR2 memory ICs, but that may vary once numerous add in board partners start making these cards.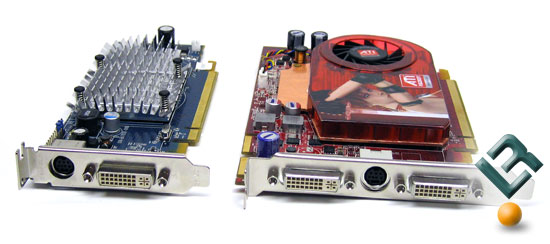 The Radeon HD 3650 features a pair of CrossFire interconnects along the top edge of its PCB, and dual, dual-link DVI outputs along with a single HDTV / S-Video output. The Radeon HD 3450 doesn't have any CrossFire interconnects, but does feature a single dual-link DVI output along with a single HDTV / S-Video output. We should also note that BOTH the Radeon HD 3650 and Radeon HD 3450 grapichs cards support audio over HDMI when using the supplied adapter. Both cards HDMI output can support all display resolutions up to 1920×1080 for those that are curious. The integrated HD audio controller has up to 2 channel 48 kHz stereo or multi-channel (5.1) AC3, which enables a plug-and-play cable-less audio solution. The fact that these cards support MPEG-2, MPEG-4, DivX, WMV9, VC-1, and H.264/AVC encoding and transcoding along with HDMI output support means that many HTPC users have a new low cost solution to look at. Many companies will have one DisplayPort output present, so if you have a DisplayPort LCD monitor and want to use it these cards will be among the first with the new connector.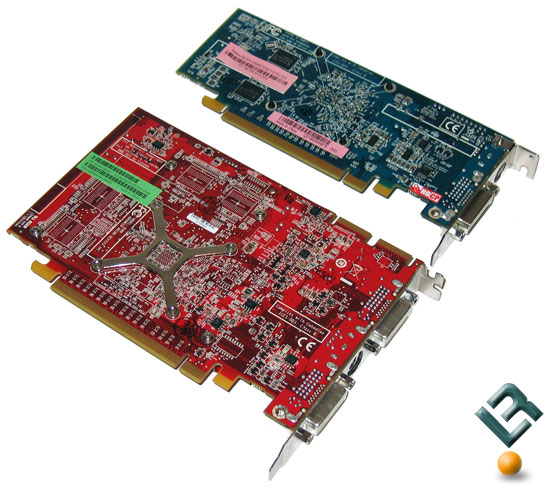 The back of the cards don't show off anything of interest, but it gives you a good chance to see the difference between a Half and full-height graphics card. The fact that the ATI Radeon HD 3450 can be built as a half-height card means that many small form factor systems will be using it. Let's take a look at performance levels on these guys!