ASUS SDRW-08D1S-U External DVD-RW USB 2.0 Slim Drive
By
Benchmarks and Conclusion
Sisoftware Sandra
Sisoftware Sandra (the System ANalyser, Diagnostic and Reporting Agent) is an information and diagnostic utility that helps us to determine how the ASUS SDRW-08D1S-U USB DVD Drive performs compared to that of reference drives. Using Sandra 2009 SP3's built-in 'Optical Drives' the read performance can be easily observed.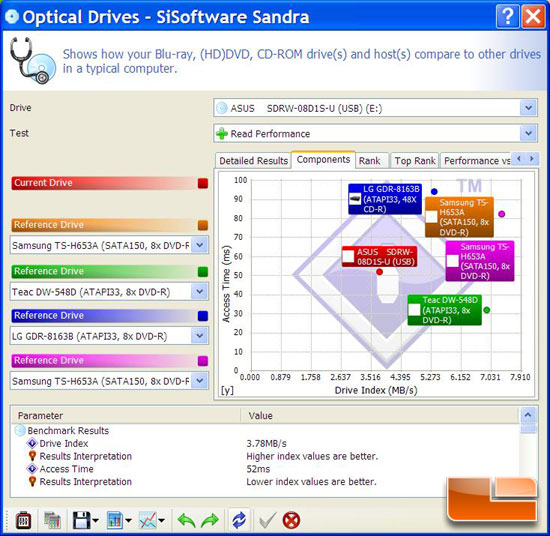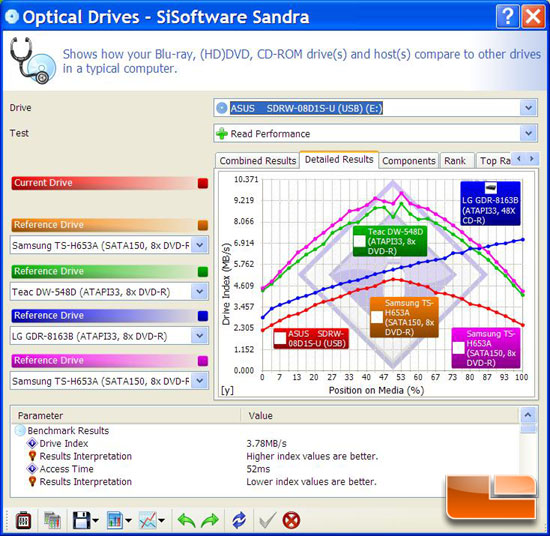 As you can see from the SiSoftware Sandra benchmark, the ASUS SDRW-08D1S-U Diamond slim USB DVD drive is not built for performance as much as style.
Conclusion:
The ASUS SDRW-08D1S-U Diamond slim USB DVD drive was incredibly easy to use straight out of the box. All I had to do was plug the cable into the drive and the other 2 ends into the computer, and voila! It works. There was no installation necessary, which is nice. I had no interruption when using the Diamond, and even when I played movies, it was up to the task!
I really like how small of a footprint this beauty has, not to mention its sleek trapezoidal design. Style doesn't come without cost, however. For around $70 at the time of writing this, you are definitely not paying for performance, but rather a nice-looking, space saving, Eee Top matching desktop piece of eye candy.
Legit Bottom Line: The ASUS SDRW-081S-U Diamond slim USB DVD Drive is the perfect complement to the ASUS Eee Top and other netbooks/computers in need of a stylish external DVD drive.