ASUS SDRW-08D1S-U External DVD-RW USB 2.0 Slim Drive
By
A Look at the Diamond
I recently had the pleasure to review the ASUS Eee Top and was quite impressed with it. Now, ASUS has given me the opportunity to look at the ASUS SDRW-08D1S-U Diamond slim USB DVD Drive, which was designed to complement the Eee Top. Since the ASUS Eee Top and Eee PC series do not come with an optical drive many netbook users are forced to purchase an optical drive. ASUS is no stranger to this market as they have made optical drives for many years, so when ASUS sent out the Press Release about the new slim USB DVD drive it didn't shock any of the staff here at Legit Reviews.
"To access your DVD collection on the Eee Top and other devices, ASUS introduces the SDRW-08D1S-U Diamond slim USB DVD drive, sold separately. With its matching design, space-saving vertical stand and USB powered operation, the Diamond drive is the most convenient way to playback movies and archive your favorite memories."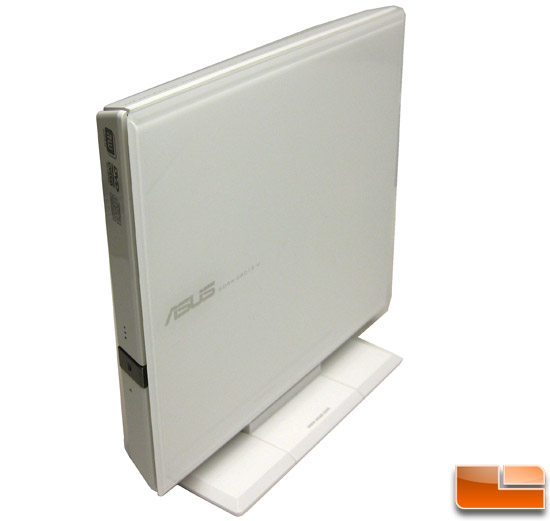 As you can see, the ASUS SDR-08D1S-U Diamond slim USB DVD Drive is really a nice complement to the ASUS Eee Top! You can use it horizontally, or you can use the mount and use it in a vertical position, which takes up less space.
Box & Bundle: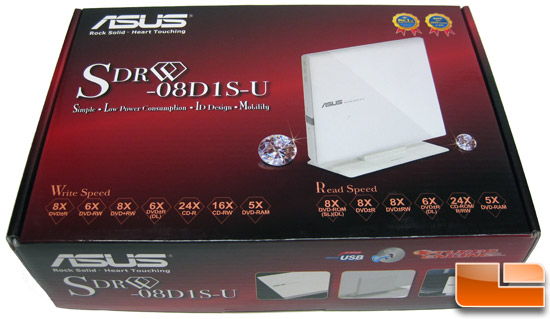 I expected the ASUS SDRW-08D1S-U Diamond USB Optical Drive to come in a sleek box to complement the slim design of the burner, and ASUS did not disappoint. The black-to-red fading accents the drive in the middle, and images of diamonds on either side of the picture of the SDRW-08D1S-U ensure that there is no mistake of what is inside. The retail box also clearly states what the write and read speeds are of various operations, which is nice for those window shopping at brick and mortar stores like Best Buy that just so happen to carry the ASUS Eee line of pro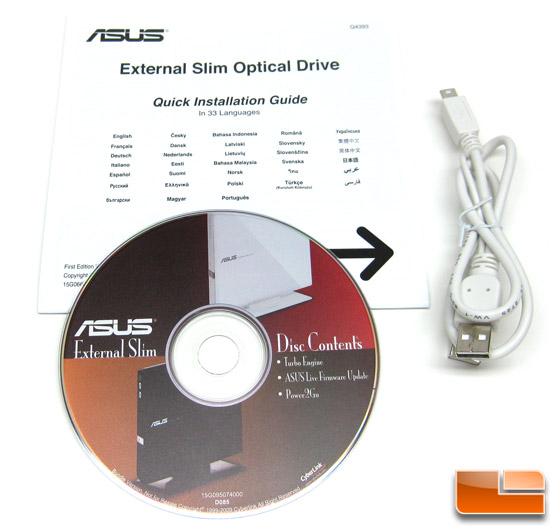 The ASUS SDRW-08D1S-U is a simple drive, and the bundle reflects upon that. It comes with a quick installation guide, a USB "Y" cable and a disc with Turbo Engine, ASUS Live Firmware Update, and Power2Go on it. The drive does not plug into a wall outlet; rather, it pulls its power from two USB 2.0 ports on your computer. This is a nice feature for those on the go as all too often we find ourselves at a place like an airport without any available wall connections.
Mounting: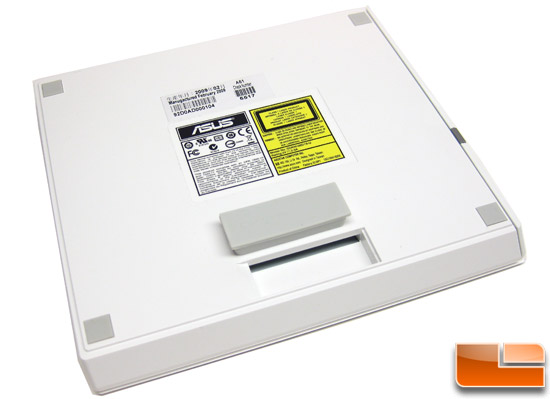 On the backside of the ASUS SDRW-08D1S-U Diamond, there is a depression with a rubber stopper in it. This hole is to be used with the included stand: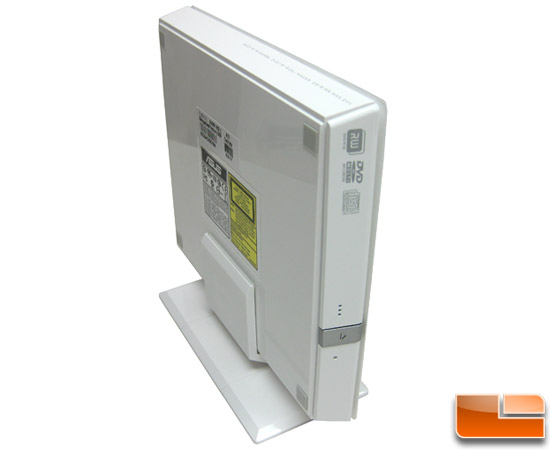 You can see here where the ASUS SDRW-08D1S-U Diamond mounts into its vertical stand. It is really quite simple, and it creates a very tidy-looking workplace!
Specifications:
Write Speed

DVD-R: 8X
DVD-RW: 8X
DVD+R: 8X
DVD+R(DL): 6X
DVD-R(DL): 6X
CD-R: 24X
CD-RW: 16X
DVD-RAM: 5X

Read Speed

DVD-R(single): 8 X max.
DVD-RW(single): 8 X max.
DVD+R(single): 8 X max.
DVD+R(DL): 6 X max.
DVD-R(DL): 6 X max.
DVD-ROM(single): 8 X max.
DVD-ROM(dual): 8 X max.
CD-ROM: 24 X max.
CD-RW: 24 X max.
CD-R: 24 X max.

Access Time
Dimension (W x H x D)
156.4 x 140.8 x 21mm (6.2 x 5.5 x 0.8in)
Weight
412g (14.5oz)
Let's take a look at the performance benchmarks to see how the drive performs!